If you ever thought that travel bloggers have a luxurious lifestyle, I'm here to tell you that it involves a lot of work, creative thinking, and carrying a lot of devices all over the world.
Most of them live off the images and videos they publish, the content they create, and the collaborations they can score with various big companies. So, besides worrying about travel plans, accommodation, they also must have the presence of spirit to identify new trends in travel blogging and adapt accordingly.
This is one of the reasons why so many travel bloggers decided to purchase a drone. Due to high-quality sensors, new and improved materials, and better lenses, drones nowadays can capture stunning images and videos.
But, as a blogger who is constantly traveling, you can't afford to purchase a huge model like the Yuneec Typhoon or the DJI Inspire 2. First, they are too big and heavy, and second, they're quite expensive (even for a popular blogger).
So, before we talk about the best drone for travel bloggers, we had a chat with several people who gave up the 9-to-5 job in favor of traveling and learned about the standards they apply when buying a drone.
Features that Matter for Travel Bloggers
Besides the obvious ones (camera quality, ease of use, and a long-lasting battery) travel bloggers also appreciate features such as:
Advanced Flight Modes
I already talked about drones that follow you and drones with a mode for selfies, but a modern blogger may also need modes such as ActiveTrack, QuickShots, Points of Interest, Cinematic Mode, TapFly, and more.
All these are advanced modes built to help regular drone users get the best possible images & videos.
The same is valid for maneuvering the device so, real bloggers also look for features such a GPS module, fly to home, obstacle avoidance, face recognition, and more.
Foldable Design
When you're traveling you are limited for space and weight you can carry. So, a drone that requires a separate case and weighs over 1000g is at best inconvenient if not useless for a traveler.
Real bloggers go for foldable designs that are not too pretentious when it comes to storage space. Such quads can be shoved in the pocket at the top of a backpack or in the jean's back pocket without worrying about assembly or disassembly.
Lightweight Body & Durability
We're back to ease of use and features that matter from a traveler's perspective.
Since you don't have the time and space to cater to your device, I strongly recommend selecting one that's lightweight and durable. Keep in mind that you'll need it in a wide array of situations and environmental conditions!
Affordable Price
Finally, I don't recommend going for the most expensive quads on the market. Your choice should be affordable and include all the features mentioned above.
1. DJI Mavic Pro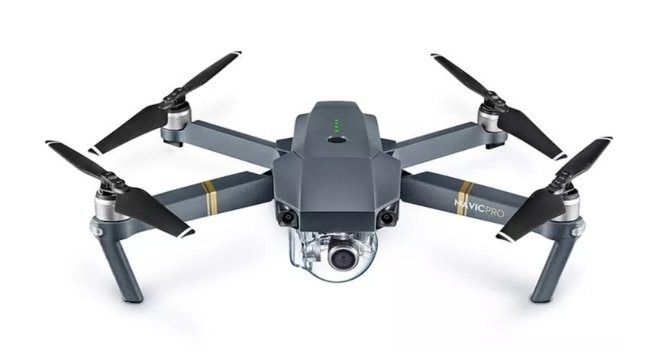 Reviewed here, in a comparison with another badass from DJI; the Phantom 4.
If you read the review, you'll see that the Mavic Pro has anything a traveler may want:
It is compact and foldable
Designed for professional photography and videography (1/2.3" CMOS sensor, an f/2.2 lens that records in 4k at 24/25/30 FPS)
It is easy to use and handle (can be controlled with a smartphone)
It featured advanced technology: 4k videos, a 7km range, obstacle avoidance, 3-axis gimbal for stabilization in flight
The battery lasts for about 27 minutes, but DJI also offers the fly-more pack, with two extra batteries
You can find a lot of cool accessories from filters, to traveling cases.
DJI also released an improved version of this drone, the DJI Mavic Pro 2, which I already reviewed here.
Quick tip: if you're looking for a quad that will add a pinch of creativity to your content, I recommend the DJI Mavic 2 Zoom. It has similar features, but the camera has an extra option that allows filming objects far away (you guessed it, the option is called Zoom!). Even more, you get to do dolly-zoom shots in just a few minutes!
---
2. SIMTOO MOMENT HOSHI 007PRO Airselfie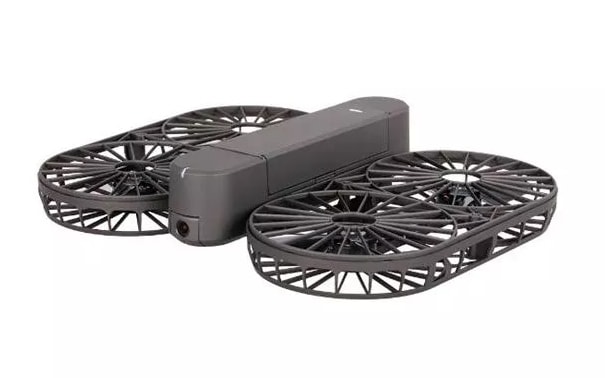 If you're looking for a device that fits in your pocket, takes off from your hand, and doesn't cost too much, the Hoshi 007Pro Airselfie can be a good candidate.
This is more of a selfie drone as it has all the features needed to take great images of various subjects. It can be controlled using an Android/iPhone app, it lands on your hand, and you can share the images you took with social media right away.
The drone also features Follow Me mode and dual GPS (holds position and returns to home), records in 4K at 25 FPS, and the camera has a 1/2.5″CMOS sensor with effective 13MP. The only downside I noticed is the 15 minutes flight time, but you can still take a lot of pictures and record everything you want.
Finally, because the body is entirely made of plastic, the quad is lightweight and durable (the props and engines are well-protected). It's also one of the few drones out there you can carry around without a special case.
---
3. DJI Mavic Air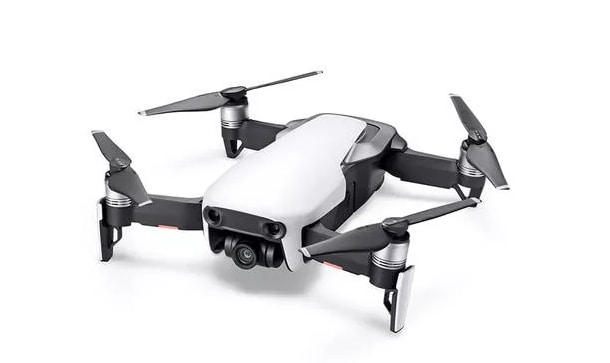 DJI is one of the most sought-after drone manufacturers when it comes to camera quality and foldable design. I already reviewed the Mavic Air here, where you can see a comparison with the Spark quad (another good model for travelers).
In short, Mavic Air checks all the right boxes for a travel blogger because it features:
Hand gesture recognition
APAS collision avoidance,
ActiveTrack follow modes
TapFly, QuickShot, and other intelligent technology
8 GB of internal storage
A Micro SD card slot
A professional camera with a 12-megapixel CMOS sensor and an f/2.8 lens that shoots video in 4k at 30 frames per second
A 3-axis mechanical gimbal for smooth flying
Obstacle avoidance based on Vision and IR sensors
---
4. DJI Tello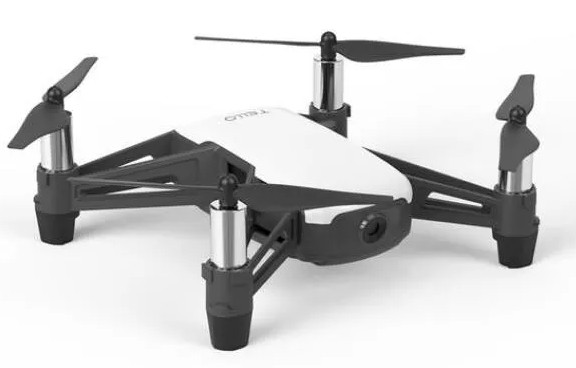 This is one of the DJI quads that, even though packs a lot of features, is still affordable for most bloggers out there.
First, the Tello is easy to use as it has one touch take-off and landing, can hold its altitude and hover in place, and comes with prop guards which you can remove. Second, the drone can only be used with a smartphone, which makes it more of a selfie drone.
While it features a sturdy build, you should know that the flight range is around 100m and it can only support 13 minutes of flight time. Also, the camera has 5MP resolution and shoots videos in 720p high definition.
Overall, the Tello is a nice little quad with interesting features that is easy to use and carry around.
---
5. DJI Mavic Pro Platinum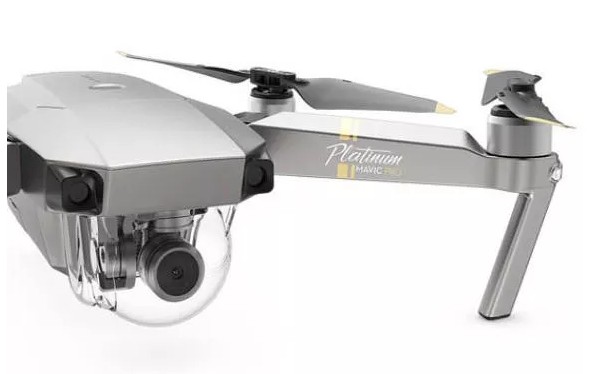 If you're serious about creating jaw-dropping content and/or selling your images, the Mavic Pro Platinum may be the right choice!
While it's true that the price is a bit high, I am completely amazed by the features it offers! To make an idea, think about a Mavic Pro with better characteristics.
Up until now, the Mavic Pro Platinum has one of the longest lasting battery lives on the market (around 30 minutes). Even more, it comes with a small 3-axis gimbal that stabilizes the quad in flight without interfering with the image. It is also a quiet drone, so your videos won't be all about the engines and propellers.
The professional motion camera is equipped with a 1/2.3" CMOS sensor and supports 4k videos at 24 FPS and 12MP raw Jpeg images. Due to the advanced gimbal, the camera can be controlled in flight by adjusting the pitch and roll.
Other cool features include obstacle avoidance (forward and downward Vision system), 7km range, and a foldable design. Still, since it's a rather new design, users should know there are a lot of updates to install, which can get frustrating at some point.
---
Wrap Up
Modern quads with advanced camera features are a must-have for bloggers who want to keep their audience interested and loyal. Still, due to new technologies, you don't have to invest a fortune in a high-tech quad.
Moreover, there are so many designs on the market that bloggers can choose the features that matter the most for them. For instance, most of the selfie drones I reviewed a while back can pass as travel drones as well.  The same goes for drones with Follow Me mode and many other quadcopters I wrote about before.