The world of drones is constantly changing to make these devices more accommodating for regular users who are not interested in racing or professional aerial imagery.
As such, UAVs became easier to control due to pre-set flying modes (such as follow me, automatic hover, or selfie), safer (due to return to home features and obstacle avoidance systems), and a lot more fun to use due to impressive camera technologies.
Not to mention, the latest models are highly portable (foldable designs) and now they can be controlled via an app on your phone, using a WiFi connection.
So, if you're interested in purchasing a drone that doesn't require any technical or flight knowledge, have a look at our product reviews below and learn more about their most impressive features.
Difference between RC & Smartphone-Controlled Quads
Most professional drone pilots swear by the RC-controlled models because they provide a longer range (over Bluetooth or WiFi) and better control.
Overall, it is rather difficult to accurately control a quad using a touch surface because it's incredibly easy to activate the wrong button or switch. This doesn't happen with RC controls because you're using mechanical switches and the remote is built to provide maximum efficiency and feedback.
However, when it comes to portability and ease of use, the smartphone wins over the bulky remote controls. Moreover, if you have a foldable drone, it's incredibly easy to just put it in your pocket or bag and go. There's no need to worry about the remote, batteries for the remote, and other accessories.
Also, the dedicated apps have become better at preventing accidental slips of your thumb and offer more space on the screen. On the other hand, drones designed to be controlled with a smartphone come equipped with pre-set flight modes, which is a blessing for many beginner users.
At the end of the day, it's important to keep in mind that there are options for any type of drone pilots and that you can have your pick!
1. DJI Mavic 2 Pro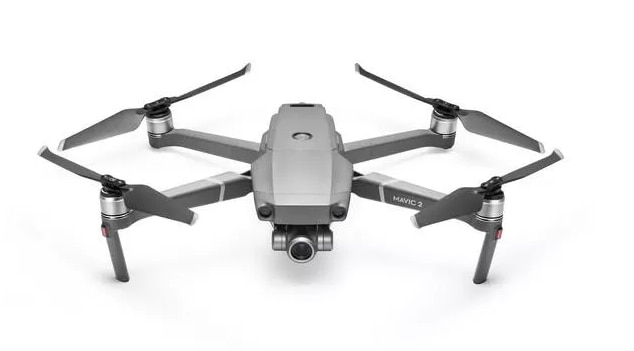 The Mavic 2 Pro from DJI is a beautiful small drone that's designed for travel (the arms and propellers fold alongside the body when you're not flying it) and fantastic aerial imagery. Moreover, the quad can be controlled with your smartphone or other capable mobile device using the DJI Go 4, AirMap, and Litchi apps over WiFi. Of course, you have the option to use FPV goggles or a DJI remote controller.
Quick note: to control the DJI Mavic 2 Pro with your phone, you'll need iOS 9.0 or later or Android 4.4 or later.
The quad is equipped with a 4K camera (with 77-degrees field of view) and a 3-axis gimbal that can be controlled in-flight (tilt and pan action). It can hover by its own, has obstacle avoidance and return to home functionality due to the integrated GPS feature.
Since it's not a racing drone, it's not very fast, but it has an impressive range (8Km maximum). Not to mention that it comes with a whole bunch of flying modes that allow the user to take incredible stills and create astonishing videos!
With the DJI-provided app, the interface is uncluttered and easy to use with the usual controls (touch, tap, slide, and pinch). Also, if the phone is compatible, you can set the Active Track mode, which sets the drone to follow the device from a specific distance, while filming.
---
2. Syma X5SW-1 Explorers 2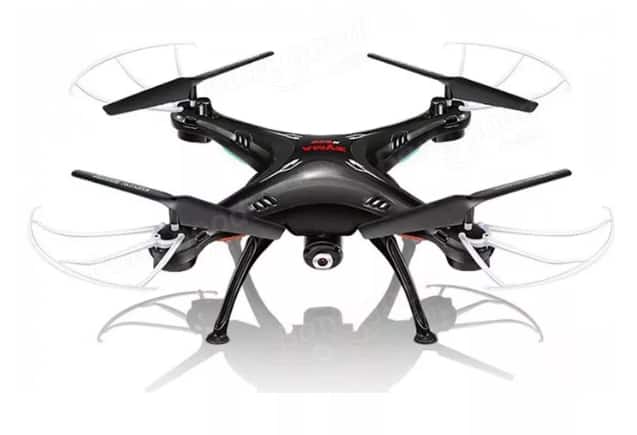 While the fact that it can be paired with both Android and iOS devices is enough to see why this drone is popular, the Syma X5SW-1 Explorers 2 goes one step forward by using both WiFi and 2.4GHz technologies. This is important because it blocks other signals from interfering with your flight.
As such, you can fly several drones at the same time, and each one would know which command is designed for them.
Now, to control it with a smartphone, you'll need the Syma Android app (available in Google Play and App Store). This one allows you to control the flight direction, take pictures and videos, and real-time viewing. Of course, this can also be achieved using the Syma remote controller (for those of you who are more traditional).
The drone comes with reinforced landing gear (which is higher) to protect the advanced 2MP camera and features propeller guards and protected motors. This way, if the quad does crash into something, the damages will be minimal.
Other features that may impress you are 6-axis gyro, 3D rolls, headless technology, and a military-grade design with night lights. Overall, the Syma X5SW-1 Explorers 2 packs a lot of features for such a great price, which is why so many beginners enjoy it!
---
3. DJI Mavic Air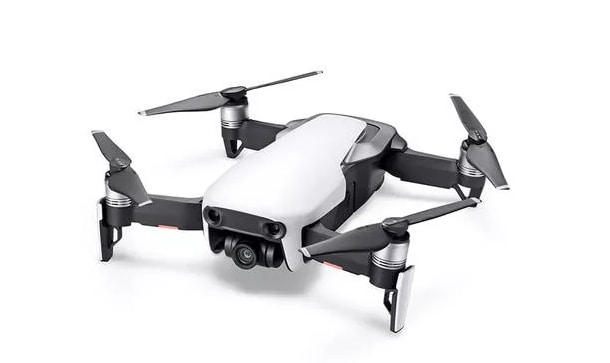 Due to its tiny size and foldable design (when folded it's about the size of a smartphone), the Mavic Air is what we call a pocket drone. However, small drones in today's day and age pack a lot of powerful features, such as a 4k camera, 3-axis mechanical gimbal, several photography modes, ultra-HD video resolution, and GPS positioning and features.
Moreover, the Mavic Air comes with a feature that will be of interest to many photographers (amateur or professionals) – the 32MP Sphere Panoramas. This feature creates a mashup of 25 photos that can be then viewed using DJI Goggles.
Not to mention, the new HDR algorithms are amazing in setting the best exposure settings that correspond to the current lighting conditions. The drone also supports advanced features such as Active Track, SmartCapture, and QuickShots.
When it comes to phone control, users need to use the DJI Go app which offers an intuitive and easy to use interface. Also, due to a new WiFi video transmission system the Mavic Air is equipped with dual frequency bands (2.4 and 5.8GHz) and supports 720P live view on a range of 4Km.
---
4. Wingsland S6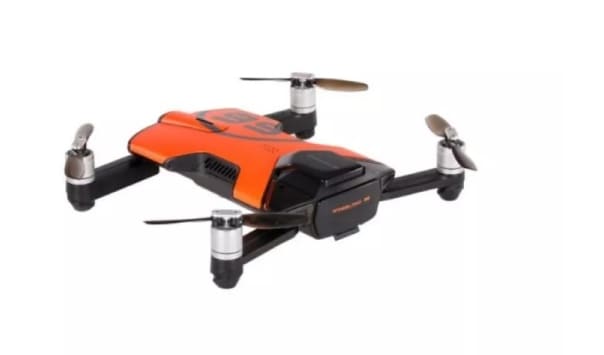 The Wingsland S6 is another cute and small drone I'm sure everyone would love to have in their collection! I know I loved doing the review with it!
Not to mention that, while it's quite affordable, its features can measure up to the ones boasted by the DJI Spark. First, the quad comes with a 4K camera with 13MP, omnidirectional comprehensive obstacle avoidance, 3-axis EIS, and a whole bunch of advanced functions for a fun flying time.
Wingsland is slim (it actually fits in the back pocket of your jeans), uses a 7.6V 1400mAh 10.64Wh (2S LiPo) battery and can be controlled with the provided app over a WiFi connection. The app allows users to control the drone using the available on-screen control of via their voices with specific commands.
Even more, the app (which is Android and iOS compatible) offers the possibility to edit the pictures and add some elements, so they'll be ready for social media right out of the phone.
Finally, the range is 100m (when you're using the smartphone) and you get about 8 to 10 minutes of flight time. Other features that make this drone incredibly smart and fun to use are GPS, auto return home, and follow and selfie modes.
---
5. DJI Phantom 4 Pro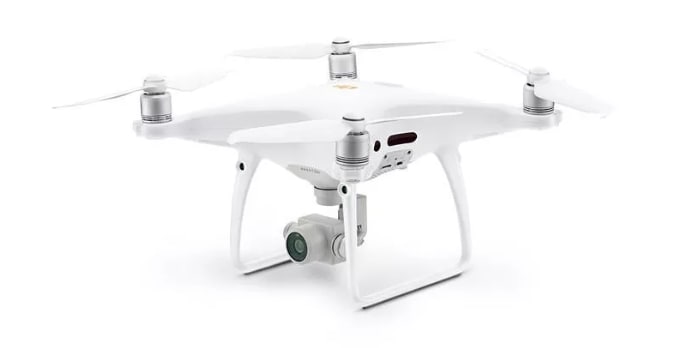 With one more DJI entry on our list, we reached a professional drone, with a hefty price tag, but equally amazing features.
The Phantom 4 Pro has become a household name due to a wide and powerful media campaign supported by the DJI. As such, most users are well-aware of its features and amazing possibilities in both flying and aerial imagery.
Overall, this is a 4K camera drone with 1-inch CMOS sensor that can record 4K videos at 60fps. The camera also supports slow motion but in a lower resolution. Due to the powerful battery (5870mAh smart LiPo), the quad can fly for about 30 minutes and has a control range of 7Km. This is enough time and space to use the quad for property surveillance (it features FPV directly on your phone), real estate videos, and all sorts of professional aerial imagery projects.
For phone control, the drone uses the same DJI Go app, available for both Android and iOS. Moreover, the quad comes with OcuSync HD transmission system which supports automatic dual frequency band switching and can connect with the DJI Goggles.
With the great range and the plethora of flying modes available, the Phantom 4 Pro is a joy to own and use!
---
Wrap Up
As you can see, there are many drones that can be controlled with a smartphone only, but there are also models that work with both RC and smartphones. The difference between the two control systems stands in range and flight performance since a smartphone app doesn't offer the same control features as a remote control.
However, a smartphone-controlled drone is perfect for amateur photographers who want to record their stunts and take jaw-dropping selfies!