A long term investment you'll be making in the RC hobby is a good charger. Chargers come in all flavors – simple, cheap, expensive, robust – it's a matter of finding the best lipo charger for your needs and situation.
How to charge lipos
Lipo batteries are not run-of-the-mill batteries. Their chemistry is quite unique, and they must be charged in a specific way, or else BOOM.
A single lipo cell's minimum voltage is 3.7 volts, and lipos can be charged up to 4.2 volts. Although you could theoretically push it a little higher, you should not unless you absolutely know what you are doing and are aware of the risk involved. Also, pushing lipos to greater than 4.2 volts will significantly decrease their life span.
The lipos used for fpv racing quadcopters are usually 2, 3, or 4 cells hooked up in series, which means the voltage compounds. A 2 cell lipo is 7.4 volts, a 3 cell lipo is 11.1 volts, and a 4 cell lipo is 14.8 volts.
When charging lipos, each cell must be charged equally to 4.2 volts. This is called balance charging. Most hobby chargers have a balance charge option that monitors the voltages of the individual cells and makes sure each cell gets to the same 4.2 voltage.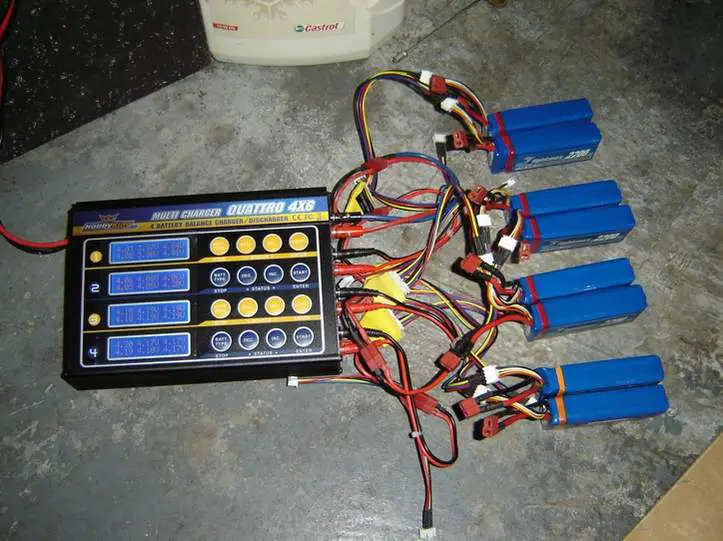 Charging is done by C. In charging, the C rating is the same as the number of amp-hours the battery is of. So charging a 2000 mAh battery at 2.0 amps is considering charging it at 1C.
If you wanted to charge at double the speed(make sure your battery is capable of this before you do so – read the label!) you'd charge at 4.0 amps, considered charging at 2C.
You can also charge multiple batteries together through a technique called parallel charging. Read more about it here.
Features to look for in chargers
Computerized or not?
Some RTF quadcopters ship with regular chargers that will simply bring up the voltage of the lipo to 4.2 volts per cell and stop. These chargers are usually compatible only with 2 and 3 cells, and some may support 4 cells. There are no advanced charging options – you just plug and charge.
Getting into the hobby, you most definitely want to invest in a computerized charger. Computerized chargers have a ton of different functions and support different battery types such as NiMH, NiCd, LiOn, and of course LiPo.
They also have a wide variety of charging functions such as charge, fast charge, balance charge, discharge, and storage charge. They'll also let you check the battery's cells, check internal resistance, and even save a profile of your regular charging routines.
Safety features
Lipo chargers can also have safety features built in to make sure too much charge is not pushed into the battery. A basic safety feature is verifying how many cells are in the pack and how many cells the charger is set for.
My Imax B6 charger rings an alarm and refuses to start charging if the cell count I selected is different from the cell count of the battery.
Some chargers will also have a temperature cutoff where they will stop charging once a certain temperature is reached. Prolonged exposure to excessively hot temperatures can result in nasty consequences when it comes to lipos.
Additionally, there can also be a timeout function that stops charging once the charger has been running for a set period of time.
Some chargers also support connecting to your phone or computer to change settings and monitor charging.
How much power does the charger output?
The power output of a charger is measured in watts(voltage x amps). If your charger has less watt capacity than the batteries you are trying to charge, your batteries will charge slower than they could be.
So to charge a 3S 3000 mah battery at 1C, you'd require 12.6 volts x 3.0 amps, or 37.8 watts. If your charger was rated for 50W, then you wouldn't have a problem with this battery(the problem in this case being charging it as fast as it could be charged).
If you wanted to charge the same battery at 2C on the 50W charger, your charger would not be able to supply the 75.6 watts required, so you'd end up charging slower.
Best lipo charger for parallel charging?
Wattage becomes even more important if you are parallel charging. I run into this problem quite a bit with my Imax B6 when I try to parallel charge 3 or more 4S 1300 mah lipos. My charger can't supply enough power to charge all the batteries at 1C, so it takes a little longer to charge them.
For parallel charging, you just need to have a charger that can output enough amps to charge the combined capacity of your batteries at 1C.
If you want to charge 6 1500 mah batteries in parallel, you'll need a charger that can output 1.5 x 6 or 9 amps.
Note: But still shorter than charging them one by one. Parallel charging is awesome!
Best multi lipo chargers
1. ISDT T8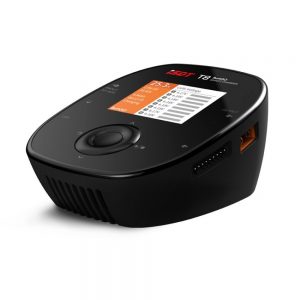 The ISDT T8 is a monster of a charger with an output capacity of 1000W. It can push out up to 30A with the proper power supply, so to put that into perspective, you can parallel charge up to 23 1300 mah lipos at once!
There is a neat little push button interface that lets you navigate the very intuitive menus.
It supports all the standard battery types: LiFe/Lilon/LiPo/LiHv (1-8S), NiMH/Cd (1-21S), Pb (1-14S)
The T8 supports ISDTs new BATTGO technology which tells you about the health of the lipo and tracks its performance across cycles.
There are two outputs so you can plug in multiple lipo batteries/parallel charging boards at once.
For the price, it's a powerhouse of a charger and a good deal!
---
2. ISDT T6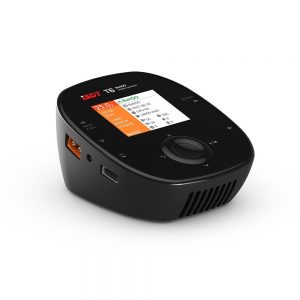 Like the T8, the ISDT T8 is a BATTGO enabled charger – it's pretty much identical to the T8, except this one has a power output of 600W or 25A. Still, that's a respectable amount of power and enough to charge 19 lipos at once! I only have 7 or 8 lipos at a time, so the ability to charge 19 lipos is more than enough for me!
The T6 supports LiFe/Lilon/LiPo/LiHv up to 1-8S, NiMH/Cd1-21S, and Pb 3-12S – all the standard ones.
---
3. ISDT SC-608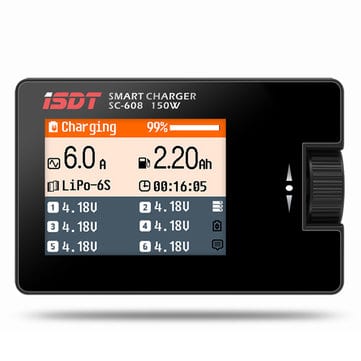 This tiny little charger is awesome, easy-to-use, and cheap at under $50. It charges a wide variety of batteries, can output 8A and 150W, which is more than enough for charging 6 1300 lipos in parallel. You will need a power supply, or you need a large lipo battery to provide power for charging a smaller battery.
You can also see my detailed review here.
---
A note on ISDT chargers
ISDT chargers don't have power supplies built into them – so you'll need an external power supply. Power supplies are easy to find, and ISDT makes specific ones suited to these chargers, too.
You don't need an ISDT supply – you can use any computer/laptop supply that can deliver the voltage and amps your charger requires. Just because the charger is capable of up to 1000W does not mean you must supply it with 1000W. If you have a lesser capacity power supply, just charge at the max capability it can handle.
For example, with my SC-608 charger, even though it can output 8A, the laptop power supply I use with it can only do 4.5A, so that's the max charge current I set it at.
---
Imax B6
The Imax B6 is a charger I use as a spare. I must confess I bought it along with my first quadcopter and radio, and being on a tight budget, I went for a mid-range charger. At $40 from HobbyKing, the Imax B6 does what it's supposed to do just fine: charge your lipos! It's a fully computerized charger, and can take DC power(from a power supply/car battery) and AC power from a wall outlet. It's fine for charging one lipo at a time, or even small lipos in parallel, but charging 1.3 lipos in parallel slows it down a little. Still, it's served me well so far, though I now prefer the ISDT series.
Note: The Imax B6 is a heavily cloned charger, so get it from a reputed source.
A while ago, I picked up an ISDT charger and I've been sold on them ever since. They're superb chargers for the price and they come in all shapes/sizes/capacities, so there is something for everyone.