The DJI Mavic Air, to me, is a hybrid between the Mavic Pro and the Spark that combines the best of what both platforms had to offer. I am really glad DJI released the Mavic Air, but I'm also super pissed…
Considering I bought a Spark just 2 months ago!
I guess I'll have to start saving up for a Mavic Air now!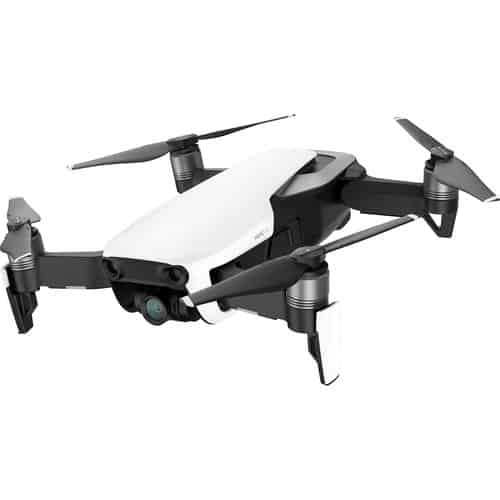 Why would you want a DJI Mavic Air?
The DJI Mavic Air is aimed at toeing the line between aerial photography hobbyists and professionals. If you're on the fence about getting an aerial photography drone, the Mavic Air is a great stepping stone that will actually last you a very long time, even into a possible professional career.
While you see most pros out there using Mavic Pros or Phantoms, the Mavic Air is a serious contender against both. Obviously, there are limitations in the Mavic Air which are not in the Mavic Pro or Phantom, but for the price, size, and features, it's an awesome package.
Best of the Spark and Mavic Pro
Since the Mavic Air combines the best of the Spark and the Mavic Pro, let's first talk about what the Spark is good at and what the Mavic Pro is good at before diving into the features of the Mavic Air, which you'll see are strikingly built upon these two awesome aircraft.
DJI Spark:
The Spark was DJI's first "truly amateur" drone. It was inexpensive to the point that a lot more people could now afford it. It was ideal for Instagram selfies and small YouTube videos, for someone to share their everyday life with their family and friends from a new perspective. Even though the camera maxed out at 1080p, the video quality was still impressive and for most everyday shooting, more than adequate. It was tiny, sporting just 4.5 inch propellers(but not compromising at all on stability, as I've taken my Spark up to 400 feet high and it still holds stable like a boss), making it very easy to transport and very non-threatening and harmless to an observer. In fact, I think most reactions to the Spark would be "HOW CUTE!" rather than "OMG A DRONE WHY R U SPYING ON ME" Combine all this with DJI's super stable flight control system, AWESOME companion app, and you've got a really amazing drone in a tiny package.
DJI Mavic
The DJI Mavic Pro on the other hand is a fully professional setup sporting a 4K camera that can capture truly stunning footage. Although it uses 8.5 inch propellers(allowing for even faster and more stable flight than 4.5 inch propellers), the arms fold into the body to make the Mavic very portable when folded up, almost the size of the Spark. The Mavic has far better range than the Spark. Advertised range is 8 km, whereas the Spark has a range of 2 km. The Mavic also uses a better quality downlink from the copter to the remote, so you get better, uninterrupted video and longer range. Finally, the Mavic has a few more flight modes than the Spark, as well as nearly double the battery life – the Spark gets around 12 minutes, and the Mavic gets up to 25 minutes on a single battery.
DJI Mavic Air features
Folding and portable
The DJI Mavic Air is extremely portable, as the arms fold in to the body and the propellers become flush and parallel to the main chassis. When folded up, the Mavic Air is about the size of an iPhone X – incredibly impressive and small for a drone of its capability!
What was missing from the Spark, even though it was a really portable little quadcopter, was that the arms did not fold in. The Mavic Air is only slightly larger than the Spark with unfolded arms, but it compresses really nicely into a tiny little package.
Throw it in a backpack, carry it around wherever you want to go – it's all cool!
Folded:
168×83×49 mm (L×W×H)
Unfolded:
168×184×64 mm (L×W×H)
One other small but significant – I feel – touch the DJI guys have done with the Mavic Air is that the sticks on the remote are removable. Just unscrew them from the pots! This does wonders for protecting the sticks, since I needed a 3D printed cover to prevent the sticks from coming under unnecessary stress in a bag.
HOWEVER
The detached sticks are very small and even though they'll store inside the controller, I'm sure they'll still be very easy to lose…
3 axis gimbal and 4k camera
The real highlight of the Mavic Air is the 3 axis gimbal and 4K camera. This thing is stunning – the fact that such a tiny camera can capture such stunning images is huge.
You can capture 32 megapixel sphere panoramas which give you an immersive shot
You can capture 4k at 30 fps, and 1080p at up to 120 fps for amazing slow motion shots
HDR processing allows for great pictures even in moderate lighting and shadow conditions
8 gb internal storage means you can get away without a memory card in case you forget yours at home!
4 km of range
The DJI Mavic Air uses an enhanced WiFi signal that hops between 5.8 gHz or 2.4 gHz. The Mavic Air gets up to 4 km of range, which is respectable. However you'll only realize this range in open areas free of disturbance. In crowded areas range will generally be less.
I feel like DJI should have used OccuSync on the Mavic Air. WiFi is good, but the OccuSync signal on the Mavic is just flawless.
Sensors
Obstacle avoidance and sensors just keep getting better and better with each generation of DJI copters.
The Mavic Air has obstacle sensing on the front and back, so you no longer have to worry about hitting something whilst flying backwards! This is awesome!
Some of the best shots are taken flying backwards, so not having to worry about crashing into a wall or a tree you can't see on the screen is great news 🙂
You can even enable a setting for the Mavic Air to automatically avoid any obstacles in front of it by changing the flight path(as opposed to just stopping).
Flight modes
ActiveTrack: The copter can automatically lock on to an object you select from your app, and it will do its best to follow it and keep it in shot.
QuickShot: These are some signature videos and photographs you can have the drone automatically take for you.
SmartCapture: You can control the drone by using hand gestures to signal to take a photo, move back and forth, etc
TapFly: In this mode, you can tap on the screen and the drone will fly to wherever you tap.
Tripod Mode: Tripod Mode slows down the stick inputs to a very minimum so you can take slow, cinematic shots
Waypoints: You can select points on a map and the copter will follow the route you plan out for it.
Battery life and flight performance
The DJI Mavic Air uses a special high density lithium polymer intelligent battery that allows the copter to stay in the air for a very long time and fly very fast!
The advertised flight time is 21 minutes, but this is if you are hovering and in no wind. In real life conditions, you can expect the number to be a bit less, but even 17-18 minutes of flight for such a tiny little craft is impressive!
In Sport mode, you can go at a whopping 68 km/h. This will be truly thrilling to experience, especially if you are using the DJI goggles!
In normal circumstances you can fly up to 30 km/h, which is still very good, considering my Spark maxes out at around 35 km/h in its Sport Mode!
Price
Finally, it all boils down to the price and value for money. The Mavic Air is significantly cheaper than the Mavic Pro, and a LOT cheaper than the Phantom.
After the release of the Mavic Air, I feel the difference between the copters in terms of features is getting less and less, and the money you are paying extra for the bigger model is just for the better camera sensor.
I think this is why professionals will stick to Phantoms or Mavic Pros, since the camera – even though they all shoot 4K – is just that little bit better on the Mavic Pro and even more so on the Phantom that professionals will get an extra edge up from.
However, if this copter is meant to replace the Spark, then it truly does bridge the gap between consumer and prosumer and it packs features that, like mentioned above, combines the best things about the Mavic Pro and the best things about the Spark.
If you're looking for something tiny but don't wnat to spend that much more money, but still want great footage and flight performance, I feel you just can't go wrong with the Mavic Air.
Well done, DJI.
Well done!