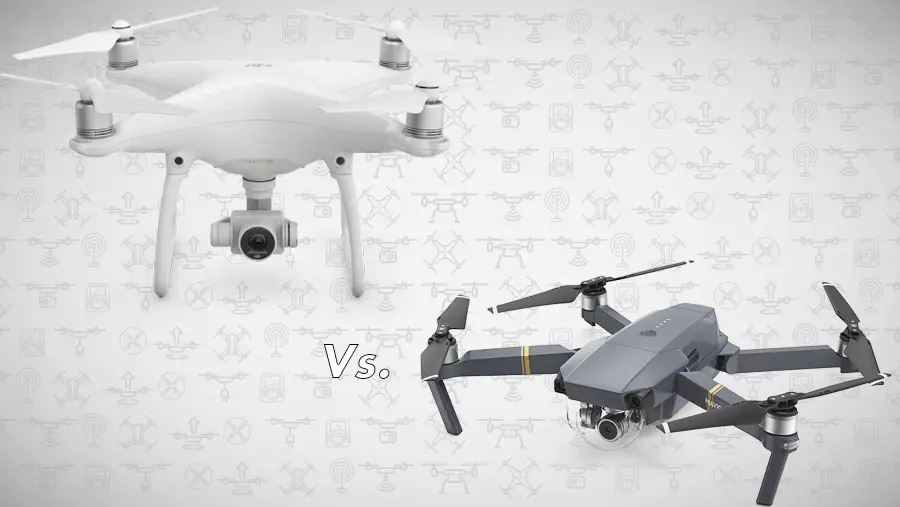 When it comes to aerial photography, you really can't outdo the DJI Mavic Pro or the DJI Phantom 4. Both are superb aerial camera platforms, and they're unmatched in terms of stability, flyability, and image quality.
They both cost more or less the same – though the Phantom 4 is a little more expensive – and the image quality and video quality captured by both is also quite similar.
So if you had to choose, which one would you go for? Let's start the battle of the DJI drones, the DJI Mavic Pro vs Phantom 4!
To help make the comparison easier, we're going to look at the most important features in both quads and see where which quad comes ahead.
Video quality
Phantom 4
The Phantom 4 has a 3 axis gimbal stabilized camera that is capable of capturing 4K video at 30 frames per second and 1080p video at up to 120 frames per second for some sexy slow motion shots.
Still photos are captured in 12 megapixels and optionally Adobe DNG RAW for easy post processing.
DJI Mavic
The Mavic Pro has a 3 axis gimbal stabilized camera as well. The engineering is simply phenomenal in this case, since DJI has managed to fit such a powerful camera and gimbal into such a tiny little package.
The Mavic camera can capture 4K video at 30 fps and 1080p video at up to 96 fps for slow motion shots.
Like the Phantom, still photos are captured in 12 megapixels and optionally Adobe DNG RAW.
Winner: DJI Phantom 4, but just by a slim margin
Flight performance
Phantom 4
The Phantom 4 is an incredibly stable aircraft. Guided by GPS and multiple sensors, it's designed to maintain a perfectly stable hover outdoors and indoors where GPS signals may be lower, as well as track its position all throughout the flight.
When flying in the guided flight mode, if you let go of the sticks, the copter will come to a perfect halt and hover in place. This is a great way to position yourself for capturing great shots.
For some super fast flying, you can enable Sport Mode to get top speeds of up to 45 mph, which is a LOT considering the size of the craft.
All in all, the Phantom 4 is a pleasure to fly and incredibly smooth in the air, with enough failsafes built in that it's very unlikely you'll crash or not be able to recover your quadcopter.
Mavic Pro
The Mavic Pro is also loaded with sensors to make sure you can fly precisely and safely both indoors and outdoors. Like the Phantom, it has Sport mode in which you can reach speeds up to 45 mph.
The Mavic Pro has one extra flight mode which is not in the Phantom, called Tripod mode, in which all the movements of the copter will become much slower to get those precision, cinematic aerial shots.
Whether you are flying using the remote or using your phone, the Mavic responds smoothly to your inputs and will always return to a stable hover if you ever let go of the sticks.
Winner: Tie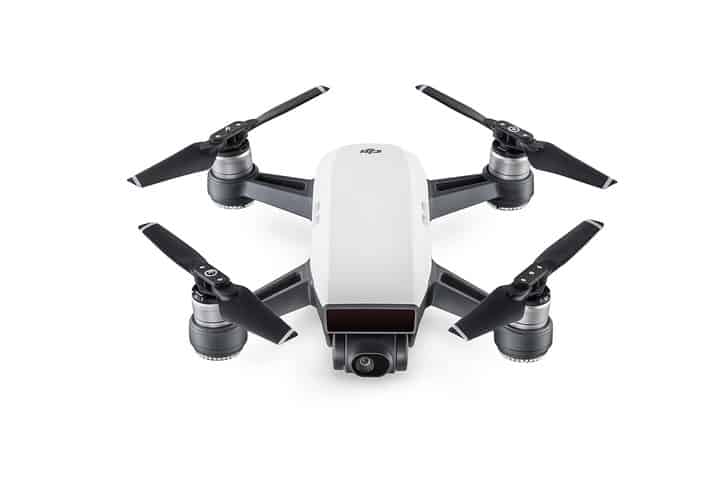 Flight time
DJI Phantom 4
The advertised flight time of the DJI Phantom 4 is 28 minutes on a single battery, though more aggressive flying would reduce the flight time and a more sensible estimate seems to be around 20-25 minutes.
DJI Mavic Pro
The Mavic Pro is advertised to have a flight time of 27 minutes on a single battery. The props on the Mavic are smaller than those on the Phantom, and it's also a much smaller aircraft, but DJI has still managed to extract so much flight time from a comparatively smaller battery.
Winner: Tie
Ease of use
DJI Phantom
The Phantom is operated by a combination of the DJI remote and your phone using the DJI app. Through the app, you can tap to fly to a particular location, you can do orbits around an object, you can track an object that the copter will follow and continue following, and you can also set flight paths and call the copter back in for a landing. These are all pretty standard features on the DJI app, and will work with all DJI drones.
DJI Mavic
The Mavic can essentially do everything the Phantom can do in terms of hooking up with the DJI app, subject tracking, tap to fly, return to home, and so on.
The two places the Mavic is a step ahead, at least in terms of ease of use, is the Mavic remote controller and the fact taht you can use the Mavic with just your mobile phone – you don't need a remote for short distance flying. The app will overlay two sticks you can use to fly the craft.
The Mavic remote is also really nice and compact, and you can see essential data on the display.
Winner: Mavic Pro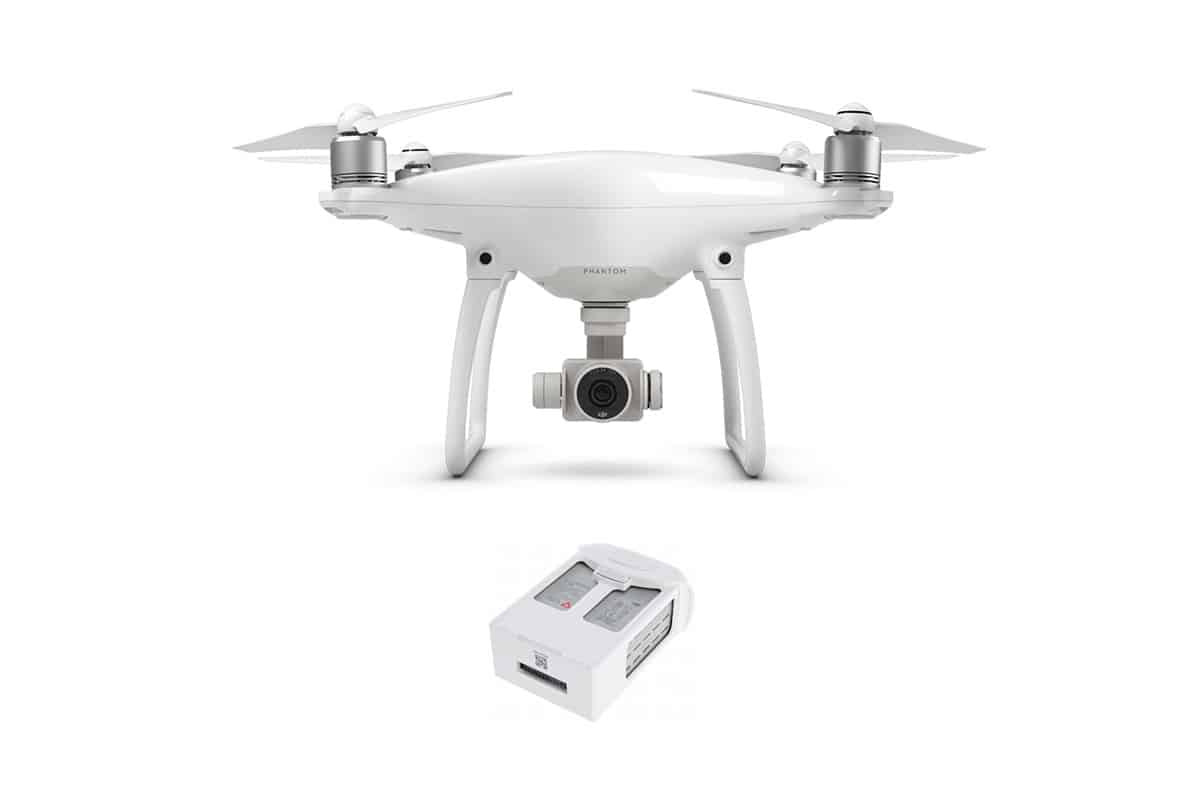 Durability
Phantom 4
The Phantom 4 has a magnesium frame on the inside to keep weight down and durability up. It's a much bigger craft, so it carries much more inertia, but on the whole, it's very stiff and strong. While a crash is very unlikely, normal crashes will only result in broken props(unless you somehow hit the gimbal directly).
Weight: 1380 grams
Mavic Pro
The Mavic Pro is also quite a well built machine, but it does have a lot more moving parts than the Phantom 4. The arms swing out and up, and the landing gear also fold out. While it's great design, and the overall feel is quite solid and sturdy, I have heard friends who use the Mavic Pro tell me that it is indeed quite fragile to the touch.
Just the fact that there are so many more moving parts means that much more potential damage is possible in a crash.
Winner: Phantom 4
Portability
Phantom 4
The Phantom 4 is a pretty big copter, measuring 350mm x 350mm(about 14 inches square) and weighs 1380 grams with a battery. It takes 10 inch propellers. Coupled with the Phantom, you have to carry extra batteries, extra propellers, and of course the radio, which is also fairly large – it's the size of a normal RC radio.
Mavic Pro
The Mavic measures 330mm from motor to motor when unfolded, but folded it, it becomes a tiny H83mm x W83mm x L198mm. It's small enough to throw into a backpack and not notice it's there, as it only weighs 734 grams with battery, a little more than half the weight of the Phantom. It sports 8.4 inch propellers which fold onto one another, adding to the portability.
The Mavic Pro remote is also much smaller, just about the size of a typical smartphone.
Winner: Mavic Pro
Conclusion and pricing
Phantom 4
On the DJI Store, the Phantom 4 costs $1500 for the Phantom, one battery, a charger, the remote, micro SD card, a carry case, and some propellers. To get the most out of your Phantom, you'll need to pick up some extra batteries. Batteries are not cheap, at $160 each on the DJI Store.
Mavic Pro
On the DJI Store, the Mavic Pro costs $999 for the Mavic, remote, one battery, propellers, gimbal cover, micro SD card, charger and cables, and shoulder bag. You'll need some extra batteries, which are $90 each. You can also pick up what DJI calls the "Fly More Bundle" which they sell for $1300. For the extra $300, you get 2 extra batteries, 2 extra sets of propellers, and a parallel charging hub.
So which will it be?
In terms of flight performance, image quality, ease of flying, and overall, the Phantom 4 and Mavic Pro are quite similar – the Phantom 4 only inches ahead of the Mavic Pro in most aspects.
However, the deciding factor for you will have to be portability and cost.
If you are looking for something portable, can throw into a backpack(like for traveling and vlogging), yet can still capture stunning footage, then the DJI Mavic is the copter for you. It just can't be beaten in terms of portability.
If you are looking for something very professional that you don't mind lugging around – or you don't have to use it while traveling – and most importantly, you have the budget, then go for the Phantom 4.