If you like DIY projects and you're used to playing with solder and wires, a drone kit may be right up your alley! Moreover, kits are easier to customize than RTF drones and the price is a lot more affordable (especially if you're looking for something more advanced).
However, if you're not knowledgeable when it comes to drones and their components, it can be rather confusing to choose the best quad kit for your needs.
As such, I created a detailed guide to help beginners in selecting the right features for the activities they want to perform with their drone. Also, I'll highlight why a kit can be a better investment in comparison with an RTF drone on the long-term.
Kit vs. RTF: Which One is Best?
Before we dive into the pros and cons of each, let's first establish the difference between a kit and an RTF drone (Ready to Fly).
A quad kit is delivered with all the elements needed to put the quad together, but without a controller, transmitter, or battery (some may include a standard battery, but they usually come without). The elements come as individual components and you need to put them together into a functional quad.
The RTF drone comes already mounted and all you need to do is install the battery (which is included in the package in most cases).
So why would one want to buy a kit instead of a drone that's ready to fly out of the box?
The Overall Cost
If you're a beginner, it may be more advantageous to buy a quad that's put together and cheap (like these indoor designs). And you wouldn't be wrong to do so.
However, if you're interested in learning more about the trade and you want to get a better-performing model, a kit makes a lot more sense. The cost of a DIY quad kit is lower than the one of a fully-assembled drone, and there are lots of upgrade possibilities.
Customization Possibilities
Since the kit is basically a frame and the basic components, the kit leaves plenty of room for customization. On the other hand, a fully-assembled drone is more pretentious when it comes to upgrades.
First of all, in an RTF drone, the frame is not as flexible as in a kit, so there isn't room for other components. Second, the components are welded and screwed to follow the producer's vision, and it can take a lot of work to change anything.
So, if you're looking for a quad that can be upgraded on the long-term. I recommend getting a kit.
Learning Opportunities
You learn a lot by putting a frame together and playing with components such as the flight controller, the engines, or the ESC!
Just take a look at the Tyro99 review and you'll see just how interesting it can be to solder the wires, make the connections, and understand where everything goes and why. Once you acquire these skills, it will be easier to understand how drones work and perform repairs and upgrades.
Perfect for Racing
Drone racers love a DIY kit because of the reasons mentions above. Also, most kits are lighter than an RTF design and it's easier to upgrade the engines, add a more powerful battery, or add a GPS system.
What's in a Quad Kit?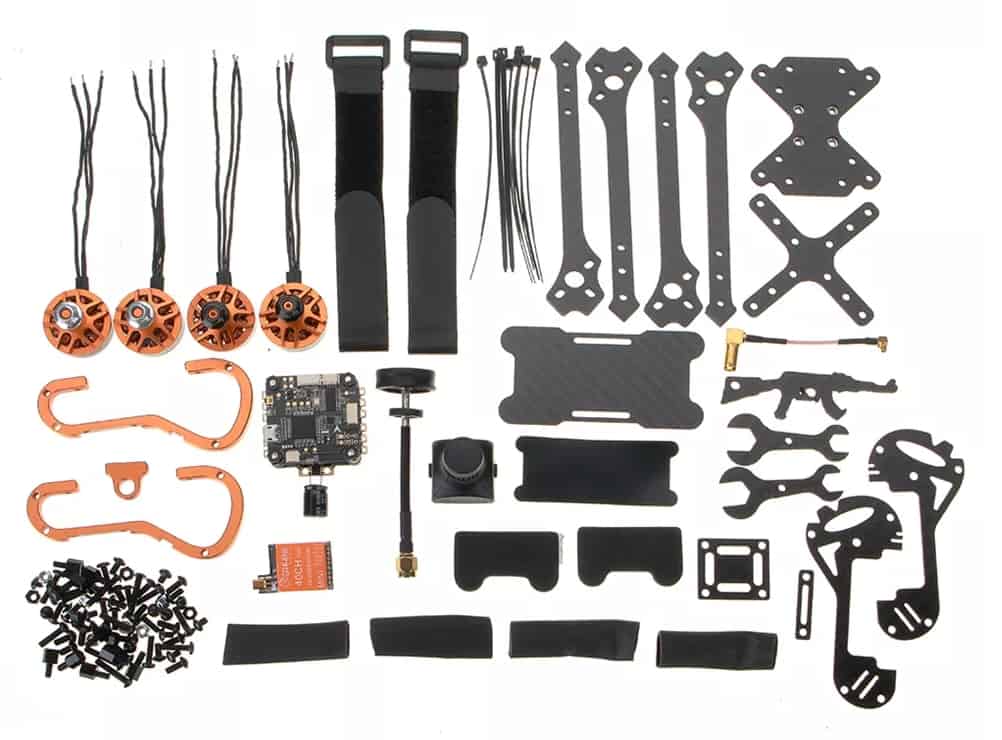 Any kit should have the following elements:
Frame – in most cases, the frame is made from carbon fiber, but you'll also see models with glass fiber frames. The difference stands in durability, with glass fiber being more resistant to crashes, but heavier and more flexible as well.
Flight controller (FC) – this is the so-called brain of the quad since it controls how the ESC rotates the motors and how the quad moves through the air. Now, depending on the price of the kit, you can get a flight controller with GPS and a whole load of fancy features.
ESCs – also known as Electronic Speed Controllers, these elements control the motors (as instructed by the FC) and regulate the voltage from the battery before it goes to the motors and FC.
Motors – the life force of the drone, motors generate lift-off by turning the propellers at a certain speed (as instructed by the FC).
Camera and VTX (for FPV kits) – the camera is usually a standard 700TVL camera, but pilots can always replace it with a better version. The VTX or video transmitter
Screws, zip ties, straps, and so on – Besides the main elements, the kit also comes with a series of other elements that help secure everything.
As I already mentioned, quad kits don't come with a battery, transmitter or receiver, so you have to buy them separately.
How to Select the Best Quad Kit?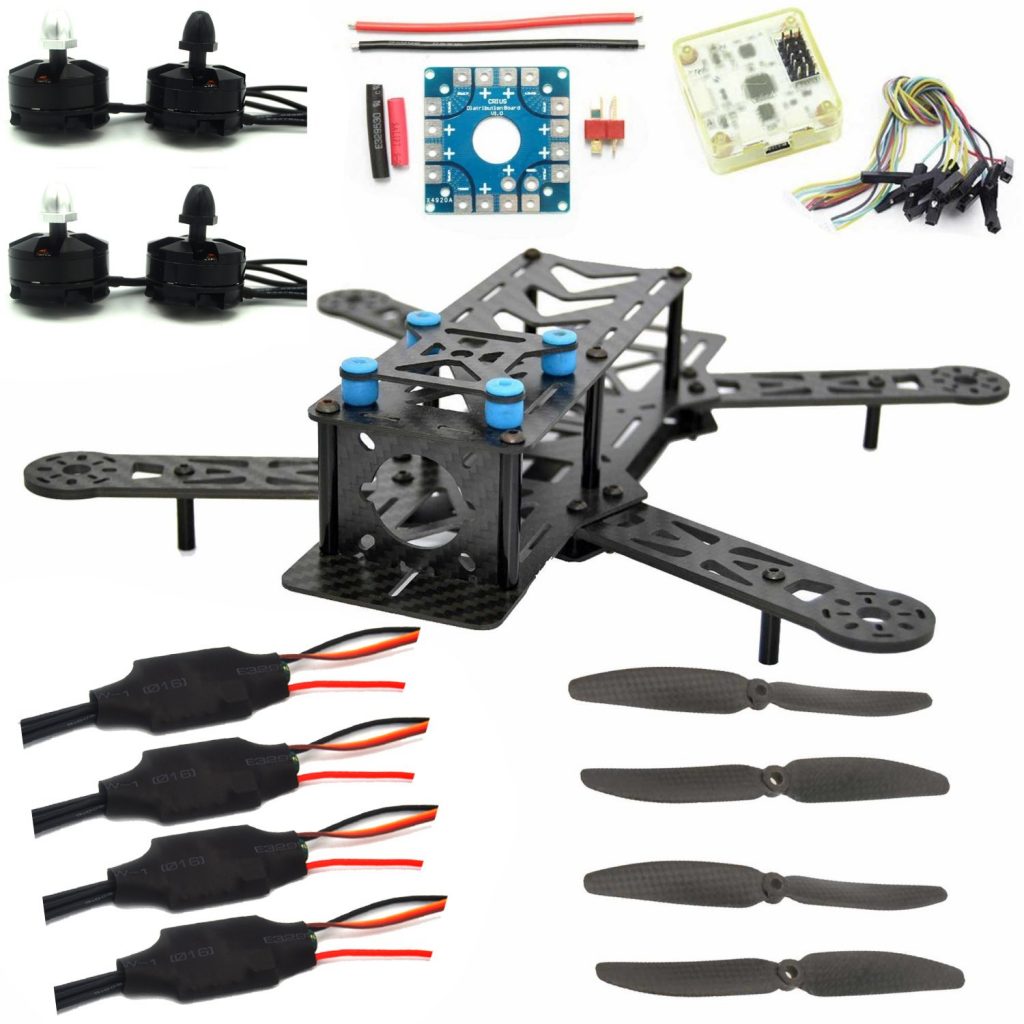 In order to get the right one for your needs, you'll first have to know how you're going to use it. For this, there are two main situations:
Racing quads (designed for general flying)
Aerial photography quads (for taking pictures and videos)
Racing Kits
Since the weight of the quad is one of the crucial elements, you should select a kit with a small and lightweight frame (preferably made with carbon fiber).
Next, make sure the motors have a high KV value (it means they are more powerful) and that the FC is suited for racing. The props should also be smaller, so they can adapt to the speed and tight turns.
Racing quads don't need a fancy flight controller with all the bells and whistles (such as GPS positioning, automatic leveling, or hovering). Look for a model that supports Acro mode (flying without any assistance) and delivers all the power from the battery to the motors.
Finally, a great racing drone should support FPV, so you can see where you're flying. This means that you'll also need a good racing camera and a high-end VTX component.
Aerial Photography Kits
If you're more interested in capturing astonishing vistas, the best quad kit will be a bit different than the one mentioned above.
First, the frame should be bigger and capable of supporting a heavier load, including a sophisticated gimbal. Second, since the quad needs to be stable in flight, the motors should have low KV values (900KV motors work just fine). This allows them to carry a larger weight without creating too many vibrations.
The props need to be bigger, so they'll work smoothly with the motors and help with creating the necessary force for the lift-off.
Finally, the flight controller should have all the bells and whistles you can find since you'll need the drone to hover in place and have several automatic functions that allow you to focus on the image and not on the flying.
Top 3 Best Quad Kits
1. Eachine Tyro79 – Great for Racing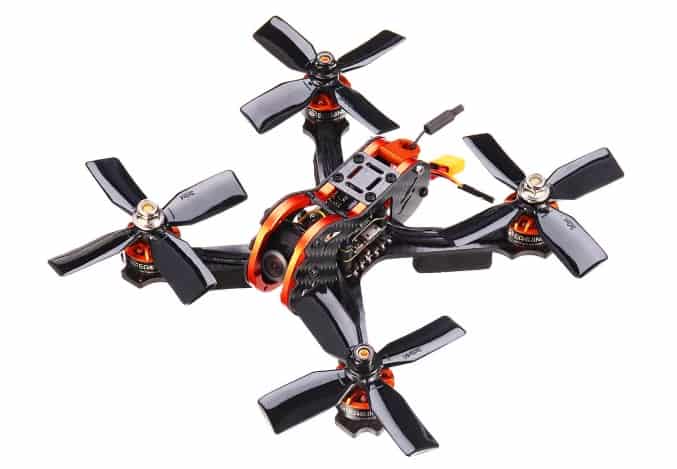 Just like the Tyro99 (which is $99), the Tyro79 costs $79 and comes with all the necessary elements to have this 3-inch coper flying. Of course, there is no battery, receiver or transmitter, but these are not standard components of a quad kit.
Built on a 140mm carbon fiber frame kit, the tiny Tyro79 works well with a 3s LiPo battery (although Eachine tells us it will work with a 2s as well) with about 450 to 650 mAh.
The quad is delivered with powerful 2800KV brushless motors, a 4-in-1 20A ESC, F4 flight controller with integrated Betaflight OSD, 700TVL camera with 2.1mm lens, and 5.8G 40CH VTX with TBS SmartAudio.
In terms of performance, the quad is fast and furious, but I would recommend replacing the 030 4-blade propellers with a lighter design (if you want maximum efficiency).
---
2. Qwinout DIY FPV Drone – Great for Photos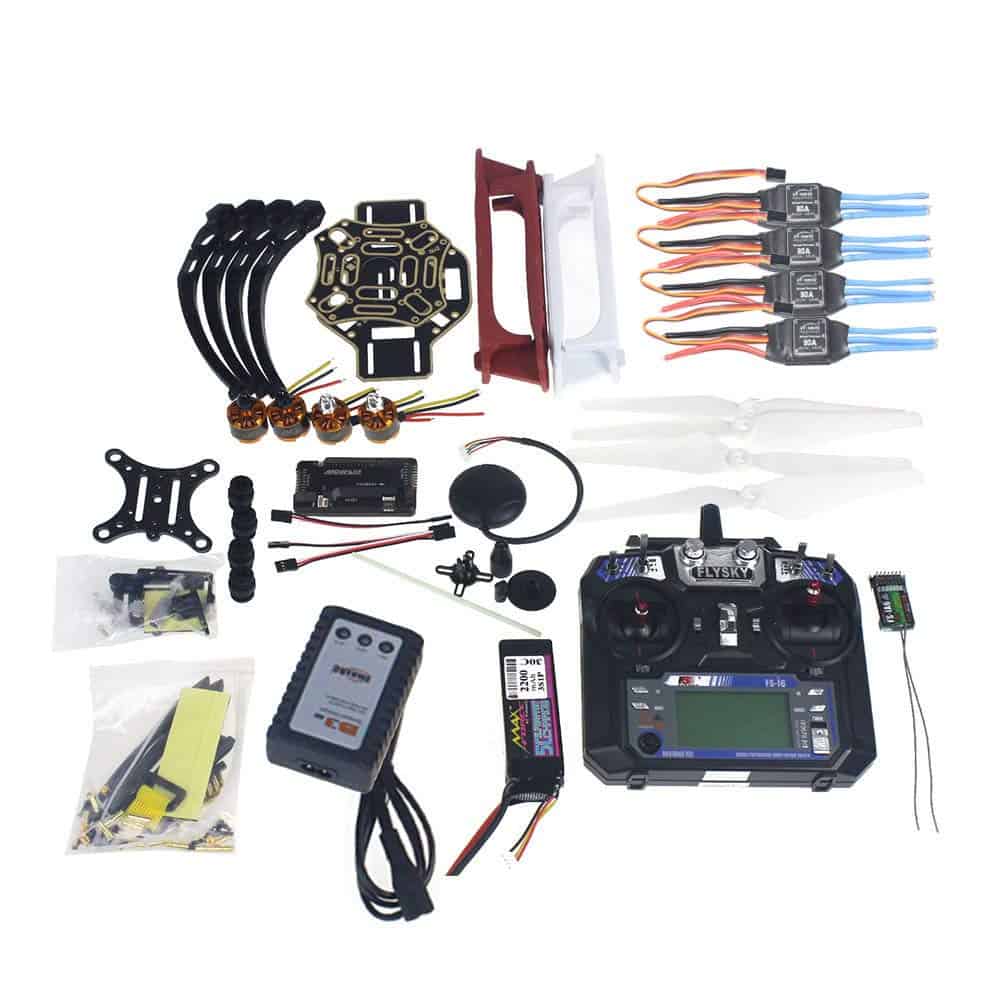 This is a fancier drone kit equipped with PM2.8 APM 2.8 flight controller, which is one of the best platforms for automating the flight experience.
The kit also features a 6M GPS with Compass L5883 25cm cable, a Servo Extension Lead wore cable, one DJI GPS folding antenna mount holder, four 920Kv brushless motors, and 4 30A brushless ESCs (among other components).
Everything goes on an HJ 450 450F Nylon Fiber Flamewheel Frame Airframe kit which is supported by landing skids and allows plenty of room for components. You also get a carbon fiber gimbal mount that can support a GoPro Hero 3, and a FlySky FS-i6 6CH 2.4G AFHDS 2A LCD Transmitter iA6 Receiver Mode 2.
While you don't get the camera, this kit is great for aerial photos and videos!
---
3. LHI 250mm Pro Quadcopter Frame Kit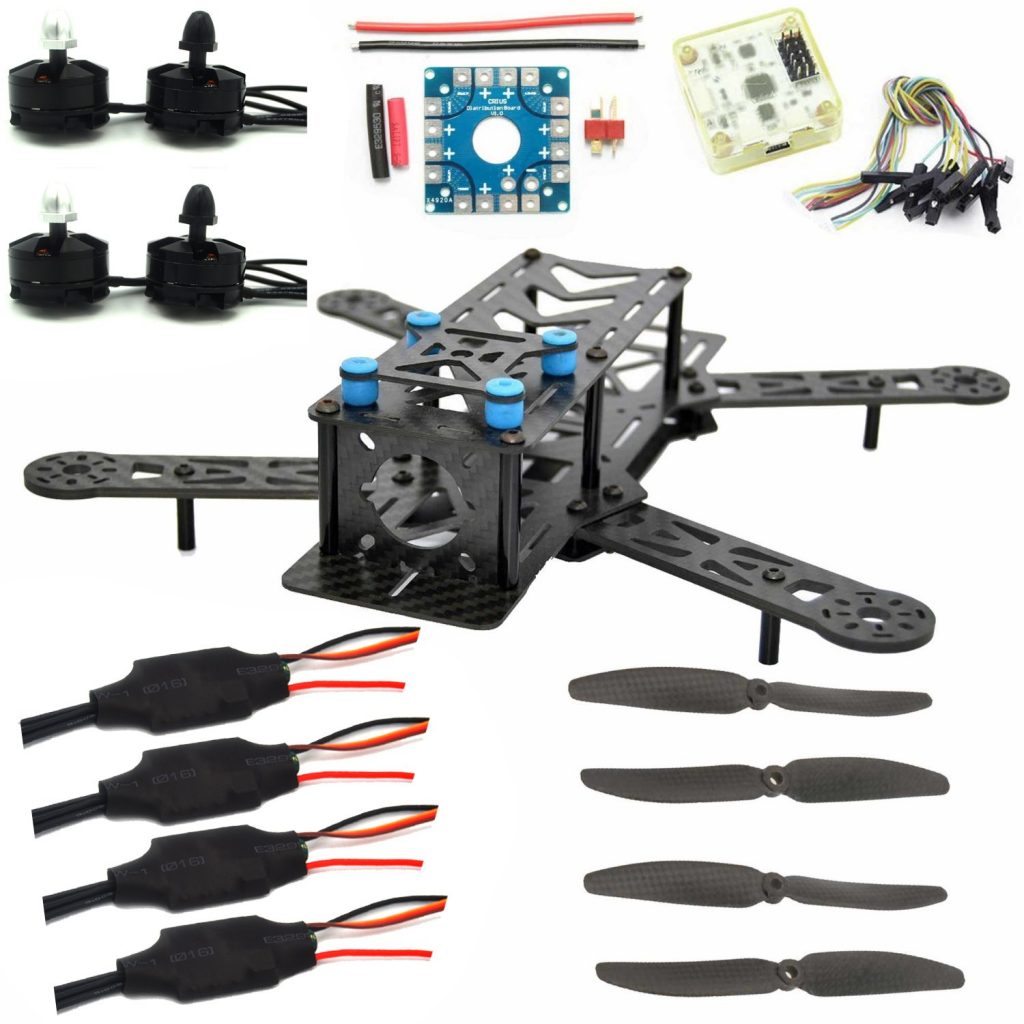 This one is a simpler kit that offers lots of room for customization, which is why it's one of the most popular among DIY drone enthusiasts.
At the basis, the LHI is a frame kit that comes with motors (MT2204 2300KV), ESCs (Simonk 12A ESC), flight controller (CC3D), and propellers (6030 CF). Everything is mounted on a 250mm carbon fiber frame equipped with rubber dampers to reduce in-flight vibrations.
Overall, if you want to use it in FPV mode, all you need to do is add a camera and a VTX unit, and you're good to go. Of course, you'll also need a battery (I recommend a 3S 1800-3000 mAh with over a 45C discharge rate) and a receiver and transmitter.
You'll also need a soldering kit and a lot of patience since some elements are a bit difficult to place on the frame. Still, at the end of the day, this is a really good starter kit!
---
Wrap Up
Overall, the best quad kit is the one that responds to your flying needs and lets you enjoy this amazing activity to the maximum!
But keep in mind that they do require some work and a bit of drone knowledge in order to fulfill their destiny. Moreover, most kits also need some soldering, which can be scary for a beginner.
So, if you don't believe a kit is the right choice at the moment, there are plenty of RTF quads to consider!