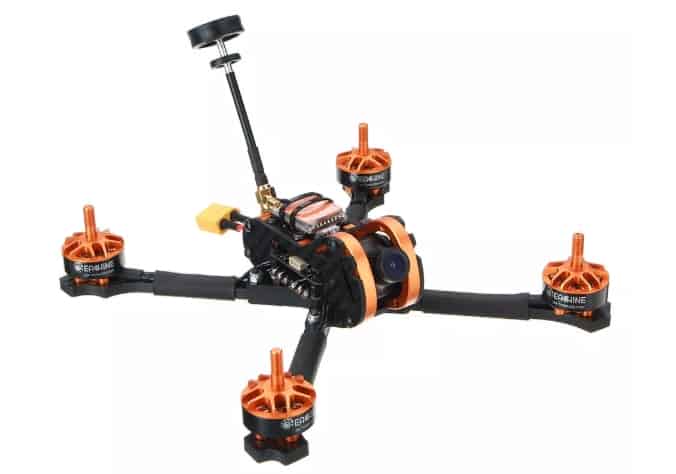 While most drone manufacturers use the name to flaunt the wheelbase of the product (or any other impressive feature), Eachine used it to boast about the small price. The Tyro99 is, in fact, $99 and is designed for racing (although I wouldn't enroll it in any professional league).
Now, I think it's important to mention that this is a drone for beginner racers or amateur pilots who want to dip their toe in the water before deciding if this is something they want to pursue. Eachine had to cut some corners to get to this price, and if you're used to more expensive models, it's easy to see the difference.
Still, for a beginner, the Tyro99 is fast and easy to use.
Tech Specs
The quad comes in a DIY format (it's disassembled) so you have the opportunity to learn how to put a drone kit together.
In the package, you'll find the following:
210m carbon frame
Four 2206 2150KV motors
5 sets of Racerstar 5038 2-blade propellers
700TVL CMOS FPV camera
F4 flight controller
4 IN 1 30A BLHeli_S ESC
8G 40CH VTX with switchable power
Besides the main components, you also get accessories such as zip ties, sticky pads, screws, 2 battery straps, and wires.
All these can be easily put together, with minimum soldering, and it doesn't take a lot of knowledge on quads or engineering to figure things out. Still, to get it airborne you'll also need a battery, a radio receiver, and a transmitter.
If you need some guidance, here's a well-designed build guide:
Quick tip: Before you power up the drone, make sure the antenna is installed at the output end. This way, you avoid burning or damaging any internal components.
Design & Durability
You can tell the quad was designed for racing due to the 3K carbon fiber frame, which is both durable and lightweight. The frame features strong 5mm arms and a 2mm bottom plate that protects the internal components from getting blown to smithereens in case of a crash.
I like the fact that the frame comes in pieces, and it's not a one-piece design. This way, if one of the arms gets damaged, you simply replace it and move on. The same goes for any of the pieces, although it may be a bit of a hassle to screw everything together.
Moreover, the camera is protected by aluminum frame reinforcements (that also limit its field of view).
There's not much to tell about the design in general since it's a basic frame kit quad that does exactly what it's supposed to do.
Some pilots have complained about the VTX being placed at the top of the frame, but I don't really see a problem since the component is secured with a strap and it doesn't come off in case of a crash.
Power
The quad is compatible with 3S-5S LiPo batteries and features four 2150KV brushless motors. These do need soldering into the flight controller, but it's something that can be done even by a beginner.
The motors pack quite the punch and they behave amazingly well with a 5S LiPo battery (although you can try a 4S as well).  However, you should be careful with the motors' wires as the quality isn't that great.
Camera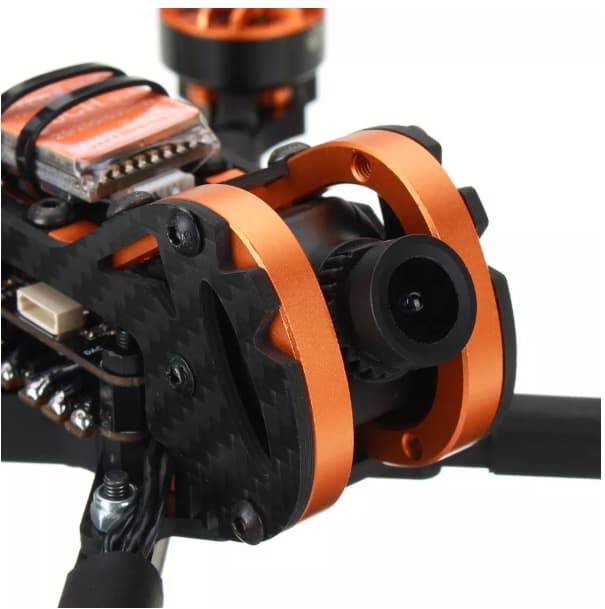 The FPV camera is a generic 700TVL with 2.8mm lens, but for the price you can't expect to get anything better. Of course, you can get a better FPV camera and replace the standard one if you want to improve the field of view and image quality. However, It won't work with a GoPro, if this is what you had in mind.
When in flight, it's easy to notice the poor field of view and the fact that colors look a bit flat. In fact, the camera quality is the main complaint coming from pilots everywhere.
On the other hand, the VTX component is quite impressive; with 40 channels and a very nice connection to the antenna (without any soldering required).
Flight Performance
One cool thing about the Tyro99 kit is that the F4 flight controller BetaFlight OSD comes already stacked on top of the 4 IN 1 30A BLHeli_S ESC, so you don't have to solder anything up.
Also, it comes with a bunch of propellers, so you have plenty left over in case one of them gets damaged in an accident. The propellers are a bit odd as they have a strange-looking pitch and nice tips, but they do deliver speed and accuracy in flight. Still, they're also quite noisy (probably due to the shape).
The quad flies nicely as it handles well and holds its own even at full tilt. It goes through rather narrow spaces without any problems and I think it would behave exemplarily in a forest/park that's not too crowded by vegetation.
Controls
The flight controller supports BetaFlight/inav racing firmware and can be configured to work with several flying modes such as Angle (for beginners) and Air (for more experienced pilots).
Why Should you Choose the Eachine Tyro99?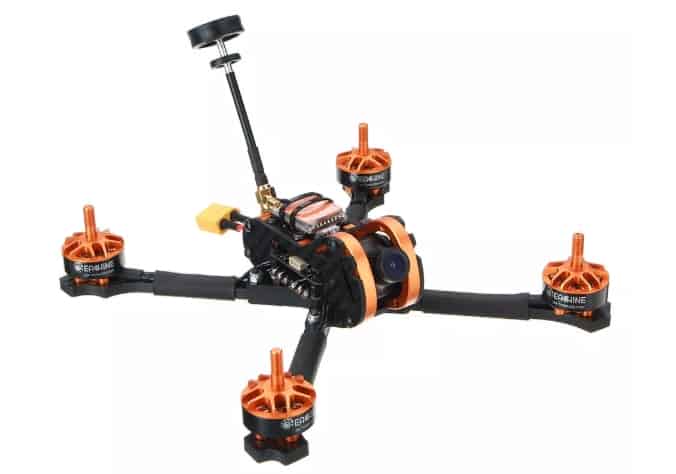 If you're a beginner and want to see if drone racing or FPV in general is for you, the Eachine Tyro99 can be the perfect quad. It is cheap (compared to other drones out there) and comes with a series of impressive features.
While it is a kit frame, almost everything is plug-and-play, so it will be extremely easy to build the drone using the provided components. However, you will have to solder the motors into the flight controller, which may be a bit tricky due to the low-quality of the wires.
In terms of performance, there are some cons (the camera and rather small frame come to mind) but for the price, the quad behaves amazingly well! Not to mention that you get everything you need and more to put the drone together.