Night flying sessions can be thrilling for both racing (if you're looking for a new adventure) and practice time since the skies and the streets are free from the usual crowd.
But the best the FPV cameras for night flying aren't just for your midnight fun! They provide an amazing advantage in a race held in not-ideal weather or at dusk and will save the day if you are flying through an area with a lot of shadows.
So, if you're in the market for a new camera for your racing quad, have a look at some of the best designs that can handle a bit of shade.
1. RunCam Night Eagle 2 PRO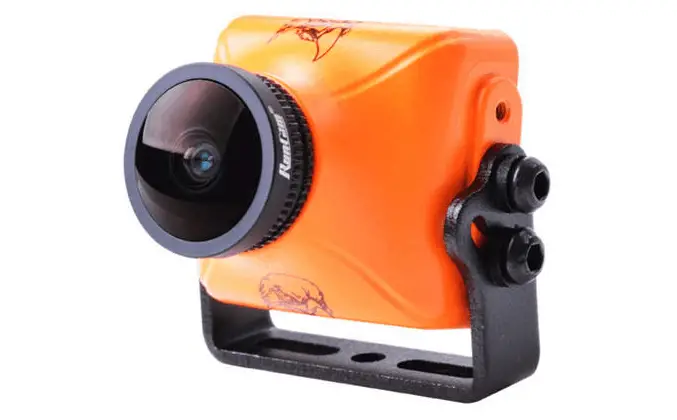 This is the updated version of RunCam Night Eagle and is an FPV camera specially designed for flying during the night or in minimal light conditions. As such, the Night Eagle 2 PRO only supports black and white video (so no colors even during the day).
The camera is delivered with the necessary accessories for mounting (bracket, signal and OSD cable, and back plate, nuts, and screws). Moreover, you don't need to be a rocket scientist to understand how to mount it on an FPV racing drone.
Equipped with 1/1.8″ CMOS sensor (for higher sensitivity to light and better image quality), the Night Eagle 2 PRO shoots at 800TVL horizontal resolution in 4:3 format. The signal system supports both NTSC and PAL and the switch is made using the OSD menu. Unlike its predecessor, the Night Eagle 2 PRO supports Gain settings, which allows the user to adjusted exposure in order to get a brighter image.
Finally, the camera features an ABS housing which protects the fragile elements inside and keeps the entire product lightweight (only 15g).
Also, I must mention another tremendous improvement in comparison to the Night Eagle version. The updated version comes with only one PCB, which means a smaller design and fewer problems caused by the PCB system.
---
2. RunCam Micro Eagle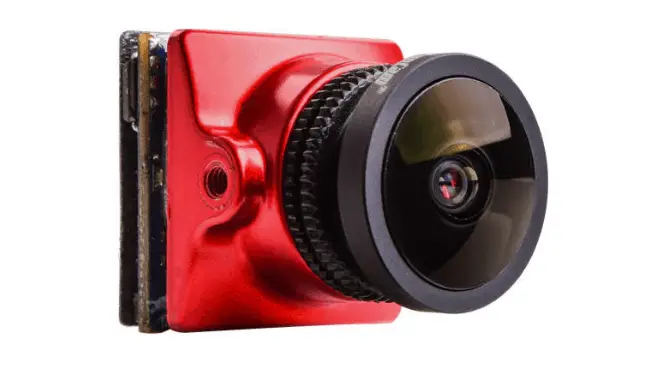 The Micro Eagle is a smaller version of the Eagle 2 PRO, at only 19mm x 19mm x 23mm and just 8.5g in weight. The PCB and other sensitive elements are protected by the ABS housing, but I recommend avoiding frontal collisions with the camera for as much as possible (the PCB is glued to the case with Epoxy).
This tiny camera packs a 1/1.8″ CMOS sensor (just like Eagle 2 PRO), features 800TVL horizontal resolution and can shoot in both 16:9 and 4:3 formats (the switch is made using the OSD menu). Furthermore, the field of view is quite wide, at 170 degrees in 16:9 and 140 degrees in 4:3.
The Micro Eagle also has adjustable WDR, which allows the lens to pick up more details in minimal light conditions. Even more interesting, the sensor on the Micro Eagle needs lower minimum illumination than its larger counterpart, which is another reason why this tiny cam is on my list of best FPV cameras for night flying.
Just like the Eagle 2 PRO, the Micro Eagle is delivered with all the necessary accessories for mounting, including an OSD key-press board for camera settings. Now, while the camera supports mirror and image flip features, it does not have the OSD ability to display timer, battery voltage or the pilot's name. However, this may not be a problem if your controller has integrated Betaflight OSD.
---
3. Foxeer Falkor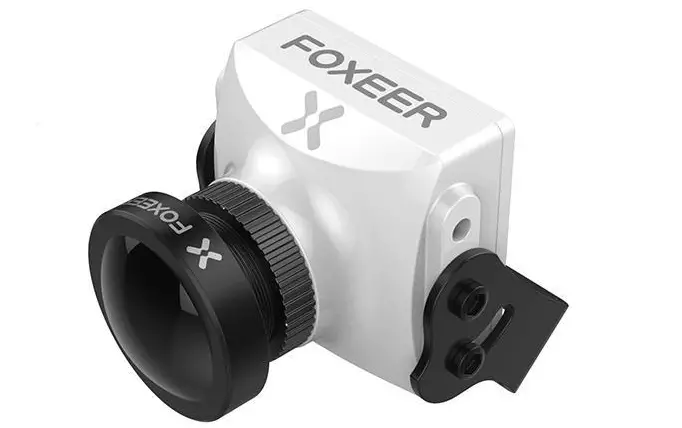 The Falkor from Foxeer features Global WDR (or G-WDR), which allows the camera to show bright and dark objects in the same frame without losing too much detail. With a CMOS 1/3 sensor and 1200TVL resolution, this tiny camera needs 0.01Lux minimum illumination conditions. Moreover, the camera supports colors and performs well on LED light, which means you can easily strap an LED flashlight to your quad and enjoy a night flight in perfect conditions!
The camera has two lens options, for different focal length and field of view (2.5mm with 145 degrees and 1.8mm with 160 degrees).  Also, it provides the option to switch (in the OSD menu) between 16:9 and 4:3 format and PAL/NTSC. As a result, the camera can be easily hooked with a wide array of FPV goggles and displays.
The OSD offers useful information such as battery voltage, timer, and name of the pilot. Speaking of OSD, there is a ground pin that allows a direct connection between the menu joystick and the camera. As a result, it's a lot easier to connect the camera to your flight controller and have remote access on settings such as contrast, brightness, or sharpness.
Finally, you should know that this is a full-size camera (28 x 26 mmm and 13.5g), and the latency is a bit high (33ms).
---
4. Foxeer HS1177 V2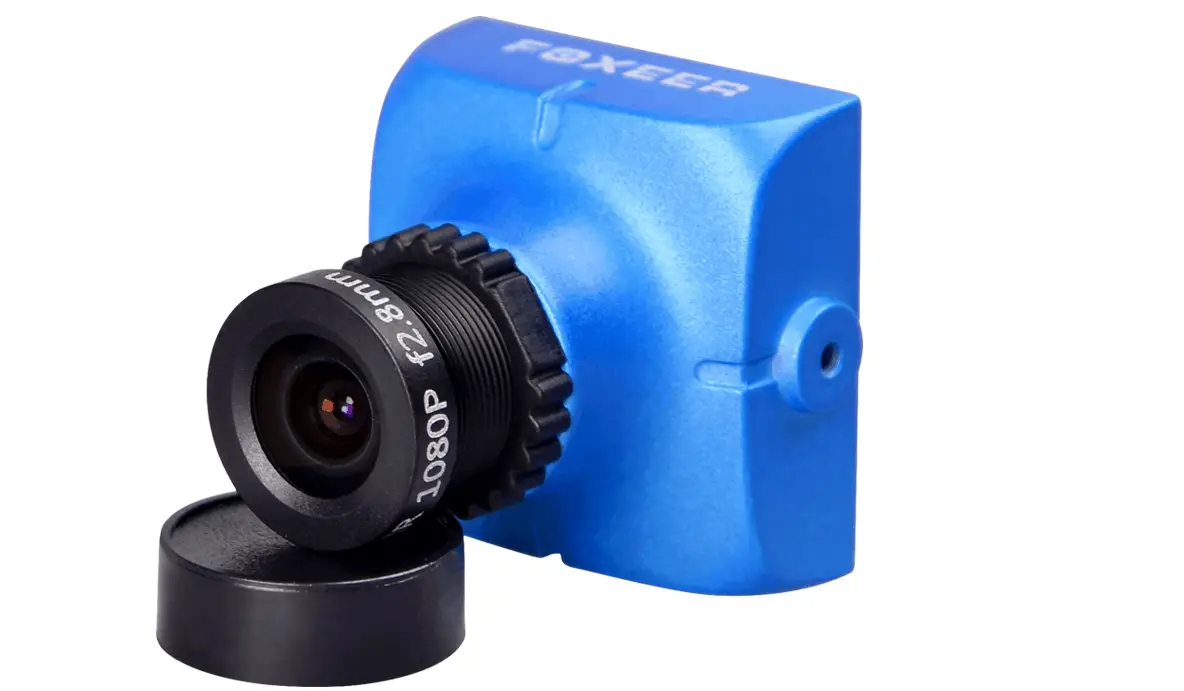 As you probably imagine by now, this is an upgrade for the original Foxeer HS1177 that comes with an alloy case, a 1/3" Sony SUPER HAD II CCD sensor, PAL and NTSC video standards, and a 600TVL color resolution.
Just like with the other products, the HS1177 V2 is delivered with the necessary accessories, so you can mount it easily, right out of the box. The standard version is delivered with a 2.5mm lens, but you also have the option to get it with a 2.8mm lens.
The minimum illumination for this camera is at 0.01 Lux, and it supports Wide Dynamic Range. The OSD allows you to play with several settings such as exposure, White Balance, Light mode, and Shutter, but it doesn't support battery voltage and timer.
---
5. RunCam Owl Plus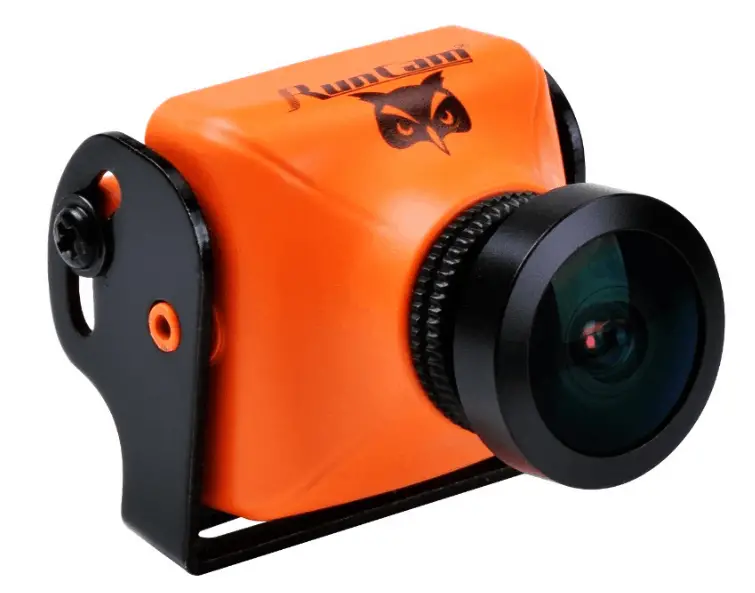 The Owl Plus is comparable in size and overall aspect with the HS1177 from Foxeer, measuring 26mm x 26mm x 30mm and weighing 15g. As an added feature, the Owl Plus comes with two different back plates, for two types of mounts. This way, you can use the bracket they provide for angle adjustment or you can install it directly on the quad, in a fixed position.
The 700TVL lens has a wide FOV (150 degrees), F2.0 (lets in double the amount of light as the F2.8 lens), and a 1/2" CCD sensor capable of working at 0.0001Lux. This means that the RunCam Owl Plus is more sensitive to light and creates richer, more vivid colors (even during night flight sessions).
However, you should also know that Owl Plus has a lot of color noise during daylight and the contrast is a bit high. Still, these are the exact features that make the Owl Plus one of the best FPV cameras for night flying.
---
Wrap Up
While the cameras on my list perform amazingly in minimal light conditions, keep in mind that night flying is a lot more challenging! Even if you mount a torch, to improve visibility, it can still be quite tricky to maintain your quad's integrity if you fly in an area with lots of trees or other obstacles. So, make sure to adapt your night flying sessions to your own skills!