Sometimes, you just can't get enough of flying, right? If it's raining outside, or you're stuck and can't get to the field but you're still itching to fly, a tiny drone you can fly indoors is just what the doctor ordered!
These tiny indoor drones (quadcopters) are lightweight, have small propellers, and are very safe to fly inside the house – you don't have to worry about knocking anything over or anyone getting hurt with these tiny little things.
Plus, these indoor quadcopters are awesome for practicing basic controls before graduating to a larger, more powerful craft!
With that said, I'm going to divide indoor drones into two categories. The first category is hobby-grade indoor drones which both seasoned pilots and newbies will find enjoyable to fly. Many of them will also be FPV ready and can be hooked up to your existing transmitter.
The second category is toy-grade indoor drones which are great for introducing someone to the hobby. These are toys, and their performance will not be the same as the hobby-grade multirotors, but they're a great way to taste the hobby before diving in. These are also good for practicing basic controls and getting comfortable with the sticks.
Hobby grade indoor drones
Note: In order to fly most of these, you'll need to have your own transmitter and FPV goggles. These usually come as BNF(bind-and-fly) models or kits which don't include radio transmitters. If you are starting out and don't have goggles or transmitters and don't want to buy one yet, scroll down to check out the toy grade indoor drones. They are still lots of fun and a good way to get your feet wet before diving into the hobby even further.
Since these are hobby grade, you'll need to expect to spend a bit more money, too. The toy grade ones are far cheaper, but won't have FPV(meaningful FPV anyway).
Tiny Whoop kit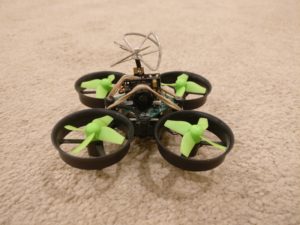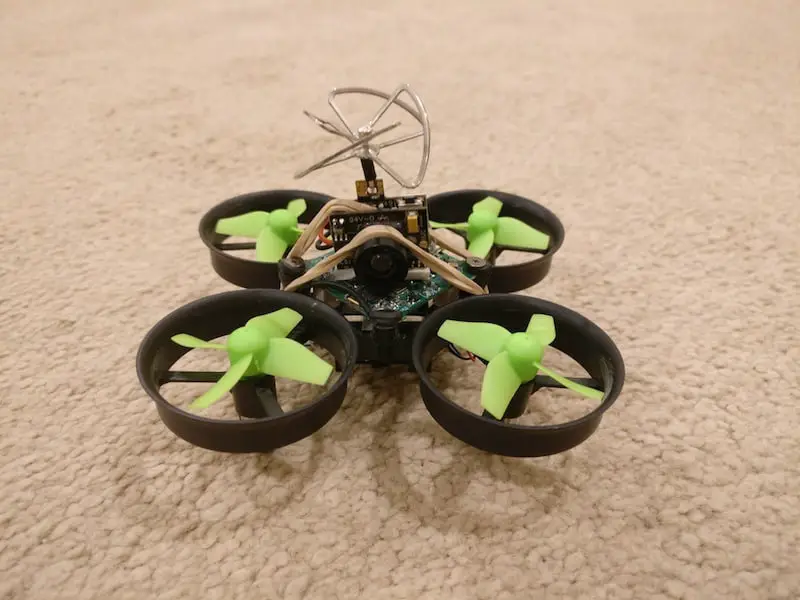 By far, the most fun you can have indoors with a drone(and even outdoors for that matter) is with a Tiny Whoop. Tiny Whoops are modded Blade Inductrix quadcopters to have FPV gear. You can fly a Tiny Whoop with or without FPV gear, but the most fun can be had with FPV gear installed.
There are tons of variations, but the best Whoops in my opinion are the ones you can pick up directly from the folks who came up with the idea.
Tiny Whoops are tiny. They're smaller than the palm of your hand, but still have a full-featured flight controller that you can do pretty much everything on as you could with a larger quadcopter.
There are a whole bunch of different motors you can put on the Whoop, but I feel the best combination for indoor and outdoor fun is the Special Sauce motors. That, combined with a 205mah or 225mah LiHV battery and you'll have plenty of power and flight time.
Tiny Whoop flight controllers come in versions that support all three major transmitters: FrSky, Spektrum, and FlySky. Before you purchase, you should have an option to choose which one you want to get.
Check out Tiny Whoop kits here
Chinese Tiny Whoop
If the price tag of a Tiny Whoop seems a little prohibitive, consider getting a Tiny Whoop clone from Banggood. It's almost the same size, just a couple of grams heavier, and uses similar components.
You have a full featured FPV camera, full featured flight controller than is loaded with Betaflight, and decent motors. The batteries that it ships with are quite bad, so you'll need to get your own batteries – I recommend the MyLipo.de 205mah batteries. They are unmatched in terms of quality and performance for Tiny Whoops.
Blade Inductrix FPV+
Ever since the original Inductrix was modded to become the almighty Tiny Whoop, Horizon Hobby, the guys behind the original Inductrix, realized what they were missing out on and decided to get in on the action themselves.
They came out with the Blade Inductrix FPV+, which is a beefier, more powerful version of the original Inductrix, and it has FPV.
The Inductrix FPV+ has larger motors than the original Inductrix, which means there is more power and punch. Since this is a proprietary product, you can"t make as many fine adjustments as you could have with a regular Betaflight quadcopter, but if you're not too worried about that and just want something you can fly, then the Inductrix FPV+ is a good choice.
There are three flight modes you can choose from, which are standard with Blade's SAFE technology:
Angle mode: In this mode, the quadcopter will automatically level out if you let go of the sticks, and the angle to which it will tilt on any axis is limited. Even if you push the sticks all the way, the quad won't go out of control.
Altitude mode: In this mode, the quadcopter will try to maintain a set distance from the ground and keep the quad level. This mode is also good for beginners.
Agility mode: In this mode, the self leveling is turned off, so you can take advantage of full acrobatic flight. Ideally, this is the best way to start learning from day one, but in case you're not confident, you can start with the other modes and then graduate to this mode
Additionally, there is one feature called MEOW mode, in which the quadcopter will flip right-side up again after a crash where you land upside-down. This is awesome as you won't have to go and get your quad every single time!
With the Inductrix FPV+, if you buy the BNF version, you'll get everything you need to fly(including a battery, charger, and FPV monitor) – the only thing you'll need is your own transmitter.
In the RTF(ready to fly) version, you'll get everything from the BNF version plus a transmitter.
Toy grade indoor drones
Altair #AA108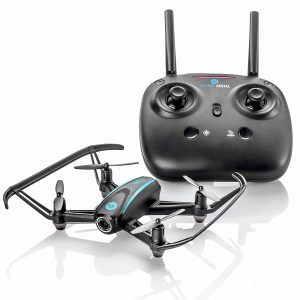 I must admit, I was quite surprised that a home-grown, developed in USA drone could compete against the much cheaper Chinese alternatives – especially when it comes to toy drones, but the Altair #AA108 seems to shine in that respect.
It's a simple enough drone – it uses brushed motors, small props, has interestingly placed propeller guards, and has a camera built in which can stream 720p FPV footage to your mobile phone using an app.
The prop guards make it safe to fly indoors, and the motors are strong enough to fly it outdoors too. Bear in mind that it's fairly large for an indoor copter, at nearly 8 inches by 8 inches square.
These features are pretty standard, but what really caught my eye was the high flight time – people were reportedly getting 8-10 minutes of flight on a single battery – that's insane, considering how much power these quadcopters gobble up!
The #AA108 has a bunch of flight modes: headless mode, in which the drone will always correspond to your stick inputs(even if it is facing you, which is good, since the reverse orientation otherwise is one of the toughest things to master), as well as altitude hold and one button takeoff and landing.
Additionally, there are 3 "skill levels" – beginner, intermediate, and advanced, each offering a greater degree of control to the pilot. It actually makes for a good progression from one step to the next as you fly more and more.
The range is pretty decent, too – the advertised WiFi range(for video) is around 50-60 meters, and the radio range is about 100 meters – that's quite a bit for a toy, and a long ways to walk if you crash 😉
There's also a handy alarm that will buzz if the battery goes too low or you are beginning to get out of range.
This drone is a bit more expensive than other toy grade drones, but has features that aren't really found with this quality otherwise. Plus, if you're based in the USA, you're supporting a homegrown US based business!
Holy Stone HS170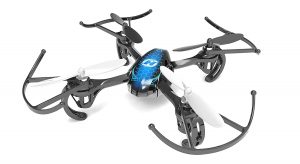 The Holy Stone HS170 is a neat indoor drone that's very basic but solid and sturdy – making it great for practice and training. It's also a good choice for kids – though the Blade Inductrix, which is the next product in our list – is even better.
Still, if you'd like something a little larger(and cheaper), the HS170 is a neat little drone.
It is advertised to fly at around 6-8 minutes, but you should discount that by about 1-2 minutes as real world flight times are always going to be slightly less.
Like many of the other drones in our list, the Holy Stone HS170 has headless mode – which can be a good form of training wheels for your first few flights, though it's advisable not to become completely dependent on it.
For the money, it's good value – if you've got older(10-12+) kids this drone is a great gift idea and the propeller guards make it safe for indoor flying.
Blade Inductrix(BEST INDOOR DRONE EVER?)
The final indoor drone on the list is the immortal Blade Inductrix.
The reason I prefer this drone over all others is because it's so tiny! Its size means it has very little weight – less than 22 grams with a battery – so it is incapable of doing any damage even if it crashes full speed into something.
This makes it a great choice for little kids, too – of course, you'll need to supervise them, but still.
The Inductrix has SAFE technology – which is Horizon Hobby's way of saying the quadcopter will stabilize itself and limit the angle of deflection on all axis, so you'll remain in control of the quadcopter much easier.
The ducted propellers also make it safe for bumping into things – and the propellers are so tiny anyhow that even if you do manage to get your fingers in them, they'll barely leave a scratch.
Not that it's recommended to put your fingers in any spinning propeller ever!
Advertised flight times are 6-8 minutes, but should be taken with a grain of salt and you're expecting around 5-6 minutes more realistically.
Plus the awesome part is you can bind the Inductrix with a Spektrum transmitter and even mod it in the future to make it a full Tiny Whoop, so this drone can grow with you in the hobby.
Best indoor drone for aerial photography
The last number on our list is not exactly an indoor drone you can hand to your kids just like that, but as far as selfie drones and aerial photography platforms go, this is the one copter you can fly indoors with a relative amount of confidence and safety.
I would not go so far as to fly it in a small apartment, but if there is a decent sized hall or something, you'd feel safe flying it.
The DJI Spark.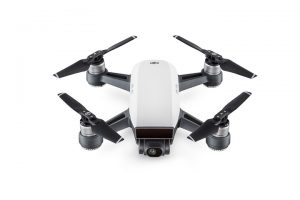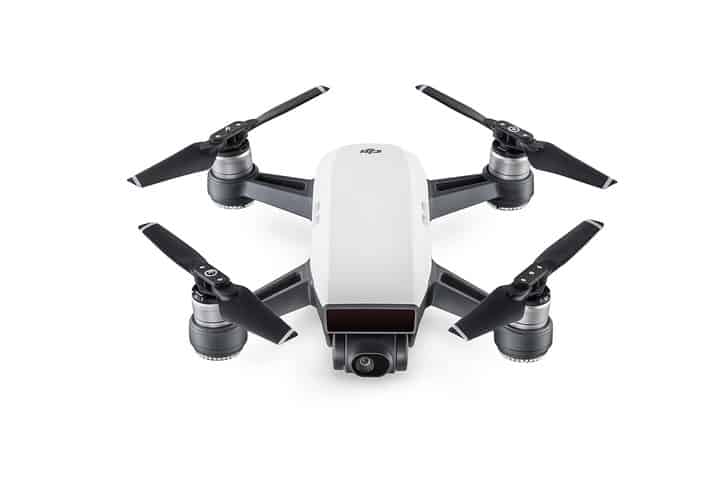 I've been wanting to get my hands on one of these for quite a while now! The Spark is TINY – the body of the copter is just a little bit bigger than a credit card, and it's small, stable, easy to use, intuitive, and takes great photos and video.
Plus this is the only DJI quadcopter that comes with propeller guards as part of the kit – so they're definitely hinting at possible indoor use or at least use in tighter spaces than the Mavic or Phantom.
The Spark is a remarkable piece of technology stuffed in a really tiny package – while you can control the drone with just your hand movements like a Jedi, or with your phone, the magic really happens when you get the Spark remote – this way you get some serious range(nearly 2 km) as well as DJI's fantastic photography capabilities like tracking, circling, rocket, follow me, and just getting super stable video.