Modern drones come with a plethora of advanced technologies, which why they're extremely easy to fly, even by beginners.
However, advanced tech, intuitive software, and powerful cameras also lead to steeper prices. So, when you pay $1000+ on a quad, it's only natural to want a design that knows how to identify and avoid obstacles.
On today's list, we will talk about the sensors that help a quad with collision avoidance after which we'll go over some of the best obstacle avoidance drones on the market.
How Does Obstacle Avoidance Work?
The obstacle avoidance system is different from one drone to another, but it works the same in any situation.
In short, the job of such a system is to use sensors attached to the chassis (or built into it) in order to scan the environment around the quad. With the data received from the sensors, the drone creates a 3D map of the surroundings and identifies objects that can be obstacles.
However, in order to be identified as an obstacle, an object must fit certain conditions. For instance, distance in relation to the drone is an important one (the object needs to be close enough in order to be considered an obstacle).
So, using the data sent by the sensors, the algorithm in charge of the collision avoidance system, needs to calculate certain parameters (in real time). Once such an object is detected, the drone reduces its speed and emits audio and visual warning signals. Even more, some advanced algorithms also calculate an avoidance path, so they won't interrupt their flight.
Keep in Mind: While both processors and sensors are state of the art, the system is not fail-proof at high speeds. If you fly the drone too fast, you run the risk of crashing it before the obstacle avoidance system has a chance to kick in.
Types of Sensors
There are three most common types of sensors used for this type of systems: ultrasonic, infrared, and vision.
Ultrasonic sensors use echolocation to detect obstacles (they send a high-frequency audio pulse and record the way the vibrations return).
Infrared sensors use the same technology but with light instead of sound.
Vision sensors use cameras to calculate distances between the drone's current position and an object identified as an obstacle.
Now, depending on the drone, you may have all these three types of sensors, or you may have just one.
Finally, there is a fourth type of sensors called time-of-flight that combines a series of cameras to produce a pixel-perfect map.
1. DJI Inspire 2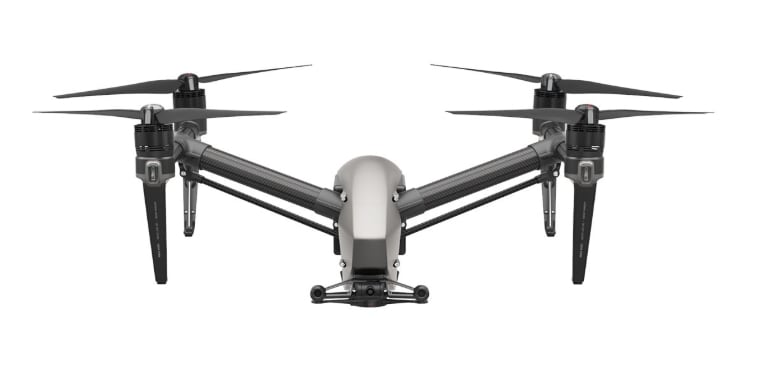 The DJI Inspire 2 drone is, without a doubt, one of the best professional camera drones on the market! And, to support this allegation, we have the hefty price, which means most UAV enthusiasts won't be able to afford it.
Due to its size and power, Inspire 2 is mostly used by professional UAV pilots and for movie/film production.
But we're not here to talk about the camera or the way this quad behaves in flight (which is flawless, by the way). We're here to discuss the collision avoidance system.
To recognize and avoid obstacles, DJI Inspire 2 uses three different types of sensors:
2 x infrared
2 x ultrasonic
2 x vision.
The two ultrasonic and vision sensors are located at the front and bottom of the copter, while the two infrared ones are placed on the top. As such, the drone can scan for obstacles up to 30 meters ahead and knows when it's getting too close to a ceiling (scans up to 5 meters upwards) or any other structure placed at the top. This allows the drone to fly safely at a constant speed of 34mph.
While it doesn't support Follow Me mode and it doesn't create a map of the environment it crosses over, the Inspire 2 comes with highly advanced technology and jaw-dropping features. Not to mention that it is one of the best quads to recognize and avoid obstacles (if you can afford it, of course)!
---
2. Phantom 4 Pro
Phantom 4 Pro is a drone we've discussed before, but I don't think we ever got into details when it comes to the obstacle avoidance system. In short, the quad is equipped with sensors on the front, bottom, rear, and sides so it is fully protected from flying into obstacles.
I also want to remark that, from the point of view of camera quality and performance, the Phantom 4 Pro comes close to Inspire 2, but it features a smaller body and a lighter design (which is not a bad thing).
However, keep in mind that you can fly the drone too fast for the sensors. So, there is the possibility to crash the drone at high speeds. On the plus side, Phantom 4 Pro is incredibly easy to fly and can fly in a wide array of modes, among which is the Follow Me mode.
---
3. Autel X-Star Premium
While Autel Robotics is relatively new to the market, their products can easily rival with DJI and Yuneec.
The X-Star design is somehow similar to the one sported by Phantom 4 Pro, but it is available in white and orange. Also, the camera is extremely capable (4k at 40FPS), considering the price.
The collision prevention system is not as advanced as with Inspire 2 and Phantom 4 Pro. In the case of X-Star, the sensors are located on the landing legs which means that the quad can only see forward and backward.
In good lighting conditions, you can also see some portions of the sides, but it's not a guarantee. This means that pilots will have to be more careful when flying this drone.
Still, you don't have to worry too much since it's not as fast as the other two we reviewed (it can only fly at 33 miles per hour and has a range of 2000 meters).
---
4. Autel Robotics EVO Drone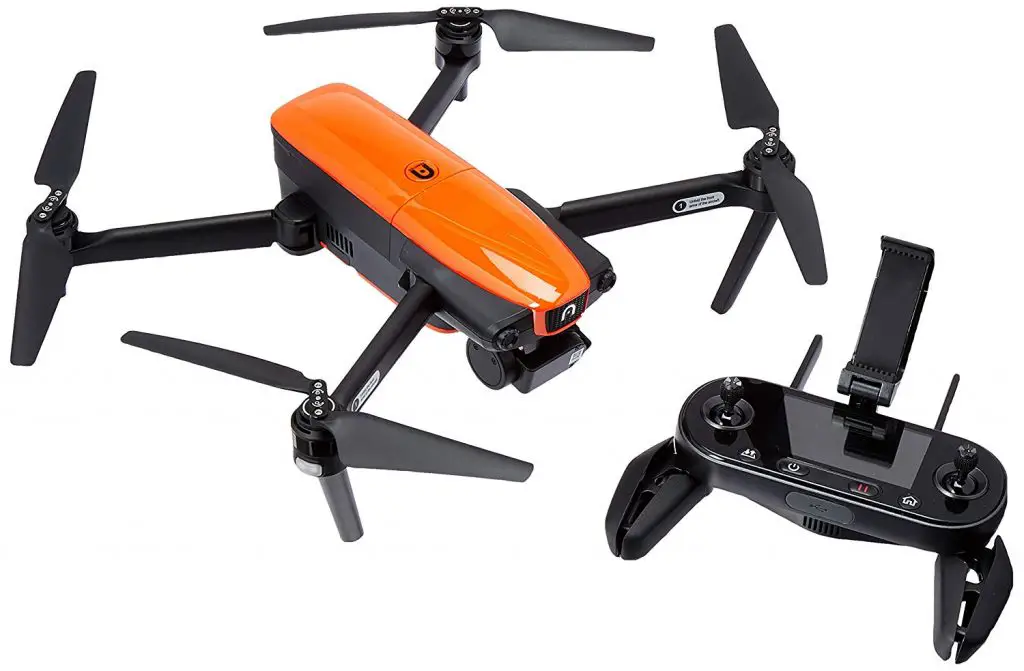 The EVO is rather new on the market but it's already solid competition for the Mavic Pro. It comes with a foldable design, a foldable transmitter with a built-in LCD screen that receives a live feed from the drone (in FPV mode).
Furthermore, the drone features a 30 minutes flight time and a camera with ½.3-inch CMOS sensor (it records in 4k at 60FPS).
Finally, the EVO is equipped with two vision sensors on the front and two ultrasonic sensors on the bottom. This means it can't see on the sides and rear, but it is still one of the best drones on the market that's both advanced and affordable.
The two cameras in the front are extremely useful at creating a 3D map of the areas the EVO flies over, and when you fly it in auto-pilot mode, the algorithm is always watching over the safety of your quad, running special decision-making procedures and planning paths around obstacles.
The two ultrasonic sensors at the bottom are extremely useful during unassisted landing sessions because it prevents the drone from landing on uneven or unsafe terrain. These sensors are connected to two vision cameras, which capture reference images for the return to home feature.
---
Other Drones with Good Collision Detection Features
Collision avoidance is quite popular with modern quads such as the DJI Mavic Air, DJI Spark, DJI Mavic Pro & Zoom, DJI Mavic Pro 2, and more. Since I already reviewed most of these quads, I invite you to read about their incredible features in their respective articles.
Do I Need Obstacle Avoidance?
Given that most drones that support this technology are quite pricey, it is normal to wonder about the necessity of the system.
However, if you have an expensive drone, it's best to take all the possible safety measures. After all most drones crash because of human error, so why not reduce the risk for as much as possible?