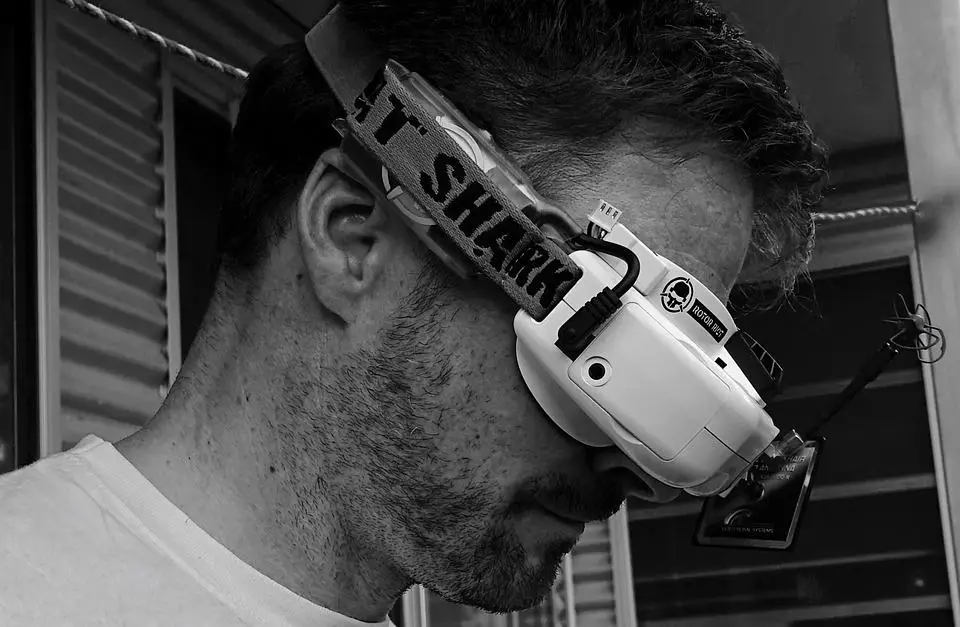 Image source: Pixabay
First Person View goggles, or FPV for short, are the ultimate visual experience in piloting a drone. Essentially, this accessory will allow you to see through the 'eyes' of a drone, as though you were up there in the sky. But unfortunately, FPV goggles like any emerging technology are quite out of reach.
Nevertheless, a double-digit price tag shouldn't be a turn-off, especially if you plan to turn your drone-flying experience into something unique. Here's a couple of reasons FPV goggles are so pricey and why you should still consider buying a pair.
FPV Goggles 101 – The Whats And the Whys?
Let's take a look at the device itself. There are several factors that determine the price of a headset, such as:
Type of FPV glasses;
FOV (field of view);
Aspect Ratio;
Resolution;
Video Receiver;
IPD (interpupillary distance);
Miscellaneous (more on that later).
Let's take a look at those who dictate the price of FPV glasses.
Type of FPV Glasses
There are three types of FPV glasses available on the market.
Low Profile Goggles
Widely considered as the most popular FPV goggles, low profile headsets are a good choice if you want to balance price and quality. They are small by design, which means that you'll be able to fit them in your backpack.
Although most drone owners choose low profile goggles over box googles or FPV monitor, the devices are quite expensive. Low profiles have two micro LCD screens (one for each eye). This tandem produces a crisp and high-quality image. Just be sure to set each LCD screen correctly because no one wants a blurred image.
Box Goggles
As the name suggests, box goggles are the bulkier version of their low-profile cousins. Box goggles are more akin to PC virtual reality headsets such as Oculus Rift or HTC Vive, while low-profile goggles resemble smartphone VR sets like Google's Cardboard.
Despite their size and the inconvenience of having to buy a larger backpack to carry such a headset, box goggles have some advantages.
For instance, they have little need for lens adjustment since they are equipped with a magnifying lens-like LCD. In addition, thanks to their design, those who wear eyeglasses or contact lenses will find box goggles more comfortable to wear. They may feel a little heavy, but they're cheaper than low profile goggles.
FPV Monitor
An FPV monitor is a small LCD with an in-built FPV receiver designed to capture video and audio signal from the drone.
For instance, the Syma X5SW allows you to attach an FPV monitor to the remote control. Check out this Syma X5SW FPV drone review for detailed info on how you can turn your drone into a robust photography tool.
FOV (field of view)
To put it bluntly, FOV is how big you see the screen while piloting a drone with FPV glasses on. FOV is usually measured from the center of the eyes to the edge of the screen.
So, the bigger the FOV, the more vibrant the image will be. FOV is a pretty important detail to take into account when purchasing a drone. For instance, those into drone racing prefer goggles with a range between 25 and 40 degrees as it is difficult to keep track of everything when flying at high speeds.
Those who are into aerial photography prefer a wider screen, preferably with a FOV of 80 degrees or bigger. Keep in mind that the bigger the FOV, the pricier the drone is.
Why Are FPV Glasses So Darn Expensive?
That's a mighty fine rundown of FPV components. But the question remains – why are FPV drones so expensive? Well, we know that it's not polite to answer a question with another one, but did you ever ask yourself what goes on behind the closed doors of an FPV goggles manufacturing plant? We have, and we've also got the answers we were looking for.
It might not be to everyone's liking but, according to Alan Evans, the CEO of Fat Sharks, one of the most prolific China-based FPV goggles companies, the price of a pair is neither too high nor low, it's just somewhere in between.
Evans explained that the price of such a pair is given by a staggering number of factors. Apart from the fact that each pair takes two days to exit the assembly line, it could spend up to two weeks in QC testing. As Evans explained it, each pair is manually tested by qualified engineers.
Even if the unit passed all the tests with flying colors but failed on, it's sent back to the assembly line for "rework," which translates as taking apart the unit and diagnosing every single piece. In most cases, the "defective" unit would be destroyed and the working components salvaged.
There's also the matter of components, and how many of them have to be used so that the company can sell. Probably the most expensive component is the display, a single Sony OLED costs around $100 per unit. Evans said that for the company to produce and sell 20 flawless devices, at least ten times that many devices it has to manufacture, test, and redo.
Of course, this translates into higher cost for the company. And since behind every top-notch gig lies a whole team of computer engineers and auxiliary personnel, it's no wonder that a pair of Fat Sharks FPV goggles hits the market with a price of $400 to $600.
Another thing worth taking into consideration is quality vs. functionality. Greg French, the founder of the company, explained how Fat Shark's FPVs came into being. He said that his first take on drone FPV technology was literally duct taping a camera on the hood of his car. Using a rudimentary version of FPVs, Mr. French attempted to steer his car.
After some time, the first pair of drone-dedicated goggles were to be born in Fat Shark's China labs. Based on French's initial business philosophy, no FPV goggles should cost more than $150. Unfortunately, that meant sacrificing performance and reliability just for keeping the price down.
As you might have guessed, the company's attempts at making a breakthrough in sales failed. However, there was a lesson to be learned there – never compromise a device by sticking into it the cheapest components you can lay your hands on just to keep the price from rising.
We mentioned before something about the devices being hand-tested. Well, here's a shocker – they're not only hand-tested, but handmade, minus the actual components. This means that everything must be pitch-perfect – if only one component is out of alignment, the whole device is compromised, meaning that the company would be one device short on the market.
So, when you put together an FPV device with only the best components, flawless coding, and friendly UI, the result is a high-end device which offers an unparalleled experience.
Thus we come to the conclusion that FPV goggles are expensive (if they really are) because something short of excellent would definitely affect the company's sales, not to mention the user's experience. Imagine what it's like piloting a drone with cheap components and flawed coding. It's like wanting to use a fork to eat a piece of cake, but the fork has a single tooth.
Conclusion
As you can see, there are many things to be considered when shopping for a pair of FPV goggles. While some FPV goggles might be out of reach now, you can always buy a cheap pair of box goggles which shouldn't run for more than $50, depending on the retailer. But, for the best experience, prepare to spend at least $500.