RC and 3D printing go hand in hand like peanut butter and jelly.
We crash and break stuff on our drones so often, it's handy to have a means of replacing broken parts on demand.
It's also very useful for fitting parts – the most common use is printing a mount to stick your HD camera on! But let's say your FPV camera does not fit correctly because your frame is a little different – you can simply design and print a little mount that will hold the camera in place.
Or you need a way to mount your antennas, or protect your motors, or something to hold your motor in place as you unscrew the prop nuts.
Or you need a bit of protection for your bottom mounted battery.
Or you broke a carbon fiber part on your frame and you can't wait for it to come all the way from China.
Or you need a neat carrying box for your Tiny Whoop.
The solution to all of these issues is 3D printing!
Not to mention that 3D printing in itself is an incredibly rewarding and addictive hobby.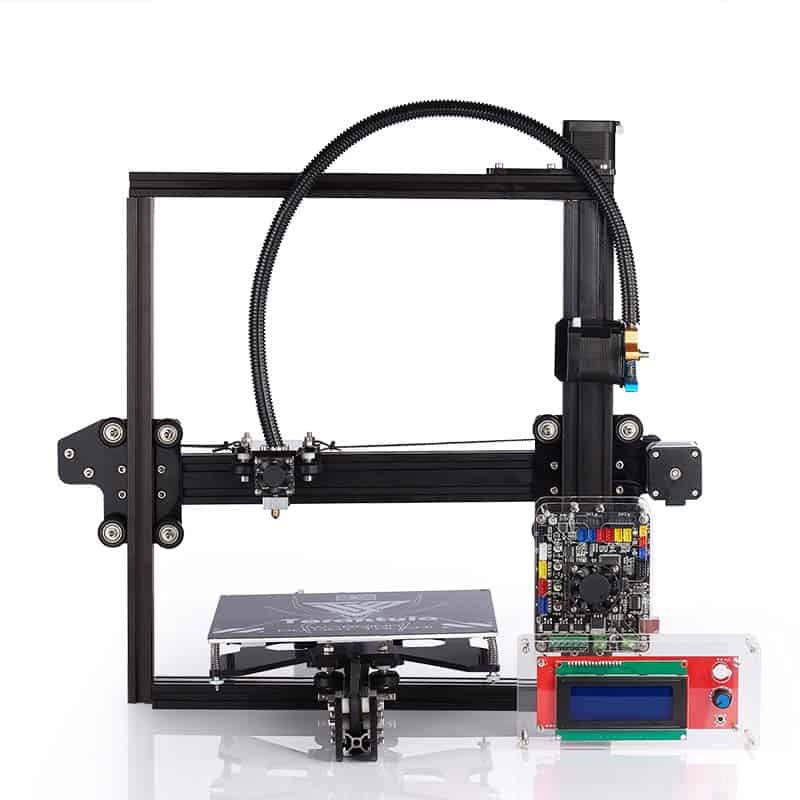 Tevo Tarantula
Low barrier of entry
When 3D printers just came on the market a few years ago, they were prohibitively expensive. A decent printer would set you back a few thousand dollars at the very least, and even then, they would not be that good.
Fast forward to now and there are plenty of cheaper kits available for less than $200!
Granted there are still expensive, $1000 range printers that are now really, really good – but you can still get a printer without breaking the bank.
The cheaper printers are DIY kits, which come unassembled, and require some tweaking to get them up and running, but they'll print great once you get them configured correctly – and the quality will be more than sufficient for your main use as a supplement to your RC hobby.
Why get a kit?
The RC hobby is an incredibly hands on and DIY hobby, so building a kit would be right up your alley. The other advantage of building a kit is once you have put everything together by hand, you really understand how everything works and what to fix in case something goes wrong.
It's similar to buying an RTF quadcopter vs a quadcopter you assemble yourself. The idea of building a 3D printer from parts may seem daunting at first, but it's a really simple machine – the simplicity is it's brilliance.
Tevo Tarantula Review
Over the last year or so, Chinese manufacturers have been coming out with super cheap kits – the Anet A8 is a super popular kit available for just $150 or so from AliExpress – but I feel it's not the best option because it has an acrylic frame, which is subject to lots of vibrations.
It comes with a 0.4mm nozzle(you can print 0.3mm and below layer height, which is quite decent resolution) and supports 1.75mm filament. It has a build area of 220 mm x 220 mm x 220 mm – which is very decent.
The model I have can get the nozzle up to 240 degrees C which is hot enough for PLA, ABS, Nylon, Flex filaments, and even wood filled filaments. I have only tried PLA so far, but plan on trying Flex and Wood soon.
The Tevo Tarantula, on the other hand has an aluminum frame which is much sturdier and stiffer.
Unboxing
The Tarantula came incredibly well packed, in a professional looking, custom printed box. Inside, there were two rolls of filament(one ABS and one PLA) as well as all the parts and components, all labeled in their own little plastic zip lock bags.
The components(such as motors and mounts) were all placed in the same foam cutout as their corresponding hardware, which was a great little packing trick. This way you don't have to find out what hardware goes where, you just have to take each section out and start working on it.
There were three layers of foam packing, each one with a few parts.
The really good thing Tevo did was include a little bit of extra hardware – so in case you dropped or stripped a bolt or nut, there was most likely another one in the kit that you could use as a replacement.
Also, the extra nuts and bolts will come in handy when you print out upgrades for the printer and have to attach them!
Building
The Tevo Tarantula is a Prusa i3 clone – the Prusa i3 is a tried and tested 3D printer design. It's a cartesian printer, which means it works on a 3D coordinate system on three axes, X, Y, and Z – the 3 motors work together to position the nozzle(where the molten plastic comes out from) at any given point in 3 dimensional space according to the coordinates.
3D printers have a 4th motor which controls the extruder – which pushes the plastic filament through to the hot end and nozzle. The extruder is connected to the hot end either directly, which is called a "direct-drive" setup, or through a plastic tube, which is called a Bowden tube.
The advantages or disadvantages of a Bowden vs direct drive are very subtle, and you may not completely be able to tell which produces a better print but this thread may shed some light on it for you.
The Tevo Tarantula was a fairly straightforward build, and there are two very good YouTube playlists that take you through the whole building process. All the necessary tools are included in the kit(allen keys and wrenches) but it is useful to have extra:
A pair of small, sharp scissors
A hobby knife
A Phillips head screwdriver
A pair of long nose pliers or a hemostat
Manufacturer's instructions are not the best, and though they have improved from earlier iterations, they're still quite vague and if this is your first 3D printer, you may not be able to make much sense of them.
This is the tutorial playlist I followed.
Once you understand how the parts go together it was not that difficult to build. There was a little fiddling around to do with the bearings and nuts, but it's a one time thing and once you have that set up you hopefully won't have to mess with it again.
Taking you through the entire build requires another post(and rebuilding my printer, since I didn't take pictures every step of the way!)
However I can shed some light on gotchas that you'll run into during the build, and will be frustrating to fix once you have assembled too many parts:
The PTFE tube that feeds from the extruder to the hot end and nozzle is very critical. The tube has to reach as far into the hot end as possible, just before the nozzle assembly starts. In my kit, the nozzle and hot end came attached, so I had to take it apart after building the whole printer once I figured out what was wrong.
If the tube does not go in all the way, your nozzle will jam.
Before you attach the hot end and nozzle to the plastic plate they're mounted on, insert the PTFE tube and make sure it's in all the way. Then reattach the hot end(just thread it through the tube) and let the tube hang around until you assemble the extruder.
This step is not listed in the instructions, but do it first!
The other irritating gotcha was the end stop for the X axis. An endstop is a small device that once triggered lets your printer know it has reached the end of its range of motion, so it'll stop going in that direction. The end stop bolts on to the same plate that houses the hot end and nozzle. However, once you attach the plate to the aluminum bar it rests on, you won't be able to access the holes for the end stop anymore! So you need to attach the end stop before you stick the mount onto the bar. [pic]
Printing
Right out of the box, I was not able to get the Tarantula to print quite as nicely as I had hoped. My first 4 attempts at printing a calibration cube were failures, because I had not gotten the tube all the way in, so the filament had jammed and was not pushing out enough.
The first proper calibration cube was pretty good, except there were visible bands on the Z(vertical) axis – the print was passable, but certainly not production quality.
I had to print some upgrades to get the printer working nicely. The ones that are recommended most are:
The fan is meant to cool the filament once it has been laid down, freezing it in place. If you don't use the fan, your prints may warp and lose their shape.
The brackets stiffen the frame as it can be quite wobbly otherwise. If you feel your frame is stiff enough, at least print the top right bracket which has mounts for the Z axis motor. Once I printed and used this, the banding on the Z axis was gone.
The Z stop adjuster is also very useful because the Z stop is in quite a tight spot and it's a pain to keep fiddling with it(and you will have to fiddle with it to get it right). The adjuster lets you use a screw to trigger the end stop, so you can adjust the height of the screw to get the height correct without having to keep moving the end stop.
The provided filament is about 250 grams, which should be able to print you a fang fan and at least two brackets.
Tevo Tarantula PLA settings
I had to tweak and play around with a few settings to get the printing correct. On my setup, these settings are working fairly well:
Layer height: 0.2mm
Nozzle: 210 degrees(good for most PLA, if your filament is low quality you may need to set it a bit higher)
Bed: 60 degrees
Infill: varies
Print speed: 45 mm/s
Retraction: 3mm
Cooling: start at layer 3
First layer height: default
First layer speed: default
Settings you can play with: Infill, layer height(0.3-0.1, some people have done 0.05 too), top solid layers, bottom solid layers, skirt/brim
I recommend doing a skirt on all your prints since it clears up the nozzle and also gets filament flowing nicely before starting the actual print.
Conclusion and available options
Now that I've got the few upgrades, the printer is working really well and I am very happy with the results. Here is a Benchy that I've printed using 0.2mm layer height:
[pic]
I am super happy with the decision to buy this printer. I was on the fence between getting this or a Wanhao Duplicator i3, which cost about $450 in India(though it's much cheaper in the USA – check it out on Amazon. A similar printer is the MonoPrice Maker Select).
For $200 plus about $30 for a roll of filament to get you up and running, you'll save a little under $100 getting the Tarantula instead of a ready printer.
However, more than the money factor, you'll have fun building and upgrading the printer. I have more fun printing upgrades than I have with printing other stuff!
On Aliexpress official Tevo store, there are quite a few options:
Normal base model
Models with a larger print bed
Models with autoleveling of print bed
Dual extruder(useless, you may as well just paint or stick together two different parts, I feel managing two extruders and two nozzles is too fiddly)
Model with flex extruder(the flex extruder is a piece of junk, you get the basic extruder too, which is what you'll end up using anyway)
I would suggest you either get the base model, or get a model with a bigger bed and/or the autolevel sensor. Out of the factory, these are the only upgrades worth having.
Shipping is free, and you'll get it to your doorstep within a few days with fast FedEx service.
Happy printing!