The geniuses at FrSky have done it again with their latest radio, the Taranis X-Lite. Is this the radio we've all been waiting for? Does it do everything except make toast?
In this review of the X-Lite, let's have a look.
Note: These are my thoughts based on other people's experiences and the feature set. My radio is on pre-order and I will update this review with my hands-on thoughts once I receive it.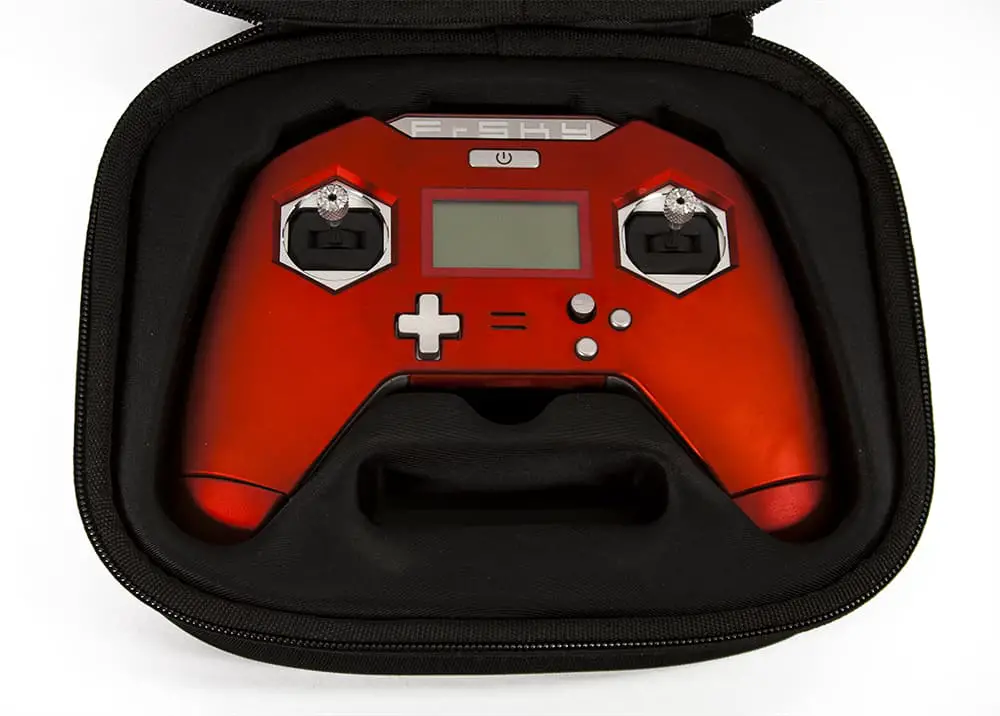 Introduction
Let's face it, the beauty of multi-rotors is that they're really small, you can throw them in a backpack and trek wherever you want to go to fly them. Everything about multirotors is size, size, size.
Why are Fat Shark goggles so good? They're so sleek! So why can't radios be nice and small, too? I'll admit, my Taranis X9D+ is really bulky and sometimes a pain to carry around, especially when traveling.
So when FrSky announced that they would be coming out with a new radio, the X-Lite, which had the form factor of a video game controller(similar to the Xbox or PS4 remotes), I was intrigued.
HobbyKing tried this some time ago with the Turnigy Evolution, and I wrote a review about it too. The issue I had with the Evolution was mediocre range, a proprietary firmware, and the gimbals were nothing to write home about.
Those two pain points are smoothly addressed in the Taranis X-Lite.
Overview of specifications
OpenTX firmware
M12 hall effect gimbals
You can change the mode without taking the whole thing apart
Voice alerts and haptic feedback
Internal antenna and option to connect external antenna
Smart port, headset jack, MicroSD slot, Micro USB port(finally!)
Wireless trainer mode
Design and feel
When you receive the radio, you'll see that it comes in a neat little case much like the Fat Shark goggles do. This is a really welcome touch since with the other radios, you have to get a separate, rather clunky case.
The case is very compact and has padding on the inside to protect your radio. There is also a little mesh pouch to put a wire or SD card in, which was also good.
The X-Lite, in your hand, is like a PS4 or Xbox controller. It's really nice and compact, but the sticks are very easily accessible when you're holding it.
However – and I had the same issue with the Turnigy Evolution – if you are a pincher, you may not find this radio comfortable to pinch on. If you are a thumber, on the other hand, the radio will feel perfectly natural and comfortable in your hands.
One issue that a lot of people were worried about when the initial pictures first came out was the fact that only two switches were visible on the radio.
There are in fact 4 switches: 1 momentary switch(useful for flicking to reset a timer or something), one two position switch, and two three position switch.
In my opinion, three switches are more than enough for most multirotor applications even if you are running iNav with GPS and have a lot more flight modes enabled.
You could hypothetically use the two position switch for arming, and you have a total of 6 more switch positions to do anything you wish.
There are also two sliders on the top, though there is no center point in the sliders, so I am not completely sure what you could use them for besides adjusting the volume for your music tracks!
Folks who have used the radio state that the switches are very easily accessible when holding the radio as you normally would when flying.
The front of the radio has a power switch at the top, a LCD display below that, and a set of buttons on the left and right.
On the left, there is a gamepad style set of four directional buttons. You would think this is for navigating the menu, but it's actually for adjusting trims!
The three buttons on the right are the only buttons you'll need for going through the menus. One is a multi-position switch that you can press and rock in all four directions. By short or long rocks in any direction, you can reach different areas of the wide array of menus in OpenTX. Pushing down on the button serves as the Enter function.
The other two buttons are a shift button and an exit button.

Antenna
FrSky took an interesting decision with the antenna design on the X-Lite. There is an internal antenna which you can use by default, but if you want, there is also an SMA connector for plugging in an external antenna such as a higher dbi one for extended range.
In order to use the external antenna, you just have to select external antenna from the menu. Before you do so, make sure that you've plugged an antenna in, otherwise you may risk burning your board.
Batteries
Here's one thing I really didn't like about this radio. The batteries that this radio uses are 18500 batteries. I understand that 18650 batteries would have meant adding 1.5 cm to the arms, but come on, just 1.5 cm!
18500 batteries are not very commonly found in India and I'm not sure how I'll be able to power my radio on once I receive it.
Hypothetically, someone(or me) could design and print larger extensions below the arms where the battery bays open to allow for the longer battery.
You also can't charge the batteries inside the radio – you must take them out.
If they had used 18650s, I feel it would have been much easier because a lot of pilots use 18650s for their goggles and already have a charging apparatus for those size cells.
It's not a dealbreaker for people living abroad, though, because 18500 batteries are indeed available from China and elsewhere – it just so happens that they don't ship to India!
Using the radio
Since the gimbals are smaller(M12 hall effect – X9D+ uses M9, and Q X7 uses M7), the throw on the gimbals is actually much less than on a larger radio.
This means there will be a slight learning curve once you pick up the radio and start flying, especially if you are transitioning from an X9D+ or similar radio.
The smaller throw may be advantageous in races, though, since FrSky actually came out with M9R gimbals for the Taranis X9D+ which indeed had a smaller throw for quick throttle pumps.
There's not much need to adjust trims in multirotor flight, but if you're flying fixed wing crafts, you may find that adjusting the trim is a bit cumbersome.
The 4 way pad on the left is meant for adjusting the trims. However, the defaults are for the left gimbal – in order to adjust the right gimbal, you need to press and hold the shift button and then press the arrow buttons.
This is a little inconvenient because you have to completely let go of the sticks to adjust trims, so to do this right on a fixed wing you'll have to gain a lot of altitude before trying anything lest you end up crashing.
The micro USB port allows you to connect to your computer to transfer files, update the firmware, and use with a simulator.
Module options
The module bay in this radio has been changed to a proprietary FrSky size module. It no longer fits the old JR style modules, which sucks.
TBS has also announced that they won't support FrSky for the Crossfire module.
This is because FrSky is coming out with their own long range protocol that supports the same frequencies as the Crossfire, and at a similar power to the Crossfire Micro.
However, the fine, tinkering folks in our hobby discovered that the pinouts in the module bay are still the same, and with a little bit f creativity, you can still get the Crossfire or Crossfire Micro to work with the X-Lite.
Credit to Jakub Steiner for this awesome guide.
Of course there is no possibility to attach it physically to the radio, but you can probably jerry-rig something to hold it in place.
There is also a 3D printed module bay holder for the popular JR modules.
I suspect it will have the same telemetry lost issue as the Q X7, though, unless you use a lower baud rate.
Range tests
Range tests done by the folks at GetFPV were quite impressive. Under normal circumstances, using the internal antenna, they got about 500 meters of range. Using an external antenna, they were able to get 600 meters.
That's super impressive considering that it's such a tiny radio!
Final thoughts
The X-Lite costs roughly $130 depending on where you buy it from. This makes it fall under the budget range of radios. It's more or less the same as the Q X7, which is also a budget entry level radio.
Both radios are really powerful, can pretty much do the same things(except the Q X7 has more switches and a proper JR module).
The Taranis X9D+ is pricier at $200, so I'm not going to compare it to that here.
However, in a toss-up between the X-Lite and the Q X7, the deciding factor for me has to be the size. My current transmitter case is HUGE and it takes up most of the space in my backpack. If I had a smaller transmitter, I could probably fit a lot more batteries, one more quad, or a lot more props in my backpack with ease.
The second thing to consider is the smaller throws on the X-Lite. This will undoubtedly take a little getting used to, but I don't think that's a dealbreaker. Besides, you're getting hall effect gimbals right out of the box, which is fantastic, as opposed to the Q X7 and X9D+ where you would have to buy the hall effect gimbals separately.
Finally, if you plan on flying fixed wings, perhaps the Q X7 or the X9D+ is a better option. I have a wing lying around which I will try to fly with the X-Lite once it arrives and I suppose then I can really make a decision.