In the drone racing world, you'll spot most pilots sporting Fatshark FPV goggles. Pilots prefer Fatsharks because of their super sleek form factor. They're easy to carry around, fit comfortably on your face, and don't look too strange!
However Fatsharks are far from perfect. For the price point, they're quite expensive considering the kind of technology available in them.
Most Fatshark goggles that are actually worth getting(such as the Dominator HDs) are $400-500 for just the goggles. On top of that, you'll need to pick up a receiver which will be at least another $40 or so plus an antenna(or two if you're using diversity).
Up until recently Fatshark enjoyed an almost-monopoly on the sleek goggles market and so they were able to charge what they're charging.
As of now, though, there are two alternatives to Fatsharks that can be considered "worthy opponents".
The first is the Skyzone SKY03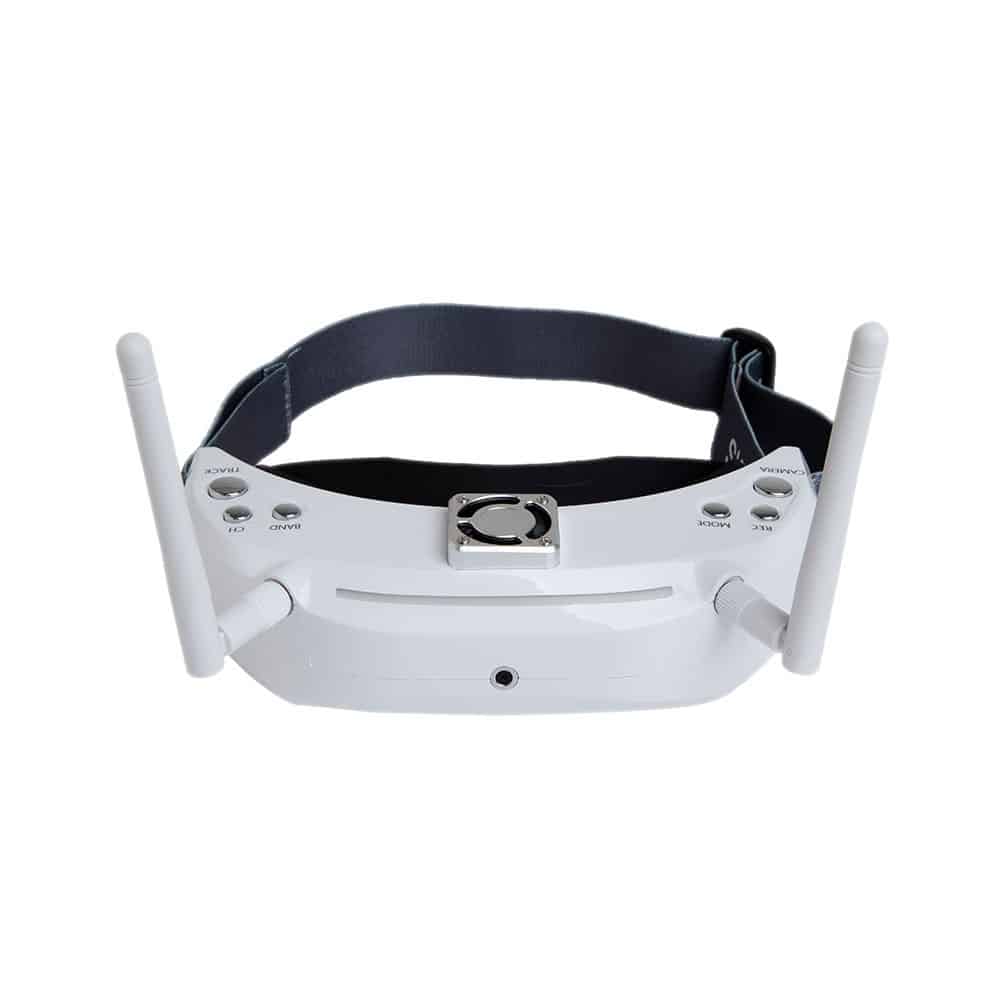 Skyzone has actually been around for a very long time in the FPV scene, and they can be considered pioneers in FPV goggles. However, my guess is that due to more aggressive marketing and sponsorship by ImmersionRC, Fatsharks became the standard goggles of choice and Skyzone was seen as an "alternative".
The Skyzone goggles are actually really good, and for the longest time, Drew Camden AKA Le Drib was using them. He may still be using them, but I am not completely sure.
The Skyzone SKY03 goggles are slated to be priced in the mid-$400 range and for the money, they deliver a lot of punch – especially compared to similarly priced Fatsharks.
Here's what you get:
An 800×600 display with a 43 degree FOV(similar to Fatshark HD3)
48 channel 5.8 gHz diversity receiver
Built-in DVR
Built-in head tracking
Front-facing camera so you don't have to take your goggles off to walk around!
For the price, you are getting a ton of more features than Fatshark goggles with similar optics.
The other is the Aomway Commanders
Next up are the Aomway Commander goggles, which Stew from UAVFutures really raved about in his review video and you can also see him sporting them in other videos.
The Commanders are just around $300 – significantly cheaper than Fatsharks or Skyzones, and still pack a decent amount of punch. Here's what you'll get:
An 854×480 display with a 32 degree FOV(Similar to Fatshark Dominator V3)
40 channel 5.8 gHz diversity receiver(all bands except for the dicey L band)
Built-in DVR
So compared to the SkyZones, these have less features, but honestly, a comfortable pair of goggles with diversity and a DVR is really most of what an FPV drone pilot needs anyway.
The headstrap is also a three way strap which fits on top of your head, too, making it more comfortable to wear and more stable on your head. The battery fits in the back, which kind of balances the weight in the front and in the back.
Read a detailed review of the Commanders here
So why might you still want to choose Fatsharks?
Clearly, when we're just comparing dollar values, the alternative goggles are better than Fatsharks. So why might you still want to get Fatsharks?
The way I see it, there are two reasons – one is a much stronger motivator than the other, but still.
Fatshark is a large company with a base in the USA. As a result, their support is a little better than Skyzone or Aomway, which are Asia-only companies. If something went wrong in your goggles and you needed to get them repaired, Fatsharks would be much easier to communicate with and arrange a repair than any others.
The higher-end Fatshark goggles are fully modular, so you can attach any kind of receiver you want. So if you fly 1.3gHz you can still use Fatsharks with a 1.3gHz module. Increased modularity also means it's easier to repair. A bad receiver can easily be removed and replaced. You could always use an external receiver in either case, but that would detract from the portability quite a bit.