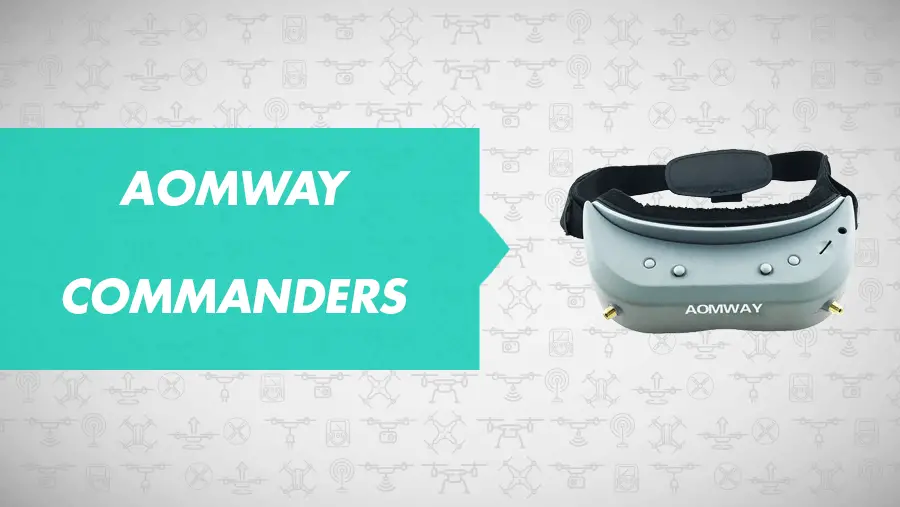 Is it time for Fat Shark to step aside and let the new kid on the block take the crown of FPV goggles?
Well, not exactly – but Aomway have done some things very well(or at least ideas) that Fat Shark should adapt very soon, or else they'll be facing some serious competition very soon.
Before I go into detail on the Aomway Commander goggles, I should give you a bit of background on Fat Shark goggles – this will help you understand why the Aomway Commanders are such an important concept. If you're already familiar with Fat Sharks, then feel free to skip to the next section.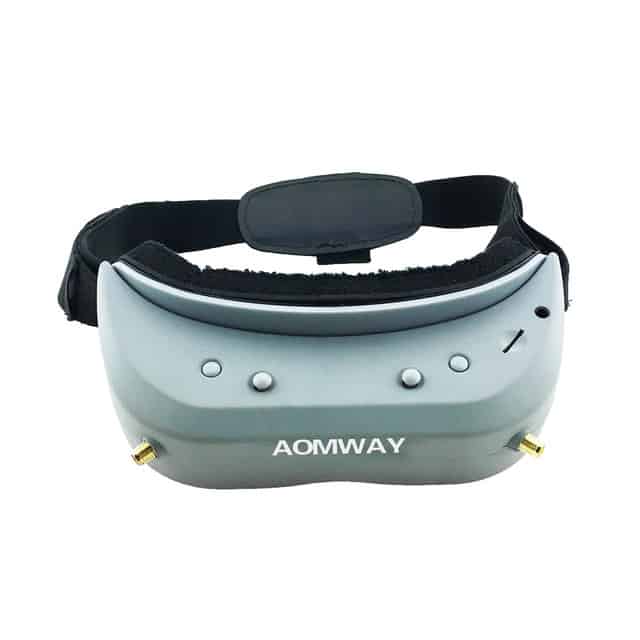 Basic low down on Fat Sharks
In the FPV goggles market, up until very recently, you had a choice between huge, boxy goggles that looked weird to wear(my wife once told me she would refuse to be seen in public with me wearing Quanum goggles) and small, portable goggles that not only looked sexy but did a pretty damn good job.
Boxy goggles were every other goggles, and the portable ones were Fat Sharks.
They also had quite a wide range of offerings, from budget goggles with bad screens to higher end goggles with much wider field of view. Not to mention the Fat Sharks are also quite comfortable – I've been using Dominator V3s for a little over a year now and I'm super happy with them.
The lower end Fat Shark goggles had an issue where they only supported 8 channels of the F band and the modules were not removable – with cheaper goggles, you had either modular receivers or built in 32 channel support(though now most transmitters support 48 channels).
The higher end Fat Shark goggles were good for the most part, but did not come with a built in receiver, so you would have to purchase it separately – which was good that the receiver was modular, but bad because modules would cost an extra $35 for a lower end module to an extra $75 for a high end diversity module.
So you'd be spending a good $350-450 on goggles, plus another $75 for a diversity module.
The cost factor was a bit high, but the build quality and customer service were great.
One competitor
Fat Shark did have one competitor in the SkyZone goggles(these are the ones Le Drib uses). The SkyZone goggles had built-in diversity receivers and otherwise looked and felt a lot like the Fat Sharks – but they cost almost the same, and since the Fat Sharks were used by pro pilots, I think Fat Shark retained popularity and SkyZones never really caught on that much – even I had a choice between getting Fat Sharks and SkyZones and at the time, I just wasn't too confident on getting goggles from a relatively "unknown" brand.
Had I known about Le Drib back then, I'd have certainly gone for the SkyZones, though!
More competition: Aomway Commanders
The Aomway Commanders came out at a very competitive price point to the Fat Sharks – you might even say that they're giving them a run for their money.
For right around $350, you're getting a pair of solid goggles with amazing features that you would not get on Fat Shark goggles unless you shelled out a lot more money.
There are also a few design touches that make the Commanders quite interesting – and Fat Shark should take notice.
Tech Specs
At their core, these are pretty much your standard portable FPV goggles – they come in a nice zip up case that you can throw into your backpack, and are powered by a lipo battery(2S to 4S capable).
The screen resolution is 854 x 480, supports 16:9 and 4:3, and has a 32 degree FOV(field of view) – pretty decent. The Fat Shark Dominator V3 goggles have a similar resolution and a 30 degree FOV.
The Commanders also have an adjustable IPD(inter-pupillary-distance) of 59 to 69 mm – which should fit most people's faces.
They support regular video, as well as HDMI, and 3D video. You have switches to change around brightness, contrast, and volume, as well as change channel and bands.
The goggles will automatically switch between NTSC and PAL, and you have a DVR built in for recording your flights.
There is also a built in fan for de-fogging the display.
Design touches that make the Commanders special
Up until the Commanders, the way the head straps were designed on most goggles was that box-style goggles usually had a 3-part strap, where two sides of the strap would go around your head as normal, and there would be a third strap that went above your head and met the other two at the back of your head.
This is to keep the larger boxy goggles from slipping on your face.
The portable goggles had a simple strap that just went around your head, and that was it. Fat Shark straps had a little slot in the side around your temples where you would slide in the battery for the goggles – people either love this or hate this. The simple strap meant you could easily adjust the goggles, but it also meant they could slip as easily.
I have mixed feelings about the side-mounted battery design. It makes the goggles much heavier – for a while, I used to use a larger battery in my pocket and run a long wire to the goggles – and it felt like I wasn't wearing any goggles at all as far as weight!
The Aomway Commanders have a three-way strap, which secures the goggles much better to your face. The battery also goes at the back of your head, so you don't feel the weight quite as much as you would around your temple.
The weight of the goggles and the weight of the battery sort of balance each other out.
Another great design touch is that there is a little OSD inside the goggles which shows you what frequency you are receiving on right now and what your battery voltage is.
The battery voltage is huge – in Fat Sharks, you have to take off your goggles and push the little LED button to see how much power you have left, and even then it's not that accurate – being able to see true voltage is an awesome idea.
Features that make the Commanders worthwhile
For around $350, you're getting portable goggles that support HD, have a built in DVR, come with a battery, and a built in diversity receiver. Considering that diversity receivers alone for Fat Sharks can set you back around $50-100(depending which receiver and antennas you get) then the value for money starts becoming quite apparent.
The receiver itself is quite sensitive and you can get decent range even with just a regular cloverleaf antenna.
Plus the FOV is a respectable 32 degrees, which is a little more than that of the Dominator V3s.
Some gotchas
No goggles are perfect, though, so the Aomway Commanders do have their shortcomings.
If your FPV camera outputs 4:3 video, the video will be stretched out to 16:9 in your goggles. If you don't like the stretching out, then you can choose 4:3, but there will be vertical black bars on either side. Wasted screen space!
The little toggles to adjust the IPD don't feel very solid and are quite easily moved, so you may have to keep adjusting. The build quality for the switches feels a little cheap
The shape of the goggles don't really fit everyone's face. Of course everyone has a different face contour but I've yet to hear of someone complaining about Fat Sharks not sitting flush on their faces, but I've heard a few people have this complaint about Aomways
Conclusion
The Aomway Commanders are value-priced goggles packing great features you would not find on other goggles unless you spent a lot more money. If you're willing to break the mould of flying only Fat Shark, you're getting good functionality for a pretty good price.