When the AOMWAY Commander goggles came out, they were hailed by many as a stalwart competitor to Fat Shark, the current monopoly(virtual) holder on the FPV goggles market.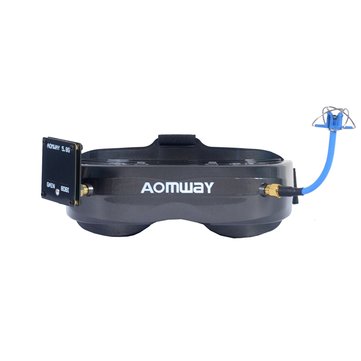 The AOMWAY Commander V2s are a follow up to that very successful model and address many issues that were in the earlier version, as well as improve on other features. The Commander V2s are still a very formidable alternative to people who don't want to use Fat Shark goggles but still want the slim form factor and industry-standard features.
Specs at a glance
FOV: 45 degrees
IPD: 59-72 mm
720p/1080p HD in
800×600 resolution
64 channel diversity receiver
Auto-scan channels
Head-tracking(removable)
DVR built in
OSD built in
Fan for cooling
2S-4S input
Audio output
NTSC/PAL capable
198g weight
What the specs mean
From an initial glance at the specs, the biggest feature(pun intended) is the 45 degree FOV, which is even bigger than the already HUGE 42 degree FOV in the Fat Shark HD3s. The HD3s have the biggest FOV in any Fat Shark model at the moment, so 45 degrees will feel like you're watching a movie in a theatre.
There is however a disadvantage to such a large FOV – the edges can appear blurry, and if the FOV is too large, you may find yourself having to move your eyes around the screen just to get everything in.
45 degrees is indeed the upper limit, I feel, for comfortably flying FPV drones, especially if you are freestyling, since you really need to be aware of all of your surroundings when attempting a trick or a gap.
Next up, the IPD. Most goggles support IPDs of 59mm to 69 mm, which is pretty standard. If you have really wide-set eyes, though, the 72 mm IPD may be a welcome change for you and make your viewing experience just that much more comfortable.
The goggles support 720p/1080p HD in to hook up your computer or Xbox and have some fun. Honestly, this feature is moot for me since I only use it to fly and only hooked it up to my Xbox to play GTA once. It looked kind of weird, me sitting so close to the TV with the goggles on my face and playing with the controller.
An 800 x 600 resolution is also pretty standard for high end goggles and you should expect nothing less for this price point. For analog FPV, it's enough, really, and will show you a nice and sharp(as sharp as 5.8ghz can get you) image.
The diversity receiver supports up to 64 channels, which is insane – you have access to 8 bands! I feel that this is just marketing hype from Chinese manufacturers, since the L band is not even legal to use in the United States unless you have proper certification. For most flying, you'll need 40 channels, and that's it – the four standard bands, and Raceband.
Anything more than 5 bands is fluff and an attempt from manufacturers to try and justify a higher price point.
The receiver is however a diversity receiver, which is nice, since it eliminates the need to go out and buy an external receiver. You also get a high dbi patch antenna and one cloverleaf antenna, so you can get started with flying right out of the box without having to buy antennas, either.
Since there is a diversity receiver, you can either manually change channels using the buttons on the top of the goggles, or you can auto-scan to pick up the channel your VTx is broadcasting at. You can also cycle through auto-scan to pick up each next broadcast if you are flying with multiple people together.
Head-tracking is also built in, and you can remove the module if you wish. Head-tracking is not an important feature for miniquads, but it is super useful and fun to have if you are using it on an airplane or a larger GPS enabled quadcopter. You can just move your head around to get the entire view – it's a lot of fun and incredibly liberating!
The DVR is also a standard feature.
Next up is the OSD. The OSD shows you what channel and band you are on, as well as the battery voltage – this is a very welcome feature so you can see actually how much power you have left. In the Fat Sharks, it's a bit of a guessing game since there is no indication in the screen itself. You have to take the battery off and check using the LED indicator.
The last thing of note is that the goggles can take an input of 2S up to 4S. There are no batteries included in the package, so you'll need to use your own. There is a little filtered adapter that you can plug into your regular battery. The adapter has a barrel connector that goes into your goggles.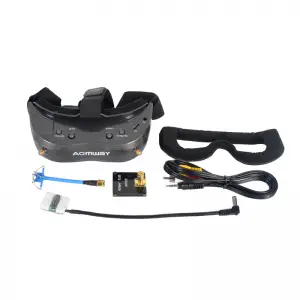 A nice note is that you get two types of foam in the box – thick and thin – so you can use whatever you're comfortable with.
Improvements over earlier model
There are plenty of upgrades over the earlier Commander V1s. The FOV is bigger, the receiver supports far more channels, and the resolution is better.
All in all, the most important upgrade is the larger FOV. It makes a huge difference in your flying experience, and I feel that this alone is a feature worth going for if you are looking to upgrade.
How they compare against Fat Sharks
The Commander V2s retail for around $430, which is fairly reasonable compared to similar goggles from Fat Shark. It's actually a better deal, considering that the Fat Shark HD3s – which have a similar FOV – are $400 for the base goggles. On top of that, you have to buy a receiver module at the very least, as well as antennas and head tracking if you want it.
If you compare it just by dollar value, you'll need to spend at least $60 for a good diversity receiver, as well as about $50 for two good antennas: one circular polarized and one patch or directional.
That's another $110 on top of the $400 you've already spent, so your total is close to $510.
If you opt for the Commanders instead, you've got a done deal in just $430 plus any shipping charges.
Feature by feature, the Commanders seem to have an edge on the Fat Sharks.
However…
Potential problems
Many people have complained that the Commanders don't sit very comfortably on their faces. If the goggles are not comfortable, no number of features can save them.
The Fat Shark goggles seem to have this down pat – they are very comfortable on most face sizes, and if you use some nice and thick foam like the one from NewBeeDrone, the fit will be just magical.
Another potential problem compared to Fat Sharks is that the customer support is questionable for AOMWAY. Fat Shark has been around for a while, they're a major player, and they have a great customer support system that can help you out should anything go wrong with your $500 investment.
With AOMWAY, it's certainly going to be a lot harder to get any servicing done.
Value for money and conclusion
The AOMWAY Commanders are certainly a respectable pair of goggles that pack some really nice features and for a competitive price. Whether you choose these over Fat Sharks really boils down to two critical points: Will they fit your face and whether you're willing to risk possibly having a hard time getting any repairs done.
If you're feeling iffy about the fit, consider buying them from a local dealer so they will be easier to return. If you buy them from a Chinese vendor, you may have a hard time(or at least an expensive time) trying to ship it back.