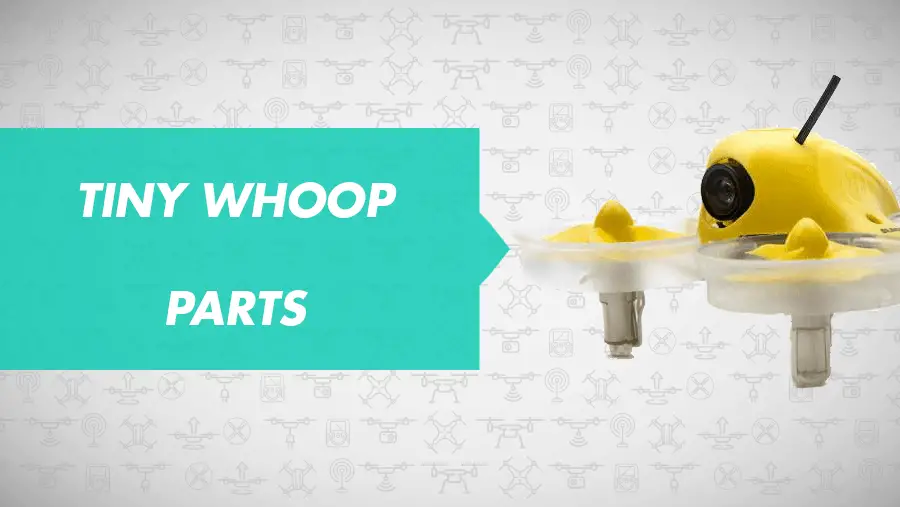 So you're thinking of getting a Tiny Whoop – or you already have an Inductrix, an Eachine E010, or something similar, and want to turn it into a monster?
You've come to the right place.
This is a list of parts and upgrades for your Tiny Whoop, categorized.
Of course there are tons of aftermarket and Chinese parts, too – and I'm not against Chinese parts in any way – I've done many builds with them for 5 and 3 inch quads, but because the Tiny Whoop is so weight sensitive, only a few parts have really worked for me, and those – and ones by companies I know and trust – are the ones I recommend.
In the interest of being thorough I will point you to other manufacturers, but I have not been happy with their results – the difference between brands here is marked and you'll feel it.
For example, I used to run BoldClash motors(17,500 kV) on my Tiny Whoop, where I'd get a nice punch for the first minute or so with a good battery(255 mah HV), but I'd have to be on 80%+ throttle for the remaining one minute before I'd have to land at 2 minutes.
Compare that to the fact the Jesse Perkins gets 3 minutes or so on his Tiny Whoop with 17,300 kV special sauce motors, then you know that something is up.
Unfortunately the higher quality parts are considerably more expensive than the cheaper ones – but if you want to get good performance and something you can really FLY – get the better quality parts.
Frames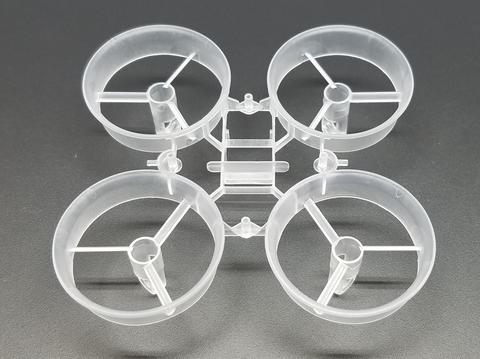 There are a whole host of different frames to choose from(you can read more about them here), but the three best and cheapest options are:
If you're living in the USA or have a local dealer I wholeheartedly recommend getting either the stock Inductrix frame or the Cockroach frame. If Amazon or TinyWhoop.com don't ship to your country, or shipping gets expensive, then you may have to get the Banggood Eachine E010 frame instead.
Motors
The next upgrade you'll need is a set of decent motors. Because you're going to be adding nearly 4 to 5 grams of weight with the FPV camera, you'll need more powerful motors, otherwise your Whoop just won't get off the ground!
There are plenty of motor options available. The two sources I trust, however, are TinyWhoop.com and NewBeeDrone. These two guys make motors in a few different speeds.
Tiny Whoop makes them in Race Edition(14,800 kV) and Special Sauce(17,300 kV). Race Edition motors are good for just upgrading the stock Inductrix build or the stock Eachine E010 build, but if you're building a Whoop from scratch, definitely get the Special Sauce motors – you can control the amount of thrust you get by using a regular battery vs a HV battery(more on that shortly).
Check out the Race Edition motors
Check out the Special Sauce motors
NewBeeDrone makes them in three flavors: black(17,400 kV), silver(14,800 kV), and gold(19,700 kV). As you can see, the black edition motors are similar to the Special Sauce motors, the silver motors are similar to the Race Edition motors, and the gold motors are much faster – though the faster gold motors will eat through your battery in very little time.
17,000 kV is a sweet spot and you'll be happy flying it both indoors and outdoors(provided it is not too windy).
Both TinyWhoop.com and NewBeeDrone ship internationally, but it can get a little expensive – so if that's out of the question for you, check out BoldClash motors from Tmart.com or RacerStar motors from Banggood.com – they don't have quite as much punch or longevity as the Tiny Whoop or NewBeeDrone motors, but they're the next best thing.
Cameras
Camera options are plenty – and as far as cameras go, it really doesn't matter which one you get provided the weight is not too much.
There is the "original" Tiny Whoop camera, the FX977T, as well as plenty of different options from Eachine, all of which weigh around 4-5 grams.
However, I use this little camera from MyRcMart.com which is both cheap and weighs just above 3.2 grams – saving nearly 1.5 grams of weight and making a huge difference, in my opinion.
25 mW is more than enough for whooping, and a dipole antenna will do the trick just fine. It'll actually be better because the circular polarized antenna will keep getting bent from all the crashing!
Flight controllers
Next up we have flight controllers. There are plenty of options, again, but I recommend three that you should give a shot. You'd need to upgrade your flight controller if you want to be able to run Betaflight and handle higher kV motors – the Special Sauce motors and above are too fast for the stock Inductrix or Eachine E010 controller to handle.
Plus, using Betaflight, you can enable the awesome features it has such as Airmode.
Propellers
Propellers, as far as I have flown, I only prefer the stock Inductrix props or the Eachine E010 props. RakonHeli makes three bladed props but many people have complained they are very loose.
The stock ones are four bladed props, which are fine, really. If you feel you are losing a little bit of efficiency, then you can try cutting the stock props down to two bladed ones and seeing how that makes a difference for you.
Pick up a set of props from Banggood
Batteries
Finally, the last and possibly most important ingredient to a sizzling Tiny Whoop is the battery. Tiny Whoop batteries are literally a dime a dozen, but there are very few that actually make the cut.
I've flown a few different batteries and I have to say, the only Tiny Whoop batteries worth flying are the MyLipo.de batteries:
The MyLipo.de batteries are available from Tiny Whoop's official store and from Micro Motor Warehouse.
If either of these guys can't ship to you, then there are some other options which may not be as good but can certainly get you up and Whooping:
Other things you will need/want
The parts listed above cover all the things you will need for a good Tiny Whoop build, except one: a charging cable. Since these battery packs use different connectors than what you may have cables for, you'll need to pick some up.
You can get a parallel charging board – which is the best option, or you can make a serial charging harness using loose connectors(micro JST 1.25 for the regular batteries) and a balance plug.
If you want to do a sleek, blingy Tiny Whoop build, pick up a canopy or 3D print one. Just bear in mind that it will add additional weight!