The T-Motor F40 PRO II motors were sent over to me by the kind folks at Banggood. I was really excited to get these motors since I used them to build my Armattan Rooster.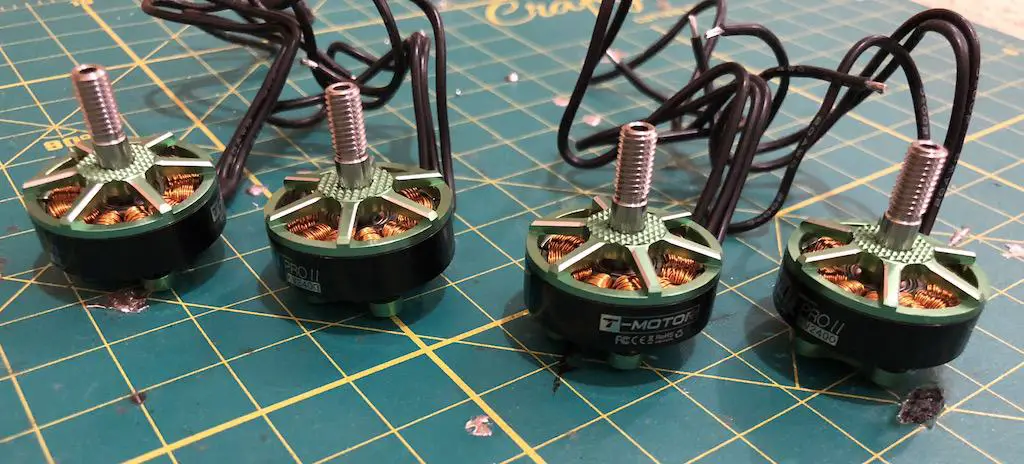 These bad boys are 2306 motors and available in three kV configurations and three different colors inspired by Marvel superheros.
kV configuration:
1600 kV : This is an awesome kV for efficient long range flight on a 6″ or 7″ build. Coupled with a TBS Crossfire, you can do some serious long range flying.
2400 kV : This is the sweet spot where you can use this motor for both freestyling and racing.
2600 kV : This is a powerful version that will seriously rip up a racetrack(though there's nothing stopping you from using it for freestyle too)
Colors available:
The colors are inspired from Marvel superheros: Wolverine, the Hulk, and Iron Man.
Adamantium Gray
Monster Green(the ones I have)
Reactor Red
Packaging and what's in the box
The motors come packaged in nice circular plastic boxes. I really like the plastic boxes because they can be very easily reused and repurposed for other loose bolts and parts you inevitably collect in this hobby. I split up these boxes into spare hardware compartments for my frames.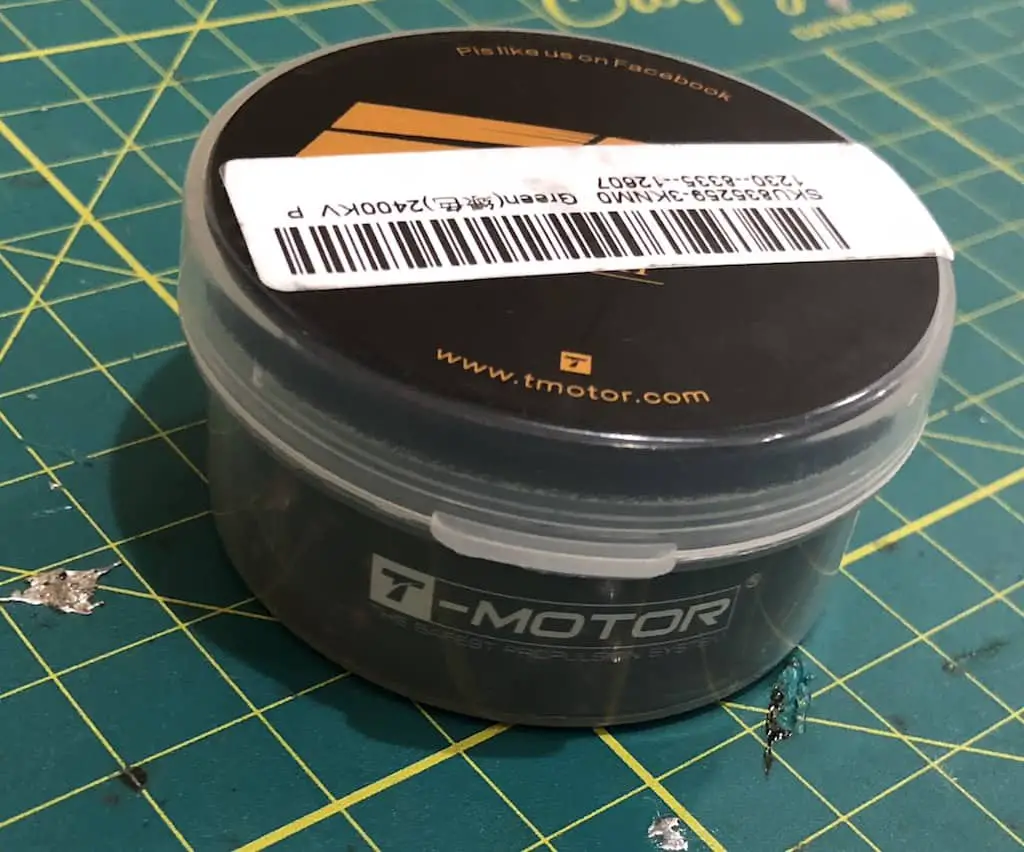 In the box, you have the motor well cushioned by some black foam, some stickers, and a little baggie that has 2.5mm bolts and a locknut. The motor wires are quite long at 100mm, which is more than enough even for a larger build using a 4-in-1 ESC.
Overall, very well packaged and a +1 for the plastic boxes.
Appearance and build quality
These motors look really cool. The color choice is also T-Motor have gone with a naked bottom design, which as I mentioned in my review of the Rotor Riot HypeTrains makes it very easy to clean the motors in case some dirt goes in. It also helps with weight reduction.
It seems motor manufacturers are now opting for bell designs that show a lot of the windings from the top. The F40 PRO II is no different. The top of the motor is mostly open, with just 6 spokes connecting the side of the bell to the shaft area.
This serves a dual purpose, I feel – it is good for weight saving, since you are using less metal, and it also increases airflow keeping the motor cooler.
The motor wires are a little smaller gauge(20) than older T-motor motors, but I didn't really see a difference in performance. I am guessing this was a weight saving measure.
The motor weighs in at just a hair over 30 grams, pretty standard for motors of this size and power.
Windings are silver wire coated with copper, but with a significant upgrade: the material used to insulate the windings is rated for up to 240 degrees C.
Why is this important? Heat-resistant windings will help prevent the motor from burning up. If you crash and your prop gets jammed, but you still try to throttle up, that generates a lot of heat in the motor and can potentially burn it out – the higher heat resistance means there is less chance of the windings burning.
The shaft is made of a titanium-steel alloy and is hollow(which has become a standard practice among motor manufacturers). Hollow shafts are stronger, less prone to bending, and of course, save weight.
Securing the bell to the motor is done by a hex bolt, a welcome change over those pesky circlips. Personally, I was never able to correctly re-attach a circlip! The bolt makes removing and replacing the bell much easier. It's not an innovation on T-Motor's part by any means, but it certainly is a welcome adoption of something most manufacturers are doing.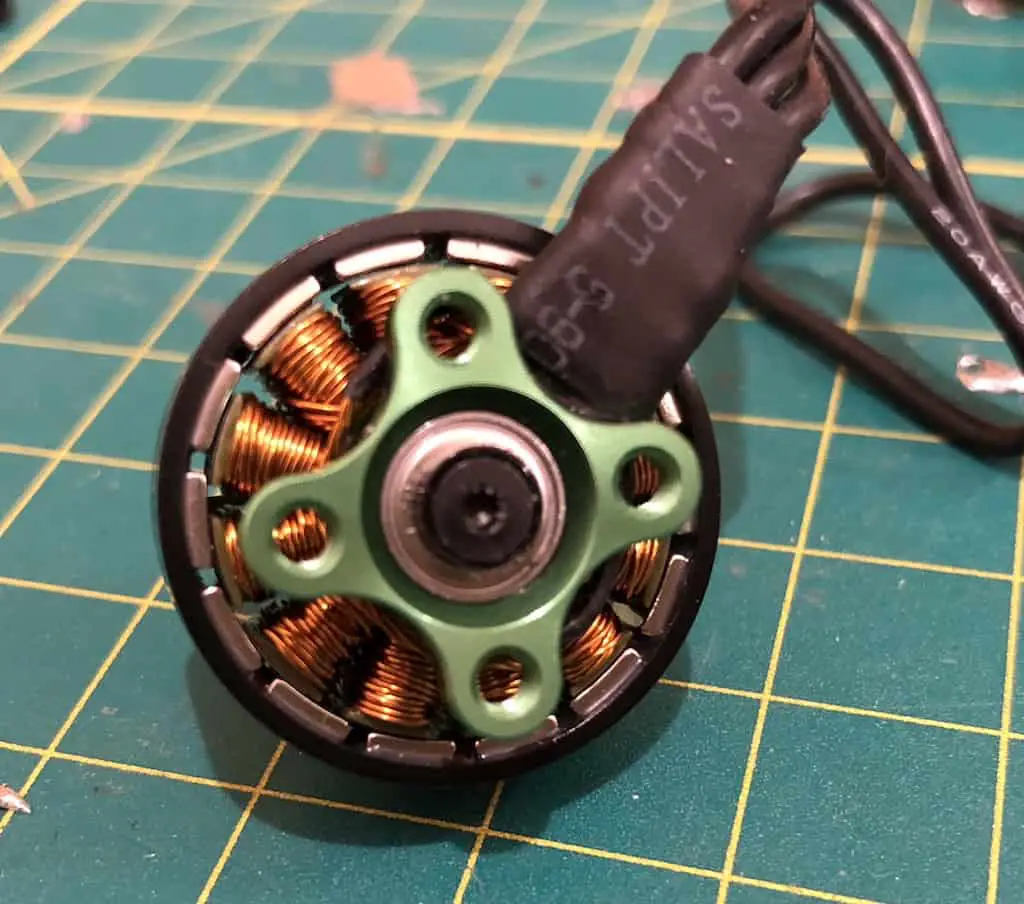 Finally, another neat innovation is a bumpy surface just below the shaft, where the propeller sits. This helps prevent the propeller from slipping by providing extra friction. You could also theoretically get away with not having to really torque down the lock nut, since it is also that much harder to remove it then.
Performance
For a detailed thrust chart and analysis, I would suggest you head over to Mini Quad Test Bench's awesome-as-always analysis of this motor.
The prop I used on this motor was a DAL Cyclone 5046 with a 1300 mah 4S battery. According to the thrust data, the 5046 Cyclones draw 36 amps at full throttle and produce a thrust of 1595 grams.
I witnessed this first hand in my first flights, as I was expecting a tamer motor. In the video below, you can see how the first few seconds is FAST(since I naturally moved the sticks as I normally would on my other builds) and it just shot away. A few seconds in, I get it to a speed I'm looking for:
As for actual amp draw, have a look at this DVR screenshot and the amp draw: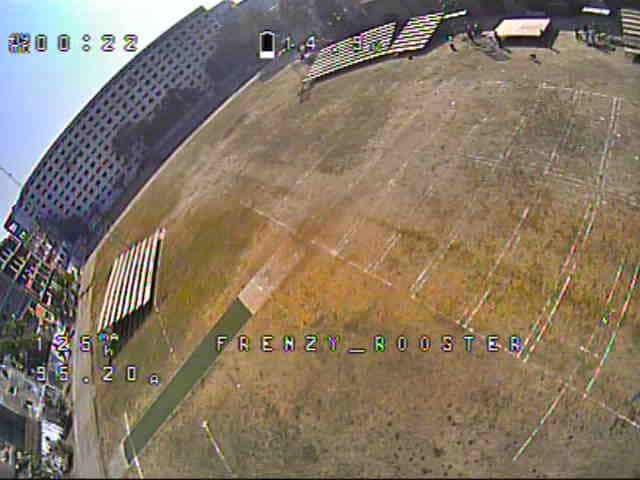 In one punch out, I managed to eke out 95 amps. This was not full throttle, but must have been around 70-80%. I'm guessing a full punch out would jump to around 110-120 amps, which is around 30A per motor.
For the most part, I was flying while drawing between 20-50 amps.
As far as efficiency is concerned, I was easily able to get 3:30 minutes to even 4:00 with normal-aggressive freestyling. I am sure that if I was just punching out all the time, I'd get less, around 2:30, but that's pretty efficient nonetheless!
These larger motors have more torque than the smaller motors, so it's that little bit easier for them to spin the props at lower throttles. Of course, if you punch out too much, you'll see your battery sag to below 13V as I experienced once.
Even though the battery sagged that low, as I eased up on the throttle for the next few moments, I still managed to eke out 3:30-4:00 minutes of flight time and by the time I got home my batteries were at 3.75 volts. Not bad!
The thing with these larger motors is that they are very efficient and still quite powerful up to a certain throttle level, and once you cross that, they become really amp hungry and spit out a LOT of power. I did notice this a bit in my flying as I'd sometimes end up a little higher up than I wanted to go.
This was probably because my muscle memory makes me throttle up to a certain point for a certain amount of height, and that same throttle on these motors ekes out that much more power.
Even though these are very similar to the HypeTrain motors(which are also manufactured by T-Motor for Rotor Riot), meaning they are both 2306 motors, and the HypeTrains are 2450 kV and these are 2400 kV, these motors are far more powerful.
While it may be disadvantageous to race using HypeTrains(though you could do it for sure), you could easily race and push these F40 PRO IIs for some serious speed.
Conclusion
All in all, these are really nice motors that will please freestylers and racers alike. T-Motor has had some issues in the past with loose bells and such, but it remains to be seen if the same issues will plague these motors. Performance wise, they are beasts and you'll get every dollar's worth out of them.
Even though they are on the costlier end of the spectrum, they're about the same as other high-end motors like the BrotherHobby Returners and Emax RS2306 series.