I love the form factor of the Fat Shark goggles(I use Dominator V3s), but I have a very high eyeglasses prescription with the works: a high diopter, as well as axis and cylinder.
Fat Shark does make prescription inserts, but they are only available so far in -2, -4, and -6. If you fall anywhere in between, and especially if you have axis or cylinder in your prescription, you'll either have to cope with a higher power, or make do with a slightly blurry image. Also, if you're nearsighted, tough luck. Not fun.
I normally fly using contact lenses, but I don't wear contacts as a matter of habit, so up until now, I could only fly so long as I had a fresh supply of contact lenses.
So my shopping list was basically props and contact lenses to make sure I was able to stay in the air!
I'd been on the lookout for custom lenses for a long time. I even came across a few posts on Reddit Multicopter and on forums of people cutting spare old lenses to shape and using them in their goggles, but my prescription is so high that my lenses just wouldn't fit into the grooves in the goggles.
If anyone is interested, it's a -9 diopter, so even the thinnest available lenses are still pretty thick compared to lower diopters.
Research led me to two companies that make custom Fat Shark lenses: Rho-Lens and CustomFPX.
Rho-Lens makes fairly expensive lenses, as a single pair costs around 140 Euros. They do offer a money back guarantee if the lenses didn't fit your goggles. I don't doubt the quality of Rho-Lens, but 140 Euros was a little out of budget for me.
Then I came across CustomFPX on a post in the Flite Test Facebook group.
CustomFPX made lenses for $45 per pair, no matter the prescription, and charged $15 for standard shipping, bringing the total to $60 per pair – much more palatable.
There was no guarantee detailed on their website like on Rho-Lens, so I sent them an email detailing my concerns, and I received a prompt and reassuring reply from Adrian, the guy behind the company, that the lenses were high quality and would fit.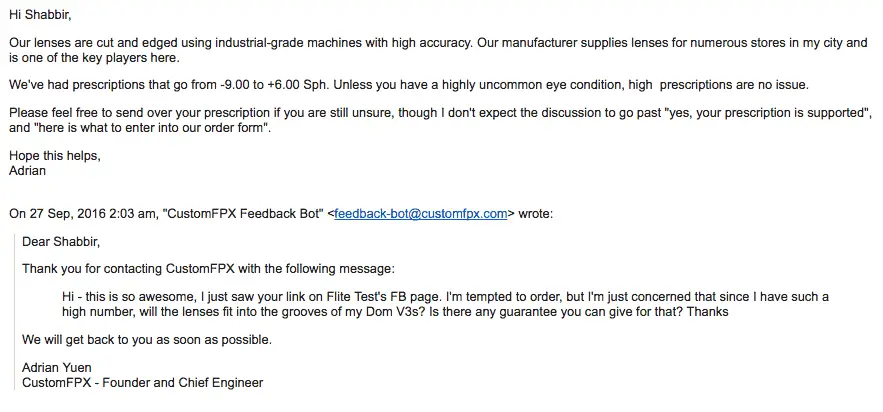 So I figured, why not give it a shot? $60 made sense financially, too. For me, one box of 2-week use contact lenses(6 lenses per box, so 6 weeks of usage) costs Rs 2100, which is about $31. So either I bought 12 weeks of lenses, or used the same money to get these inserts and never need lenses for FPV again.
From the time I placed the order(you submit your prescription online using a form), it took about 7 days for me to receive a confirmation that the lenses had been manufactured and shipped, and since it was Hong Kong post, I had the lenses in less than 2 weeks.
The lenses arrived well packaged in an innocuous looking envelope: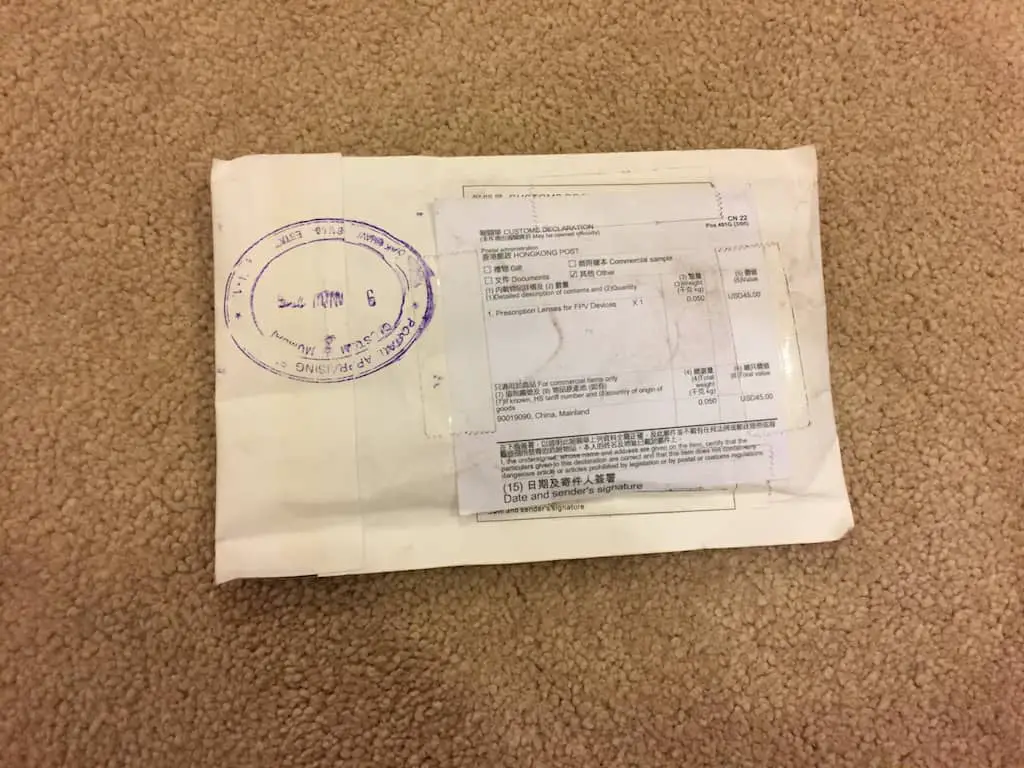 Inside, there was a packing slip and a little black case with the lenses: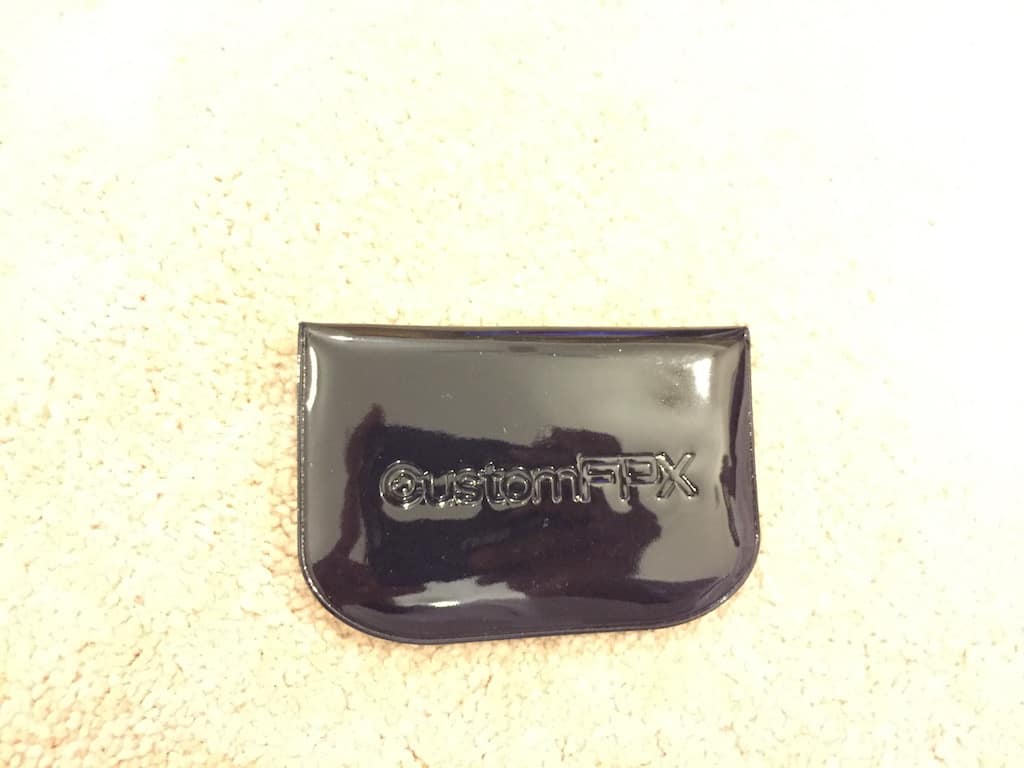 The case contained the two lenses, individually kept in a plastic sleeve, along with detailed care and usage instructions.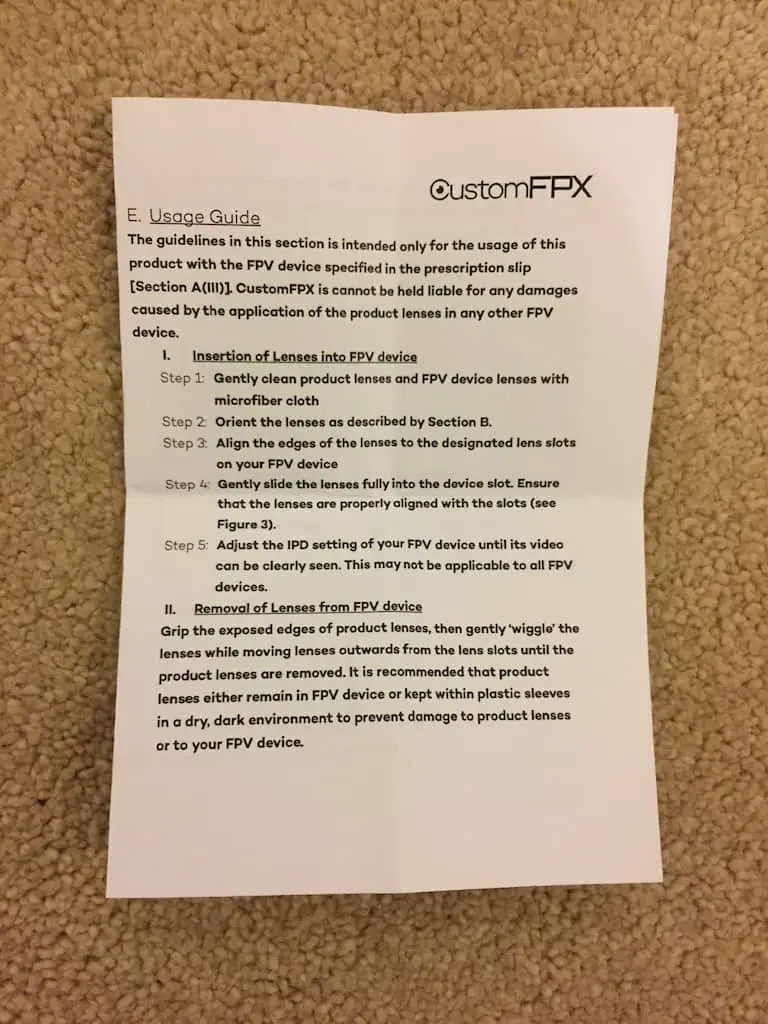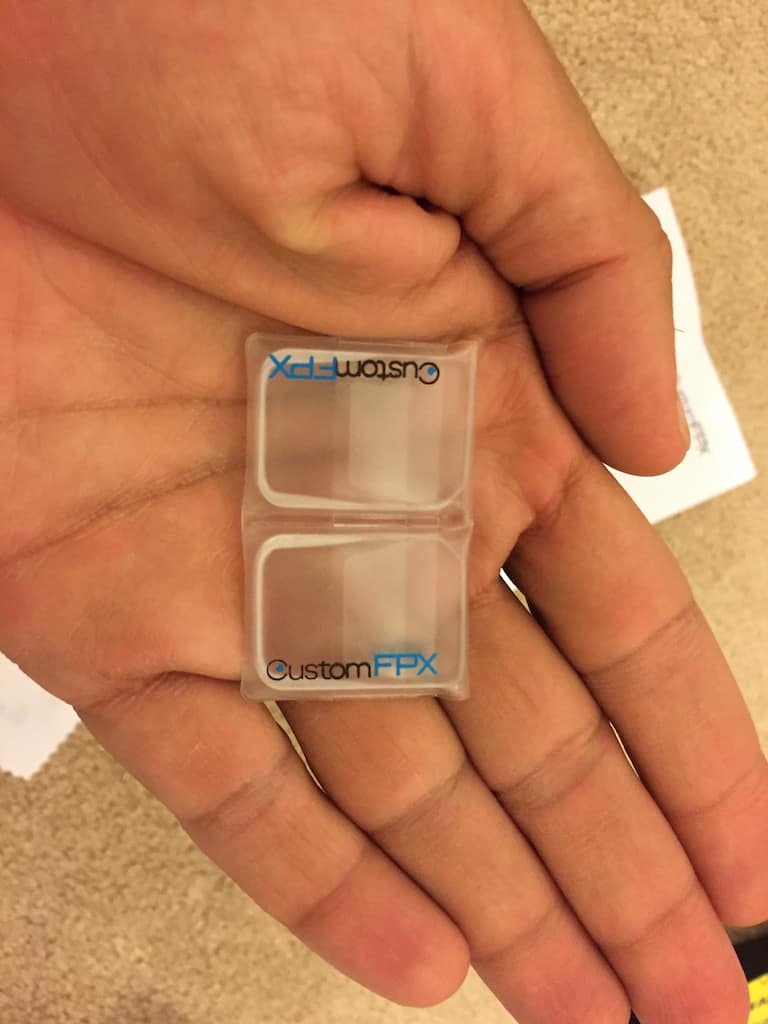 The finish and quality of the lenses was excellent, as was the attention to detail.
The lenses felt solid, were spotless, and I held one up to my eye to see If I could see well enough, and it seemed just like my regular glasses.
To make inserting the lenses easier, there are little edges cut into the lens so it can slide into the grooves on the goggles: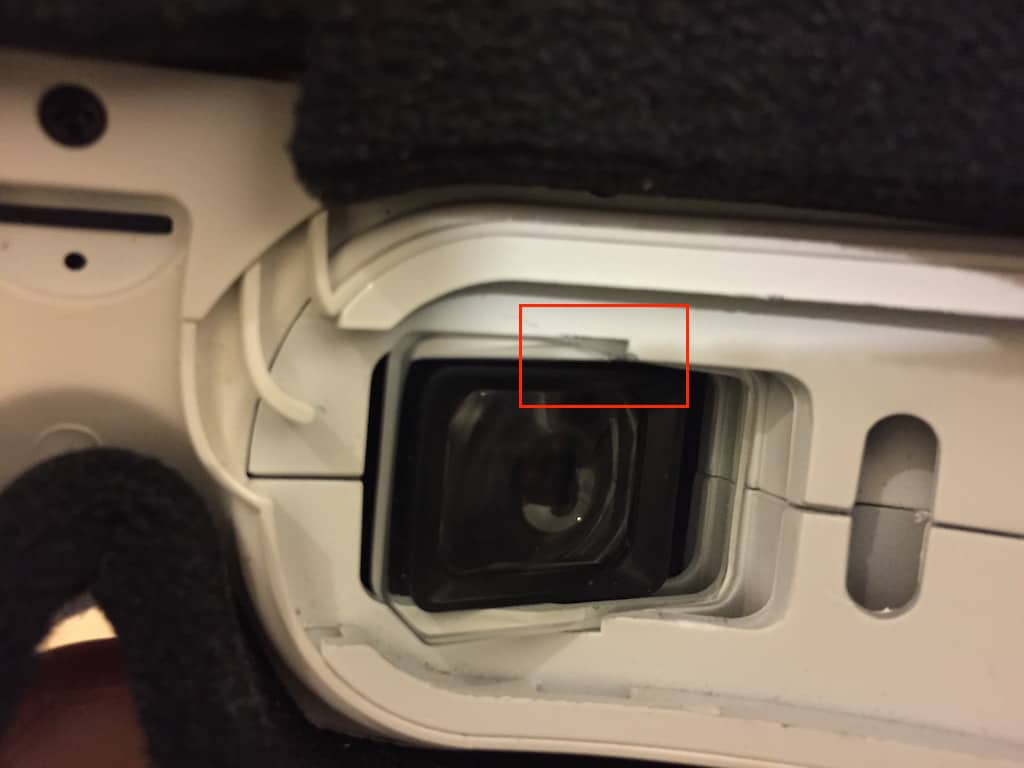 The lenses slid in after a little bit of coaxing, and upon trying the goggles, I was very, very happy! I can finally use my goggles without contacts!
The only gripe I have is that it's fairly difficult to remove the lenses once they're in. The instructions say to grip the exposed edges of the lenses and gently wiggle them until they're out, but the lenses are a tight fit and my fingers are not the thinnest, so I can't really get a good grip on the lenses to pull them out.
I'll have to figure out a way to do that without damaging them.
Aside from that, though, I'm really happy that I could pick up lenses for a prescription as high as mine that fit into my goggles and let me fly whenever I want to. If you have a high/custom prescription, and were putting off getting Fat Shark goggles, seriously consider these lenses!
You can get them from CustomFPX.com.