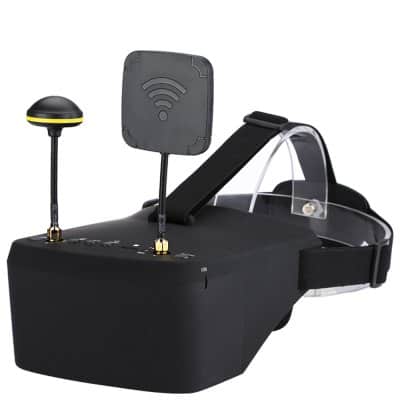 Ever since I wrote my guide on cheap FPV goggles some time ago, surprisingly enough, not many new models have come out.
It seems that the cheap goggles have been quite standardized, and manufacturers are trying to chip away at Fat Shark's share of the market with higher end goggles like the Aomway Commanders and the Eachine EV200D.
Cheaper goggles still follow the same form factor as before: box style.
Gearbest was kind enough to send me these LS-800D FPV goggles for review. They're very similar to the Eachine EV-800D, so let's check out what's special about them.
Feature overview
5 inch LED backlit display:
These goggles come with a generously sized 5 inch display. The resolution is a respectable 854 by 480, very good considering the low price. The neat thing about these goggles is that the display can detach from the goggles so you can use it as a standalone screen, too.
40 channel diversity receiver:
As far as the receiver goes, it's capable of receiving 40 channels on the A, B, D, E, and R bands. These are really the only bands commonly used and other bands like the L band are illegal in some countries. There's no point in having more than 40 to 48 channels anyhow!
Especially if you usually fly alone, then there is really no point whatsoever!
Diversity is also a welcome feature on such a budget goggle. With diversity, you can put one directional antenna for maximum distance and one omni-directional antenna for more coverage, and the receiver will automatically switch between antennas and display the best feed available.
82 degree field of view:
The field of view on these box style goggles is just MASSIVE. My usual goggles, the Fat Shark Dominator HD3s have a 50 degree field of view. This is like an entire set of goggles worth of extra FOV.
Such a large FOV is common in these types of goggles, since they are so much larger. For racing and intense proximity flying, you may find it a little difficult to take in all of the images at once.
However, 82 degrees will be incredible immersion and should offer a magnificent view. If you're not too keen on having such a large image projected in front of you perhaps you may want to consider a set of smaller form factor goggles instead like the Eachine EV100D – they are also comparatively inexpensive and have a smaller FOV.
FOV is one of those numbers where bigger isn't always better. I have personally not used box goggles much, since I've been flying the smaller goggles since day 1 in the hobby. However, my issue was more with portability than anything else. Still, too much image may become overwhelming and you may miss what's happening on the edge of the screen.
On the flip side, you mostly need to concentrate only on the center of the screen, since that's where your quad is actually going.
I think the best comparison would be watching a movie on your TV at home vs watching a movie on an IMAX screen!
Built in DVR:
This should pretty much be a standard feature on any FPV goggles, and it's good that these include a DVR. The description states that it's a 128 gb built in DVR but there is also a micro SD slot, so the 128gb actually means the goggles are capable of reading and writing up to 128gb cards, not that that much memory is built in.
DVR is a useful feature to have especially for rewinding and playing back footage so you can find a lost quad, or just for reviewing flights to see what you did and what you can improve upon.
Auto search channels:
This feature saves you the trouble of having to scan through every band and channel to find your transmitting frequency. It's standard on most high end receivers, and it's a good touch in this model. You simply press the button to scan the frequencies and it automatically locks onto the strongest transmission.
Built in battery:
There is a built in 3.7v 2000 mah battery which is charged using a micro USB cable. Not having to worry about separately charging your battery(as you have to with Fat Sharks) is a welcome convenience. The manufacturer's rating is about 2 hours of runtime on a single charge, which should be fine for one day's worth of flying.
Design and feel
Since this is a box style goggle, they may feel a little big on your face, but that's not too big of a deal. You can throw these in a backpack without any issues and they come with a small carrying case.
There is a soft meshy material that makes contact with your face and the goggles sit quite comfortably. The strap is a three-way strap which goes around the side of your head and one that goes around the top of your head. This makes the goggles sit very firmly and comfortably on your face and there's no sliding or slipping.