Note: Lipo battery storage can refer to two things: what charge to store lipo batteries on, and how to physically store lipos. This post will talk about both of those topics, since they are related.
Lipo batteries are temperamental little things(or huge things, if you've got 10,000 mah 6S packs).
They're tricky to charge, tricky to discharge, and as you may have guessed, tricky to store, too. Unlike your laptop or mobile phone battery(which are lithium-ion), you can't leave a lithium-polymer battery on full charge for a long time.
If you do so, the battery will gradually lose its capacity(and its life will decrease), or worse, it'll start to puff up, and it'll still lose its capacity and its life will decrease.
The best way to gauge what voltage to store your lipo battery on is to see what voltage the battery is at when you buy it. Manufacturers keep lipos at storage charge levels, because it may be months before the batteries reach the end user.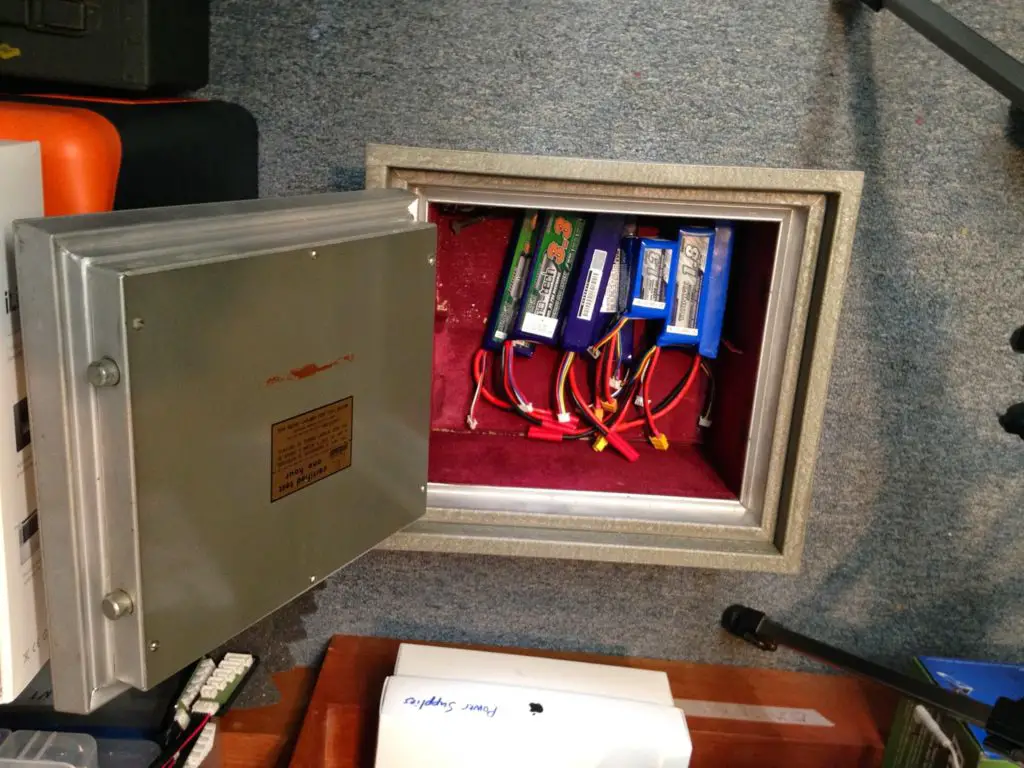 As far as I know, there is no single agreement on the exact voltage of a storage-charge, but all the batteries I've ever bought have always been between 3.8-3.85 volts per cell.
So if you are going to keep your batteries in storage for a while(a while being anything over 4 days, I'd say), then you want to bring your batteries down to 3.8-3.85 volts per cell.
The same goes if your batteries are depleted. If your battery is below 3.7 volts per cell for some reason, you want to bring it back up to 3.85 before storing it.
A word of warning: batteries shouldn't usually rest at below 3.7 volts per cell. If you land with a pack well below 3.7 volts even after resting for a while, be very vigilant when you charge and make sure to charge very slowly, at less than 1C preferably.
Most computerized chargers have a "Lipo Storage" option which will automatically bring your battery to the proper storage charge.
Another word of warning: The Imax b6 charger(at least the one I have) does not check the charges of each individual cell when it brings packs down for storage. I had a damaged pack where 3 cells came down to 3.9 or so, and the last cell was not being drained at all. My battery was at 4.15, 3.7, 3.7, 3.7. I suppose chargers don't balance discharge because they assume that when you very slowly draw current from a battery, all the cells should discharge more or less equally. If you think about it, the same happens when you are flying, too, even though it's at higher currents.
Alternatively, you can also set your timer and voltage alarms on your radio as such that by the time you land, the battery will be at storage charge anyway, so you don't have to fiddle around with the charger again.
Keep in mind that the voltage will be significantly lower under load(when you are flying and pulling current from the battery), and the voltage will creep up a little when you stop drawing current from it.
So if you set your voltage alarm in your radio to 3.8 volts, you're going to have very short flight times. Most people set their alarms around 3.4-3.6 volts per cell.
Where to store lipo batteries?
The electrical aspect of storing lipos was quite straightforward. Physically storing lipos is a little more complicated.
Lipo batteries contain very reactive chemicals in them(which allows them to produce so much power), so they should not be handled lightly. You want to treat them with as much care as possible.
For starters, you can insulate the leads. This can be as simple as putting a rubber cap or some electrical tape on all of the leads – this includes balance leads and the main power leads.
At the very least, you want to have a lipo storage bag. Lipo storage bags are made from fire-retardant material.
In case of a fire, the bags won't completely stifle the flames, but they may give you a little more time to react.
Here are some more guidelines:
Store lipos in locations as fireproof as possible. Good places are on the concrete in your garage, or in a metal/glass box away from wood or carpet.
Store in temperature-controlled locations – not too hot, and not too cold, and as dry as possible.
Some people like to store their lipos in ammo boxes.
You can also store the lipos in a container with a bag of sand on top. If something were to happen, the flames would rip a hole in the bag, the sand would fall on the battery and extinguish the flames.
Have a fire extinguisher nearby and easily accessible.
Most of these suggestions actually apply for charging lipos, but the reason I am listing them here is to be extra cautious, since the times you'll be storing your lipos will also be times when you won't be around them for extended periods.
When you are charging, on the other hand, you'll always be keeping an eye on the packs.