Lipo batteries are energy dense, high discharge, and comparatively lightweight batteries, which make them excellent for high intensity applications that drones require.
However, because they're so energy dense, when mistreated or mishandled, they can release all of that energy in quite a horrific and spectacular manner.
You may have seen videos online of lipo battery fires. If not, here is a reminder:
When should I dispose of a battery?
Lipo batteries work best for a limited number of cycles. After that, their discharge capacity begins to drop, and you'll notice that the battery has either puffed up and/or does not fly for as long anymore.
There are a few situations such as the one above where you would want to throw out your lipo:
If you physically damage a lipo, it may become unsafe to charge and use
If a battery has become very old, it won't have the same capacity and punch anymore
If a battery has puffed up and you don't wish to use it anymore
If you just need to make some space and throw out old stuff!
Please note that puffed or slightly dented lipos are not immediately unusable. You can use them, but the degree of puffing/denting which warrants disposal is unfortunately quite subjective.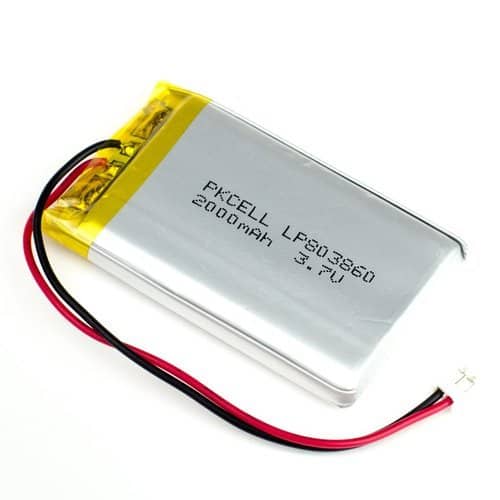 If you happen to slightly dent a lipo, or if a lipo puffs up on you, here are two things to do first:
Check the cells using a lipo checker. If the cells voltages are too varied, then one or more cells have been damaged and you can no longer safely charge this battery.
If the cells are fine, charge it at a very slow rate(0.1 or 0.2 amps for a normal 1300 battery) in a fireproof location, preferably outside the house or in a Bat-Safe charging box. Use this battery carefully for a few cycles.
However, batteries are $40, and your house is worth far more than that, so if you're wary, just dispose of the battery and buy a new one.
How to dispose of a lipo battery
To safely dispose a lipo battery, you must completely empty it of any electrical charge. There is a very simple device you can make that will draw the power out of your batteries very easily and quickly.
All you need is a connector(whichever one your battery uses), some wire, and a 12V car bulb. The car bulb is essentially a resistor which will draw power from the battery and emit it as light and heat.
A 12V bulb is good for 3S packs and below, and for 4S and above, you can connect multiple bulbs in series.
Have a look at this contraption that I've made:
If possible, try and discharge a 4S battery to as close as 12V as possible before using a bulb, as the higher voltage will cause the bulb to burn out.
What I do is hook up the battery I want to dispose of as the power source to my ISDT charger, and charge any other lipo with it until the voltage from the supplying battery falls to below 12V.
After that, you can just hook the battery up to your discharging bulb and leave it in a fire and heat resistant location.
The bulb will go out very quickly(not burn out, just stop giving off light) but the battery will still have charge in it, so leave it as it is for an hour or so.
Check the voltages of your now-dead battery through the balance plug with your battery checker and if they all read zero(or nothing), you're good to go.
Just cut off the power leads if you wish to recycle them, insulate the exposed leads(safe side), and toss the battery out at your local battery recycling center.