I first heard of these Infinity lipo batteries on a video by Joshua Bardwell and on our local flyer's Whatsapp group, and intrigued, I placed an order for them from Aliexpress. Banggood no longer ships lipos to India, it seems.
At $22 for a 4S 1300 mah lipo with a supposed C rating of 70C and marketed as "Graphene technology", it seemed like a crime to not give these packs a shot.
Note: This is an incredibly subjective review. I don't have the proper equipment to test batteries properly, so I'm just going to share the thoughts I had while actually flying the packs.
The lipos(I bought 2) arrived in about 30 days(the seller was backordered so he shipped a week late), and were packaged nicely in a tough cardboard box and wrapped in a generous layer of bubble wrap.
From a first glance, the batteries were a little longer than my other Tattu and Bonka 1300 mah packs, and also felt a little heavier. I don't have a scale handy unfortunately so I can't tell the exact weight difference.
(The batteries are not perfectly aligned because the leads are in the way, but you get the idea)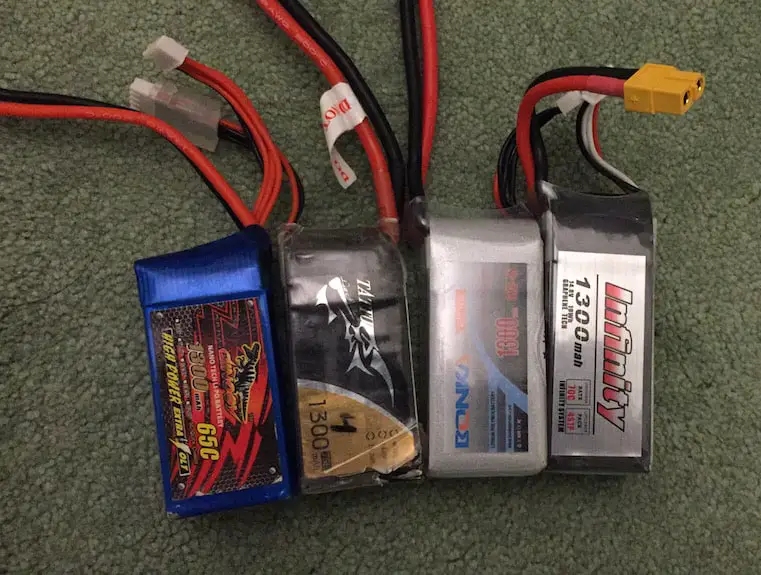 I took the lipos out for a flight on my ZMRX210 running DYS SE2205/2300 kv motors, RacerStar 30A BLHeli_S ESCs, and HQ5040 props with a X-Racer 3.1 running BetaFlight 3.0.
Here is raw DVR video from both flights. Note the voltage sag, amp draw, and current consumption:

My initial punchout seemed okay – the copter ascended fairly quickly, and the OSD showed a max draw of about 60 amps. I didn't throttle up all the way, but I must have gone to about 80%. Voltage sag was not too bad, either.
Normal flight seemed the same, but flips and rolls seemed faster and sharper than my older packs. You can see the video and judge the punchouts for yourself. There's one at the very start of the first pack and the second pack.
From both batteries, I got about 3-3.5 minutes of flying from arming to landing and disarming. The OSD only shows about 2 minutes and 30 seconds, but for some reason, my RROSD's timer is a little slow.
Mah consumption was a little disappointing. Considering that one pack was around 3.79 volts per cell and the other was 3.77 volts per cell when I checked them after 3-4 hours, the total current consumed was 770 mah on the first pack(just over half the supposed capacity) and 700 mah on the second pack.
The good thing was that the cells were all balanced – there was only a difference of 0.01 volt in one or two of the cells.
Had I pushed the envelope and flown a little longer, I might have discharged the battery too far.
In terms of flight performance and punch, both packs seemed a lot like my Bonka 1300 mah 65C pack when it was brand new. My older Tattu packs are nearly a year old so they don't have as much punch in them.
At one point, the max current I drew was just 70 amps. I even throttled up all the way once and the OSD only read 60 amps. Considering that the DYS SE2205s are power hungry motors, running a tri-blade prop, that seemed a little less. I'm guessing the batteries' C ratings are greatly overstated.
Infinity Race Spec 95C batteries(update)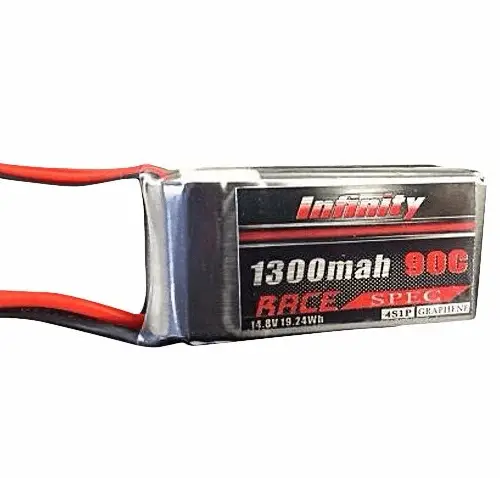 I also picked up the Race Spec Infinity batteries which are advertised at 90C, like the Tattu R-Lines. I know 90C is impossible given the current technology, but my local hobby shop got some 1300 in stock in so I picked one up to see how it performed.
I ran the Race Spec on my KISS'd setup – a QAV210 clone with BrotherHobby Returner R3(2206/2300) motors and did a few test runs first.
The main test I did was just a straightaway punchout. I got into position and just punched throttle to 80-90% and went up and down the field a few times. What was really impressive was that the battery held up very well during these punchouts – not once did I get a low battery alarm.
After those punchouts, I still managed to get about 4.5 minutes of relaxed flying and the pack held up very well right until I landed. It wasn't even very hot, either.
Telemetry showed that I drew out 1000 mah, resting voltage was around 14.9, and peak current draw was 66 amps. Nice! I'm really happy with the first flight and this could end up being my new favorite battery. It's the same size as the regular Tattu packs(so a little smaller than the normal Infinity 1300).
Conclusion
Considering that the batteries are just $22 for a 4 cell 1300 mah pack, and performs like a regular 4 cell Bonka 1300 mah pack, it seems like a good deal if you are on a budget. For Indian pilots like myself, it seems like the best option because these are the only guys that actually still ship lipos to India!
For comparison, you can get the following batteries on GetFPV.com:
A Lumenier 4S 1300 mah 65C battery goes for $30
A Tattu 4S 1300 mah 75C battery goes for $29
A Lumenier Graphene 4S 1300 mah 80C battery goes for $35
A Tattu R-Line 4S 1300 mah 95C battery goes for $37