The kind folks at Gearbest were nice enough to send me a micro quadcopter for review: the Grasshopper 94.
Micro quadcopters are all the rage right now, and these tiny little buggers make for great backyard and park fliers. I am not sure however if they're docile enough for small apartment indoor flying. Maybe if you have a roomy, airy house, but otherwise, these are great for backyards.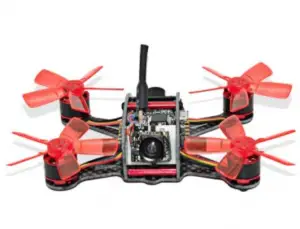 I received it within 2-3 weeks of them sending it out, and it came packaged in a tiny little box – which was good, as it must have gone under the radar customs!
Inside the box, there was a tiny little drone – the Grasshopper 94 – a bag with 2 sets of 5 blade props, some rubber bands to hold the battery to the quadcopter, one 2S 500 mah battery stated as 50C, and some prop guards and a battery tray.
The prop guards are a nice touch for indoor flying, but there is not enough open space in my house to comfortably fly a brushless micro without banging into something all the time.
Design and first impressions
I'm a sucker for cute quadcopters, and the Grasshopper 94 is just adorable. It's an egg-shaped design, meaning the top plate isn't a single plate – it's an egg shaped bracket on both sides, reinforced with a metal standoff to hold it all together.
What was interesting was that the top assembly is attached to the bottom plate with just two screws which go into the horizontal metal standoffs. This actually makes removing the top assembly quite easy.
The screws at the bottom were also flush with the plate, which was a nice touch.
The thickness of the bottom plate is 1.5 mm, and honestly, it felt a little flimsy – I am not too worried though, since the whole thing does not weigh that much and I don't think it will break in a crash on grass. Concrete will be a different story!
There are two little tabs on the sides of the bottom plate for the rubber bands to attach to. Just a couple of rubber bands will not really hold the battery in place – you'll need to attach some velcro for added security.
This quadcopter is a PNP kit, which means you'll need your own receiver. There were 2 sets of solder pads on the right side of the flight controller stack which seemed like UARTs, but were not labeled. I had to use a multimeter to determine which pad was which and then solder on an XM+ receiver I had lying around.
The front of the frame has an AIO camera with a 25mw VTx.
The back of the camera has an LED which you can configure through Betaflight, and a buzzer. The buzzer is a little redundant because you have DSHOT commands now, so you can even remove the buzzer to save some weight.
The frame is a deatcat style frame, meant to take 2 inch propellers. With the props on, there is very little clearance between the prop and the frame – but that's okay, since I'm assuming the designers were trying to make the build as tight as possible.
The components are all fitted in very tightly, and the solder joints seemed quite nice. The wires were also cut to perfect length, and it looked really, really clean. A+ for that.
Components
Motors: The Grasshopper 94 has 1104/7500 kV motors. They are not name brand motors, so I'm guessing they're made by the manufacturer themselves.
Flight controller: The quad sports a mini 20x20mm F3 flight controller which takes the Omnibus target. It comes pre-loaded with Betaflight(mine came with 3.1.5, I flashed it to 3.2) and it is preconfigured – the motor rotations and basic settings are ready to fly out of the box.
The flight controller has two free UARTs which you must solder your receiver to. The pin to the front of the quad is ground, the one next to it is live, and the one furthest from the front is signal. The ports to the outside of the quadcopter are 5V for most SBUS receivers, and the inside ones are 3.3V for Spektrum receivers. This was not documented anywhere, I had to dig around some videos and forums to find this info.
ESC: This bad boy uses a 4-in-1 10A ESC with BLHeli_S and supports DSHOT600 and DSHOT commands.
FPV Camera and VTx: The FPV camera and VTx is an AIO combo seen on the Tiny Whoop. There are two buttons – one to flip the video upside down if necessary, and one for changing the channel and band. The transmitter supports 48 channels. The camera is nothing special, as it's a 600 TVL CMOS camera.
This actually caused a bit of trouble for me because as the camera took a while to adjust to changing light, I was not able to see obstacles as quickly as I could have.
The neat thing is that even though this is an AIO camera, the manufacturers have wired it in such a way that the Betaflight OSD still works! This is huge, and being able to see voltage and flight time in the goggles was awesome.
Propellers: The kit came with 5 blade 2 inch props. It doesn't say what the pitch  of the props is, but it looks between 2035 to 2045 size propellers. To be honest, the propellers seemed a little dodgy, and after I bent one of them in a crash, it became quite brittle, so I will have to change it. I am thinking of picking up some HQ or Gemfan propellers instead.
Durability
I was very happy with the durability – in my maiden flight, I got it stuck in a tree, and had to remove it by javelin throwing a pole at it. It fell about 20 feet onto concrete and didn't have a scratch.
I also banged it into a metal pole, and all I bent was a prop – nothing else.
Because it is so light, there is very little momentum – so the impact of any force will not be too great.
Flight characteristics
I must say, even on 2S, this thing is FAST. I mean, it zips around. The stock camera tilt was also quite high at around 30-35 degrees, which I didn't change before the maiden, so it just shot off like a rocket. For a minute, I forgot I was flying a 2 inch micro and not my 5 inch builds, and so I tried flying it like a 5 inch!
The quad starts to take off at between 30-40% throttle, and if you hold mid throttle during flight, you should be fine. I suspect that if you lower the camera angle, you could use even less throttle.
You won't be able to do acro with it like a 5 inch, simply because there's not enough momentum to throw the quadcopter around. I experienced this during a few maneuvers.
I was however able to do split S maneuvers and flips without any issue. If you were to fly this around a racetrack, it would handle it like a champ. It's also fun for some mild acro flying and zipping in and around trees.
If you lower the camera angle, you'll be able to fly really tight proximity, too, like in a small playground around slides, swings, and the like.
My board came loaded with Betaflight 3.1.5, which I flashed to 3.2. I have not turned on the Dynamic Filter because the flight controller is not soft mounted, so there will always be some vibration. Even then, there was just very little oscillation in normal flight which I can tame with some extra D gain(motors were not hot), and I also have to bump up the I gain a little and turn on Anti Gravity mode.
Otherwise, this quadcopter is incredibly fun to fly and totally worth it. It also took a hell of a beating, as you'll see from my flight video:
Value for money and conclusion
At the time of this post, the Grasshopper 94 was $130 for the whole kit. I think this is superb value for money, considering that trying to buy similar parts individually would probably set you back a bit more cash.
Micros are also very finicky to build, and if you want something that you can just fly, then this is an awesome choice. I am amazed how far BNF and PNP drones have come right now.
For a micro backyard or park flyer, don't hesitate – pick up one of these right now!
Note: use code GRAS94 to get the drone for $97 instead of $120!