The Taranis X9D is an awesome radio, with the computing and customization power of radios that are multiple times its price. With a few more mods, though, it can become a really awesome radio customized to your exact personal preferences.
The mods I'm going to talk about here are not necessary, but they will be a cool project and some will help improve your flying(to a certain extent).
Mod 1: Get a decent voice pack
The Taranis is a computer radio, which means it is highly customizable – and it has a decent speaker built in which can give you audible feedback, which is especially useful for when you are wearing goggles and can't see the screen.
The stock voice pack that comes with the Taranis is not the best, and has very limited options – so the first thing you want to do is download a decent voice pack from here. You'll have to choose the correct voice pack for your firmware.
The voice pack will cover basic system sounds like numbers and alerts, but the cool thing is that you could set up any audio track to play at a given time, such as when your battery reaches a certain level, or when you flick a particular switch.
You could even record your own or your SO's or child's voice and load the file into your radio. This excellent tutorial by Painless360 walks you through loading sound files.
Mod 2: Get a better battery pack
The Taranis comes with a 2200 mah NiMh battery pack which is pretty decent and can last a very long time, but if you need something that lasts even longer, consider switching to a LiFePo4 pack or a LiPo. These packs will last even longer than the NiMh packs so if you like to just not worry about charging your radio, you can invest in a better battery pack. The Taranis can accept voltages up to 12-13V, so a 3 cell LiPo will work like a charm.
Note: if you use any battery other than the stock NiMh, DO NOT charge it using the wall wort. You MUST charge the battery pack outside your radio using a regular hobby charger, or bad things will happen.
Mod 3: Switch out the antenna
The stock antenna on the Taranis X9D is rather flimsy, and over time, it's going to get loose and break. Or perhaps you feel the stock antenna doesn't give you adequate range, and you'd like to be able to attach a higher gain antenna for greater distance.
This is a rather advanced mod, so if you are not confident with soldering very tiny pads, I don't recommend you do it. Writing it out won't do the entire mod justice, so check out this excellent video by Joshua Bardwell:

I was doing this mod when I tugged the wire a little too hard and broke the signal wire solder pad right off of the board. Yikes!
A friend suggested that I try to scratch the trace leading away from the pad and solder directly on to there. I figured, what the hell, the board is dead anyhow, if this works it works!
I gently scratched at the trace until I exposed the copper underneath it and applied solder to it, and soldered the new antenna wire onto the freshly scratched pad and the existing ground pad, and after attaching a new antenna and powering up, it worked!
Note: A higher gain antenna will get you greater distance but the antenna will have a thinner transmitting cone, so if you fly very close proximity, a higher gain antenna would not be of much use – but if you fly a little further out, then the higher gain antenna will make a significant difference.
Mod 4: Remove the ratchet(or upgrade the gimbals)
This is a two-step mod and has probably made the biggest difference in my flying. The stock Taranis has a little ratchet on the throttle stick(presumably to help hold throttle better for planes) which makes an annoying buzzing sound as you move the throttle up and down, and also limits the sensitivity of the throttle to a certain extent because the stick will jump from one notch on the ratchet to the next.
Disengaging the ratchet is very easy, luckily. If you unscrew the back of the radio and separate the two halves(after removing the battery of course), you'll see that there is a little screw at the top of the vertical metal bar near the throttle stick. Loosening the screw just a little will disengage the ratchet and your throttle stick will become silky smooth.
You could also tighten or loosen the other screws on the metal bars for the other 3 axes, loosening them or tightening them to your preference – in general, it's better not to loosen them unless they're stuck.
Removing the ratchet immediately gave me a whole new level of control over throttle and drastically improved my flying.
If you get tired of the stock Taranis gimbals(sticks) and would like something better, then consider switching out the stock gimbals to Aurora gimbals. The Aurora gimbals are usually out of stock and only available at one store that I know of.
This article from Flite Test is a great walkthrough for switching the gimbals out.
Updated January 2017:
FrSky has since released the M9 Hall Sensor gimbals, which have much greater accuracy and "stick feel", and are designed specifically for the Taranis, so they are much easier to install.
The Hall Sensor is a magnetic sensor instead of the old potentiometer(which was electrical), so it doesn't wear out as quickly. I've placed an order for the gimbals and will add more once I receive and install them. In the meantime, if you'd like to pick up a set, you can do so here.

Mod 5: Add a stand
Changing props and tweaking a little thing here or there is a huge part of flying, and the Taranis X9D doesn't have any decent means of setting the radio on a surface besides the little metal bracket on the back.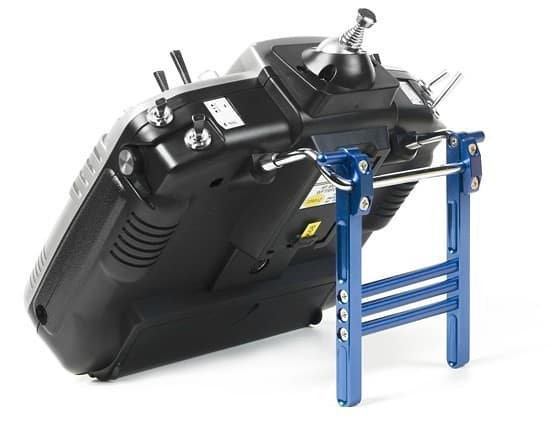 Mr Steele and many other pilots have added a kickstand to the back of their radios which lets them prop it up straight very nicely without worrying about it toppling over.
The stands are universal – as you can see from the picture above, they work with most radios, not just the Taranis.
Mod 6: Change the faceplate
This last mod is purely cosmetic in nature but is still pretty cool. You can very easily remove all the switches, pots, and gimbals from the front plate and fully disengage it to remove it.
You could then either switch out the plate with another one, or paint/hydrodip your existing plate however you like.
Check out some faceplates from RCPapa
Conclusion
Since the Taranis is such an amazingly customizable radio, the list of mods will never really end – but the 6 mods listed here are what you'll most probably use in your FPV hobby.
If you've done another useful mod, please do share it in the comments!
More reading
Which receiver to use for your FrSky gear