Like I've said in many of my other reviews of FPV goggles, many manufacturers are trying really hard to unseat Fat Shark from the throne of FPV – or at least be a viable competitor.
Many recent goggles like the Aomway Commander V2s and of course the Skyzones are getting really close, and Eachine has now joined those ranks with the Eachine EV200D. Lets get on with this Eachine EV200D (p)review!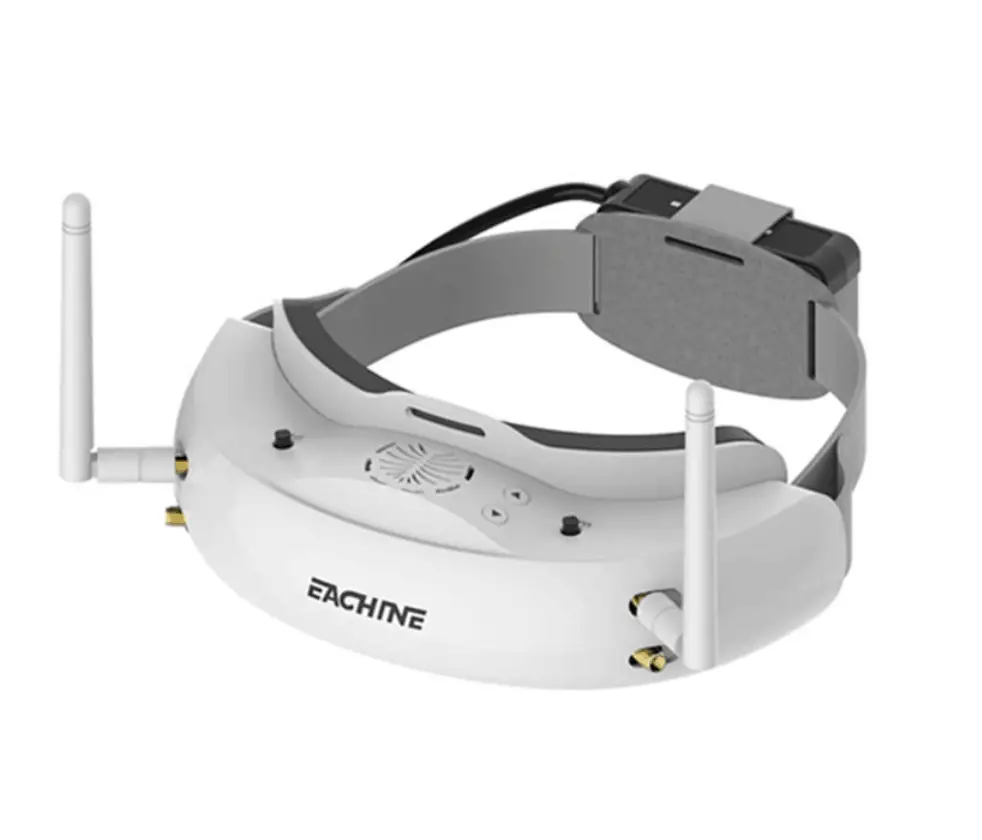 Feature overview
Specification for specification, the Eachine EV200D seems to have done a lot right and packed a LOT of punch into their goggles for right around $300 or so. Plus they're the same form factor as most Fat Shark goggles, so it's a nice and portable set that you don't have to spend too much effort lugging around.
Here's a quick list of the features, and we'll get into more detail:
720p LCD screen
FOUR WAY DIVERSITY!
42° FOV
56-72mm adjustable IPD Range
Diopter lenses optional
HD port 2D/3D and AV in/out
Built-in DVR (H.264 codec)
Switchable 4:3 and 16:9
720p screen
The 720p screen is now the standard, it seems, for FPV goggles. Even though the video signal won't be 720p from your FPV transmitter, it's still going to offer quite a sharp picture compared to other low-res goggles.
You'll really see it shine if you use it with a proper HD output from your computer or TV, though, and you can also connect your Connex HD module and use it with this if you wish.
FOUR WAY DIVERSITY
This is the main and most important feature – I feel at least – of this pair of goggles. The Eachine EV200D has two slots to place your receiver modules in(Fat Shark compatible ones too).
You can place two diversity receivers – one in each module – and have 4-way diversity.
So now, you can attach THREE directional antennas and one omnidirectional antenna, and you'd have nearly 180 degrees of coverage in front of you and decent coverage in the back(from the omni antenna).
You can get some serious range with this setup.
Eachine will sell two options of these goggles: one without any receivers, and one with two open-source receivers which will be $40 or so extra(a super deal, considering a single receiver is $50).
42 degree FOV
The FOV – field of view – is a respectable 42 degrees. It's not as HUGE as some of the other goggles, but in all honestly anything larger than 45 degrees is too big and makes viewing everything a little difficult – 42-45 degrees is the sweet spot where you can see the entire feed without having to move your eyes.
The Fat Shark Dominator HDOs, by comparison. have a 37 degree FOV.
Adjustable IPD and diopters
This is such a necessary and standard feature that it does not really need mentioning, but I have decided to mention it here because of two reasons:
It is compatible with the standard Fat Shark diopters – as it will be with any custom diopters made for Fat Sharks
As you adjust the IPD, the lens moves with the entire optics system – unlike Fat Sharks, where the diopter lens stays in its place as you move the optics back and forth
The IPD sliders sit on the bottom side of the goggles as is standard, and they are ratcheted so they stay in position and don't move by themselves.
H.264 DVR
The DVR is another way Eachine seem to have gone above and beyond to differentiate themselves not just from Fat Shark but from all other goggle manufacturers, it seems.
Most goggles use the same crappy DVR software and codec to record the video stream. In all honesty, the quality is crap and looks really bad on a computer.
H.264 is a high-quality codec so hopefully you'll get a better, truer-to-life DVR recording for playing back and studying your footage – either to brush up on your racing or freestyling, or to look for a lost quad!
Switchable 4:3 and 16:9
The EV200D supports both 4:3 and 16:9 video – and you can switch between the two to match your camera. Most goggles (Fat Sharks included) are only 4:3, so you can't use a 16:9 camera – you have the flexibility of choice with the EV200D.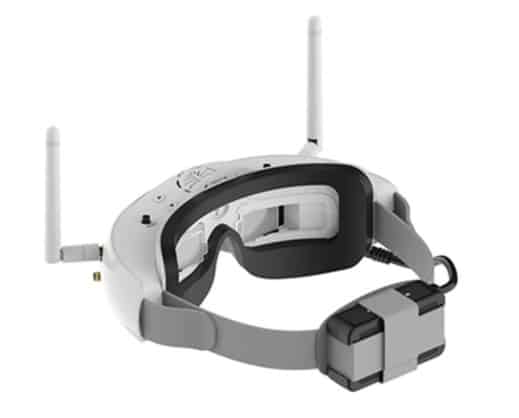 Other neat design touches
The features above are of course the main selling points of these goggles,  but there are a few more touches that are really well thought out.
USB port
On the underside of the goggles, there is a USB port from which you can update firmware(I'm assuming for the open source modules, so you wouldn't have to use an FTDI adapter anymore). You can also use the USB port to power your goggles, plugging them into a power bank.
This is HUGE because you can carry a normal phone power bank(11000 mah and above) in your pocket, plug it into your goggles, and have literally HOURS of runtime on your goggles.
The stock battery is about 1800 mah which won't last that long, but man, with a powerbank, you can fly on and on!
Clip-on shell
The front shell of the goggles clips on to protect the goggles and receiver modules and keep them intact. It's removable so you can fly without it too, but it's a nice added layer of security and will also prevent cosmetic damage to a certain degree.
OSD
Finally, the OSD – something that Chinese manufacturers have been getting right but Fat Shark just has not done yet. The OSD will show you on screen which channel you are on and how much battery power you have left – both very useful tools for when flying.
I would really hope the battery indicator at least would become standard on all goggles, because there is absolutely no way of knowing when the batteries are running out of power otherwise!
Battery at the back
The goggles can take 2S power – 7.4 volts – and comes with an 1800 mah battery. The battery sits on the back of the goggles, and the wire is long enough to run around half the strap and reach the plug on the goggles.
The back battery seems to be quite comfortable for most people. It helps balance out the weight of the goggles in front, and doesn't really push against your temples like some other battery settings do.
Potential issues
It is a little difficult to get both the extreme edges of the screens in focus at the same time, no matter how you adjust the IPD. This may not be a terrible issue for most people since the extremes of the screen aren't really noticeable anyway, but you may indeed see that some of your flight controller OSD data is getting cut off if you've got it too close to the edges.
Also, when switching from a 16:9 to a 4:3 aspect ratio, you'll see black bars on both sides of the screen where the image was cut off.
It seems the native resolution is 16:9, and when you go to 4:3, you'll see black bars on either side, kind of like how it used to happen when you watched widescreen videos on your computer and would see black bars on the bottom or top because you're trying to fit a 4:3 video onto a 16:9 screen.
Aside from that, the optics, when compared to Fat Shark goggles, don't really measure up as the same. They're not unflyable by any means, and even though some Fat Sharks have lower resolution screens, the overall clarity and visibility is marginally better.
Conclusion and value for money
Even though it has some minor issues, the biggest winning point for the EV200D is the pure value for money that you're getting out of these goggles.
For the ballpark of $300, you're getting stuff that you wouldn't get for less than $500 with Fat Shark's top of the line goggles, and the four way diversity is a really exciting feature especially if you fly long range or in really tight/dense spaces.
The USB power supply option is another big plus point and other manufacturers should indeed follow suit.