FPV setups are of many types – some pilots prefer having the receiver built into the goggles themselves, such as the RealAcc diversity receiver – and other pilots prefer setting up ground stations.
To set up a ground station, you need an external video receiver and that receiver would then plug into your goggles or screen to send you the video.
FPVModel.com were kind enough to send over a Dragonfly Battle diversity receiver for me to check out and give my thoughts.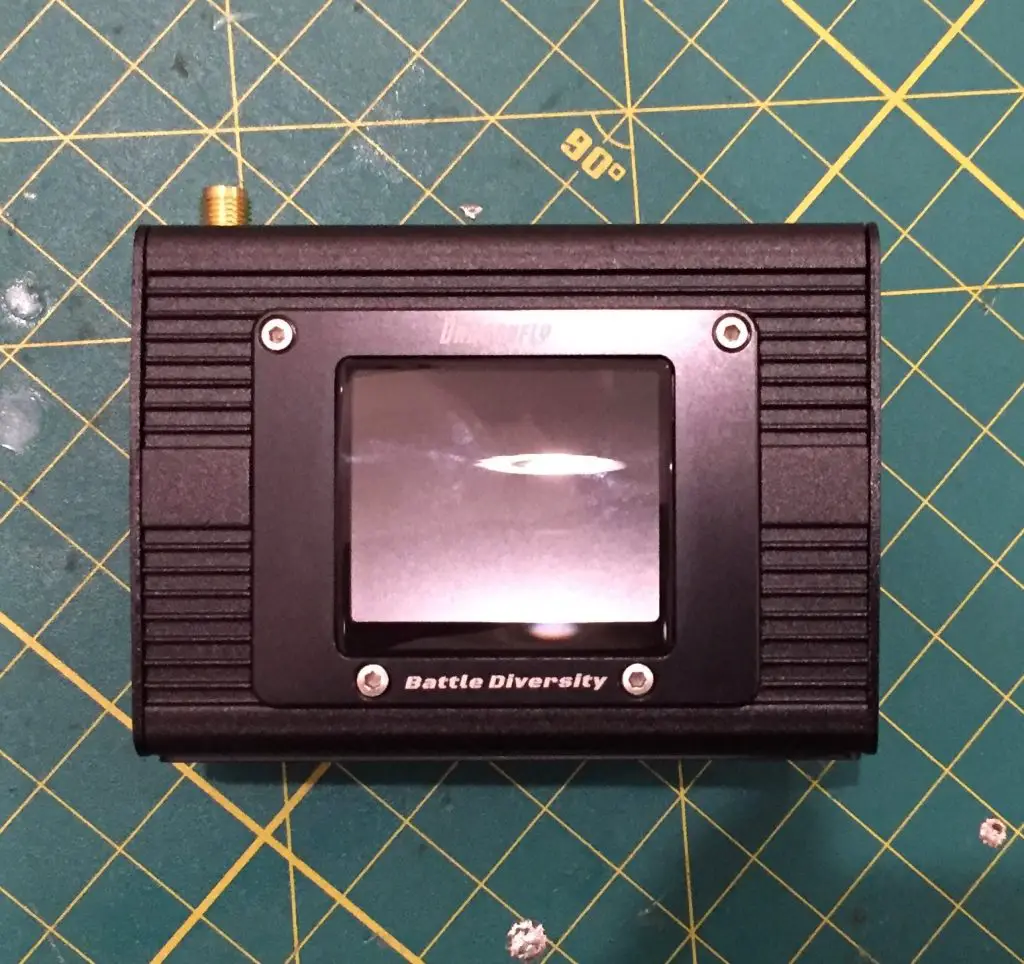 Key features
So as far as diversity receivers go, the Dragonfly receiver packs all of the features you would expect. It's tiny – as it can fit in the palm of your hand, plus it has a bonus of a 1.9″ LCD screen.
1.9″ may seem a bit small, but it was surprisingly clear.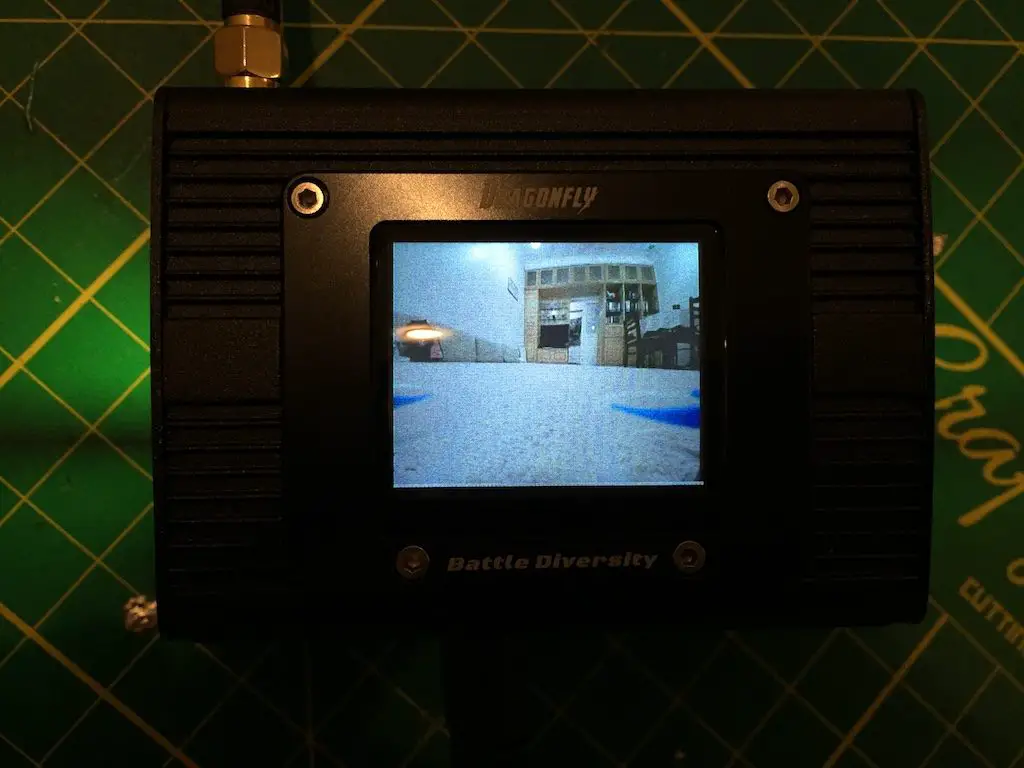 I really like the screen as it automatically serves as a passenger screen even if you are using goggles. That was a nice touch.
The screen also allows you to cycle through the various menu options, change band, channel, and start or stop DVR.
The receiver supports 48 channels, which means the 4 usual bands, as well as Race and L.
External diversity receivers are not an uncommon sight, but one with a screen – and such a good one at that – is a welcome change and if for nothing else, just the screen itself is a great motivation to pick this one up.
The screen may seem a bit small to many, but I think perhaps FPV Model were going more for portability than anything else. A positive trade-off to the tiny screen is that there are two video out ports, so two people can watch from the single receiver.
Design
FPVModel have mounted the antennas very cleverly. There is one antenna port on the top of the receiver – where you would mount your omnidirectional antenna such as a CP or pagoda, and there is another antenna port on the back of the receiver, where you would mount your directional – patch, helical, etc – antenna.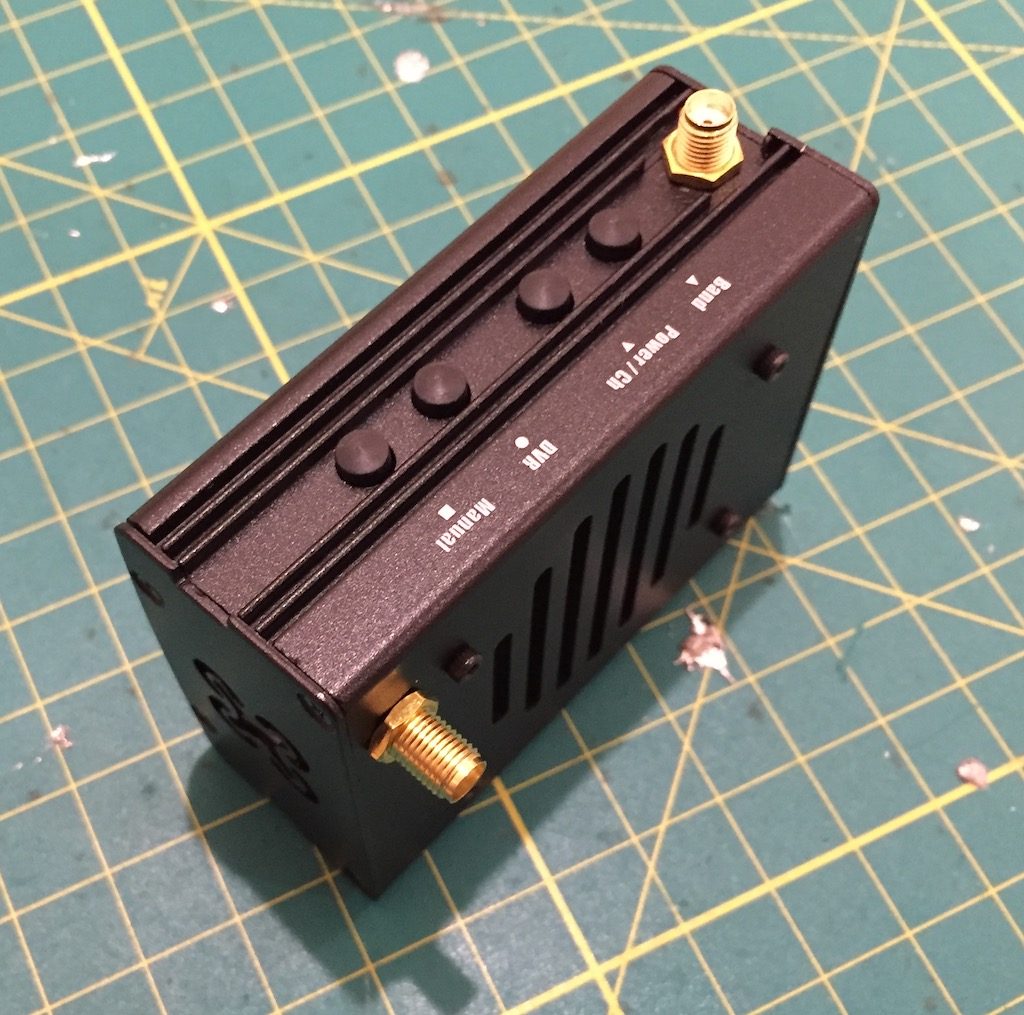 The top of the receiver has four buttons. Band, Power/Channel, DVR, and Manual. You can press and hold the Manual button to get into the menu and adjust settings. If you press and hold Band, you'll do an autoscan.
The power button is a very nice touch. The receiver will not automatically power up when you plug in the lipo – you must press and hold the power button to turn it on. This oversight is common in FPV goggles which usually turn on immediately when you plug the battery in. Having the ability to plug in the lipo and leave it plugged in without fear of over-discharging is a welcome change.
The bottom of the receiver has the plugs and pins – one for power(7-26V, so you can use a wide range of lipos), two for video out, and an SD card slot in the middle. It comes with a clip that slides on top of it. The clip has a threaded hole you can use to mount it on a tripod.
I think, though, that in attempting to design this specifically for ground stations, it's limited to only being used conveniently if you have a tripod.
If you don't have a tripod(I didn't) you'd have to lay it flat on it's back, which would completely block out the back antenna. A simple solution would have been to have all the ports on the side of the body, so you could stand the receiver up on anything and still have use of both antennas.
I also did not like the SD card slot. Even though there is a little groove to make room for your finger, the slot is so far inside that it's still impossible to get the card out of the slot with your fingers alone. I can just barely reach the card with my fingernail to eject it, but I have to use tweezers to pull the card out.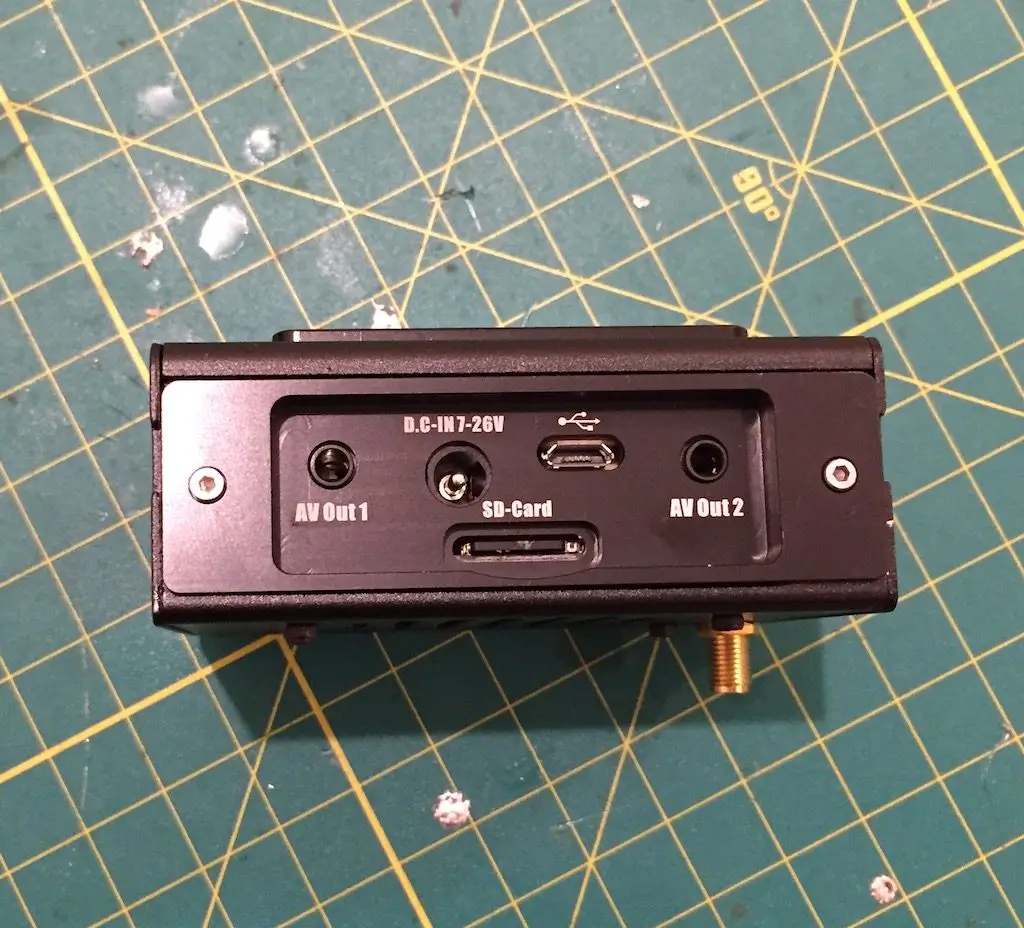 Video quality

Video quality was fairly decent. The autoscan picks up frequencies well, and even if you didn't use autoscan, you can browse to your channel and band manually.
The channel and band are overlaid on the screen, and the color of the LED on the side also changes with channels and bands. This feels like a gimmick, as I am not going to go and memorize which color corresponds to which channel – but it looks cool.
Reception was fairly clear(I was only using one omni antenna, as I could not mount it upright to use the patch antenna) and DVR quality was also good. I wouldn't go so far as saying it was siginificantly better than the DVR on my Fat Shark Dominator V3s.
So who is this good for?
As I was planning this review and testing the unit, I kept wondering – who is this good for?
Personally, I prefer being as minimalistic as possible as far as my flight bag goes – and the less clunky things to carry around, the better. Everything should fit in a small backpack, and quads can get strapped on the bag.
I already have a diversity receiver in my goggles, and I am not tempted to put up a tripod every time I go flying.
So really, who can put this to good use?
1) Long range pilots
Since the TBS Crossfire has now become so much more affordable and long range seems to be all the rage, long rage pilots will welcome the ability to sit in any position they want and just point the patch antenna on the receiver to the direction they wish to fly in.
Most long range pilots stick to 5.8 gHz for FPV anyhow, so this receiver would be perfect.
2) Racers
In many races now, the pilots sit in chairs in a shaded area and are usually hooked up to a ground station that's positioned ahead of them and with clear line of sight to the racetrack. Racers would find this receiver useful as they can easily use it on a tripod, and they have a bonus passenger screen for free.
3) People who prefer ground stations
This one really goes without saying! Some folks just prefer to use ground stations when they fly, so they would be able to put this receiver to good use.
You can pick one up at FPV Model by clicking here.