I just installed a Furious FPV AcroWhoop V2 into my Tiny Whoop, and paired with 18,000 kV motors and 255 mAh LiHV batteries, it is an absolute beast. It almost flies like a miniquad!
When I first started to fly Tiny Whoops, I went the cheapo route and got a Beecore. The Beecore was good, but it had its flaws. Most notably, the bind and boot functions had to be accessed using really tiny solder pads. It was a huge pain to get it bound and set up.
A friend of mine burned his Beecore, so I sent him mine to keep him in the air. Soon, a local hobby store stocked the AcroWhoop V2, and I was tempted, so I picked one up. I also didn't want to wait for 1 month Banggood shipping!
The AcroWhoop was noticeably more expensive, and I actually was not aware of its features until I received it and set it up. At the time, I just considered it the same as a Beecore + expedited shipping.
When I received it, I was VERY pleasantly surprised.
Quick rundown of features
F3 board
Has a FULL RANGE Furious FPV FrSky compatible receiver
Can do telemetry!
Has a bind button instead of bind pads
Mine came with Betaflight 3.0 pre-flashed
Other little details
One other thing I really liked was that the USB port is mounted vertically. An issue with other Tiny Whoop boards is that the USB port is horizontal, so the ducts sort of get in the way when trying to plug it in. The vertical USB takes care of that, and it doesn't really get in the way otherwise, either. There is still plenty of space between the camera and the USB port.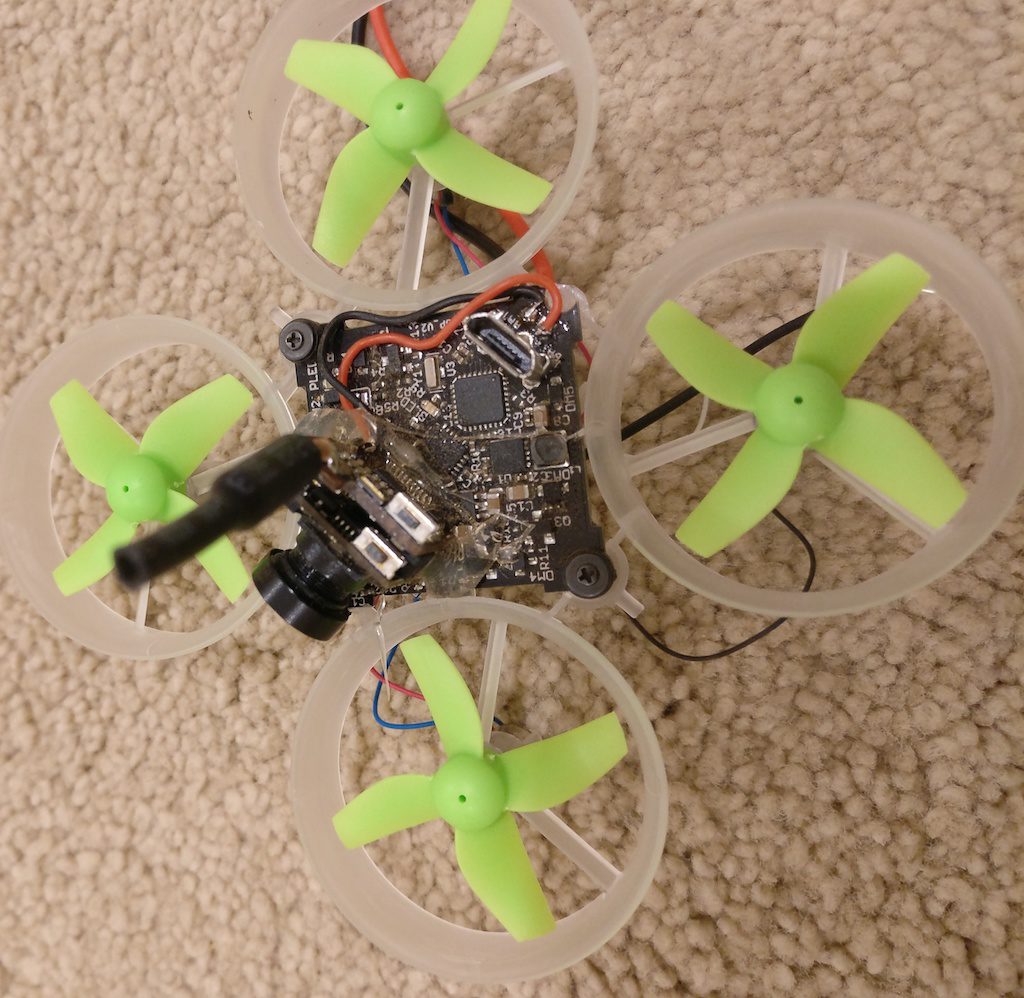 When I plugged the board in to the computer, Betaflight was already flashed onto it. Woot! So I just unplugged the board, pressed the bind button, plugged in again, and bound it to my Taranis. That was easy.
Not only that, but all of the settings were pre-loaded, too! The UARTs and Configuration(ESC protocol etc) was all set, I literally only had to turn on the Airmode toggle, set up my arm switch, and make sure the receiver was okay, and I was ready to fly!
I normally don't get this excited about pre loaded settings on a board, but brushed boards can sometimes be finicky, so having everything set up in advance was a welcome addition!
Another marked difference was the rubber grommets that come with the FC. With the Beecore, they were unfinished and rather uneven. With the AcroWhoop, they were perfectly molded and symmetrical. It's a really tiny detail, but it shows.
Board layout
The only issue I had was that I made a little mess of soldering the new PowerWhoop connector onto the board and so had to redo it a couple of times to make it fit correctly. I am not the biggest fan of soldering the wires through the pads, as I prefer soldering onto the pad instead.
The Whoop is not going endure such a bad crash(hopefully) that a small solder joint would get knocked off.
Telemetry
Setting up telemetry was a little tricky. In the configurator, there is not much to do except enable the "Telemetry" and "VBAT" toggles.
When I tried discovering sensors on the Taranis, I could see 14 different sensors, none of which were CELS or VFAS(the two voltage sensors). It was quite frustrating, since I could see the voltage in the configurator when a battery was plugged in, but couldn't see the sensor.
I emailed FuriousFPV support and got a response the same day with a CLI dump to load into the board and see if that got it working. Still nothing.
I then remembered from the good old days of Naze32 boards that didn't send VFAS or CELS unless the board was armed, so I tried arming the board then discovering sensors, and voila! I could see CELS and VFAS.
The reading was a little off in the radio from what I could see in the configurator, and I'm still trying to get that straightened out.
Even though the solution was so easy, it was nice of FuriousFPV to respond so quickly. The service makes a huge difference.
Flight footage
Conclusion
At the end of the day, for $45, you really can't go wrong with a full featured F3 board that does telemetry and has a full range receiver. You're not going to use the receiver to its full capacity, of course, but it's nice to get voltage alarms so you can land before your battery completely dies. Considering that other boards like the BeeBrain are $50, this is a great deal.