Getting a nice quadcopter for under $100 is a good way to get your feet wet into the hobby without breaking the bank. Once you start building your own quadcopter, the purchases are going to really stack up, so before you make a significantly larger investment, it's better to make a slightly smaller investment to make sure this hobby is for you.
With that said, here are my favorite picks for starter quadcopters. If you can get the hang of flying these, you will be on the way to flying a hobby-grade fpv quadcopter.
1. Hubsan X4 H107L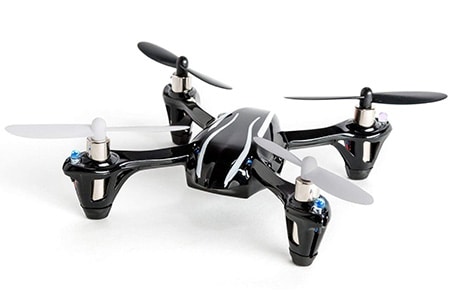 If you look on large multirotor forums like Reddit Multicopter, you'll see that most hobbyists recommend the Hubsan X4 H107L as an ideal beginner quadcopter. At around $50(prices fluctuate a few dollars here and there), it's amazing bang for your buck and you'll have an awesome little flier that you can practice with indoors, in your backyard, or even in a park provided it is not too windy.
The Hubsan comes with one battery, so you should invest in a few more batteries since they take about 40n minutes to charge and one battery will give you 5-6 minutes of flight time.
You also want to get some extra props, and a prop guard will help you fly indoors. Hubsan makes a pretty nice stock prop guard.
The X4 has two flight modes – beginner and expert – which vary by how fast the quadcopter tilts on the pitch or roll axis and how far it tilts. Beginner will be slightly slower and only 30-40 degrees of maximum tilt. Expert will let you tilt much further, so you can do sharper and harder maneuvers.
---
2. Blade Inductrix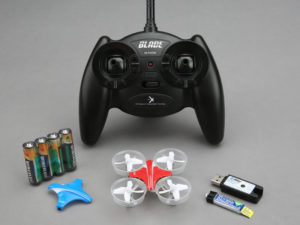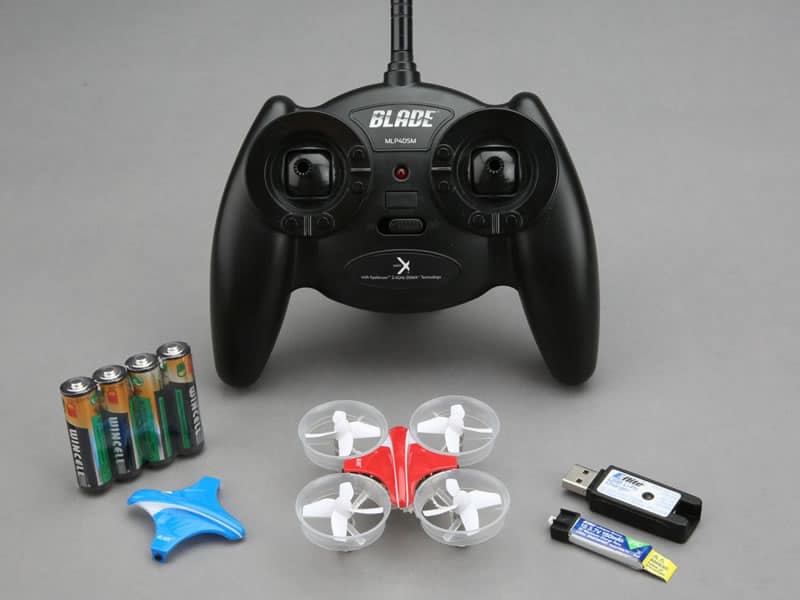 The Blade Inductrix is a tiny little quadcopter capable of big things! The Inductrix weighs less than 30 grams and has prop guards which make it completely safe to fly it anywhere, even in tight spaces indoors.
Since it's a Blade product, it has multiple flight modes – beginner with limited pitch/roll, a mid-level with slightly higher pitch and roll, and a fully manual mode which feels like a full sized racing drone.
The Inductrix can also be used with a hobby-grade transmitter too, so when you do upgrade your transmitter, you'll still be able to use the Inductrix.
The Inductrix can also be upgraded to a Tiny Whoop!
---
3. Syma X5C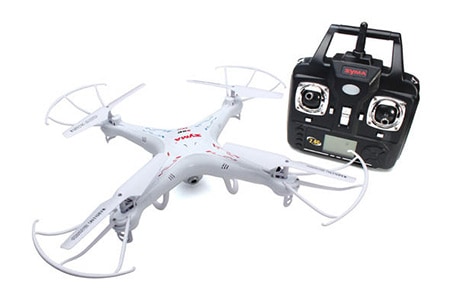 Of the four quadcopters I've recommended in this post, the Syma X5C is the only one with a camera built in to it. The camera is nothing to write home about, though, so don't get too excited.
That said, the Syma is much larger than the other three models and spins much larger propellers, too, so it's a much more robust outdoors quadcopter. Prop guards are built in to the frame, and including the guards, the quadcopter measures one foot by one foot, so it's definitely not suitable for indoor flying.
You'll have a lot of fun flying it outdoors and even in slightly windy conditions.
The Syma X5C takes about 1.5 hours to charge and gives 7 minutes of flight time, which is a huge drawback in my eyes. However, you can get extra batteries for the Syma X5C, too, like the Hubsan.
---
Cheerson CX-10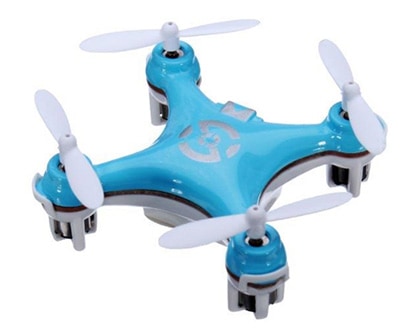 The Cheerson CX-10 is such a tiny little quadcopter that I don't really recommend it as a stepping stone to fpv racing, but it's certainly a ridiculously fun little toy to have and fly inside the house. I've had lots of fun bothering family members in the house by flying this thing around their heads. The propellers on this are so small that they barely feel like a pinch if they touch you – but remember not to fly too close to people's heads or faces!
The CX-10 gets about 3-4 minutes of flight on a single battery(it's fixed into the quadcopter so you can't replace it unless you open the screws), and takes about 20 minutes to charge.
---
Closing thoughts
These are just 4 out of many toy quadcopters available. Honestly, you could pick up any and get the hang of flying. But out of the whole lot, these 4 are made by reputed manufacturers, have spares easily available, and are generally agreed upon as being the best to start with.