The holidays are fast approaching and it's very possible that a loved one or friend has a drone on their wish list!
Updated list for Christmas 2018!
However, drones are so many that it may be a little overwhelming to choose the right one – so we've taken the liberty of categorizing the available drones into a way you can find the best one depending on who you are buying for!
Christmas drones for kids
If you're looking to shop for kids, then first off, I'd suggest that you only give a drone if the child is 8 years or older(or is a fantastic gamer :)). For a really young child, I don't know how much they'd be able to enjoy it or how much interest they would retain.
For a kid, you need something that has propeller guards so nobody gets hurt and there's minimal damage in the event of a crash.
Safe to fly indoors
Syma X11C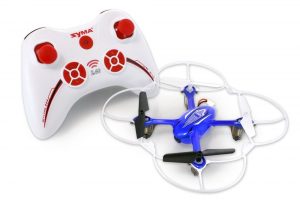 I really like the Syma X11C as a gift for a child. It's small, lightweight, and comes with all around propeller guards so it's safe to fly inside the house. It's got all the bells and whistles you'd want in a toy drone – the quadcopter will stabilize itself if you let go of the sticks, there are two modes to fly: beginner and advances, and with the push of a button, the drone will do neat 360 degree flips and rolls.
At under $30, it's a good deal, and you get about 5 minutes of flight per battery charge – for a little bit more, you can pick up some extra batteries and a charger that can handle multiple batteries, and you've got yourself lots of fun time for every flying session!
Plus it's got a little camera that you can use to get some footage while you're at it!
Safe to fly outdoors
Syma X5UW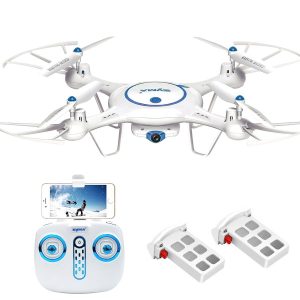 The Syma X5UW is a much larger copter than the X11C, and also has a lot more features, but it's not that much more expensive.
At it's very basic, it's what you would expect – self stabilizing, easy to fly, and one key takeoff/land. It also comes with two batteries, which is a nice touch.
The really cool bit about the X5UW is that it connects with the SYMA GO app, and it can stream 720p video over WiFi to your phone so you can fly it in First Person View. You can also trace out a route on the screen and the drone will follow that route. Mind you, there is no collision avoidance, so if you tell it to fly into a wall, it will!
The X5UW can also hold altitude – which is a nice training wheels feature, as altitude management is a tough skill to pick up, and there's also "headless mode", where the quadcopter will always maintain the orientation it took off in, so even if the copter is facing you, if you push left on the sticks, the quadcopter will go to the left.
This is a fairly large copter – twice the size of the X11C, but it's still very light, so a strong gust WILL blow it away.
Christmas drones for young adults/adults
For young adults and adults, you can get really creative with the kinds of drones to get. There's also more scope for getting something more powerful and advanced – including DJI drones for those who are interested!
In this category, I've divided up choices into three sub groups – toy drones for those who are looking to just get their feet wet,
Toy drones
Altair #AA108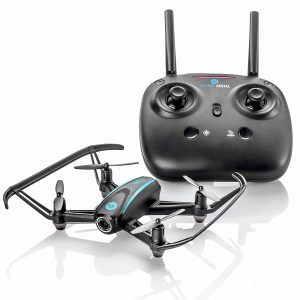 The #AA108 by Altair is an excellent beginner drone that can grow with you as you get better at flying. A cool bonus is that it's developed in the USA by a Nebraska based small business!
It has standard stabilization features, as well as 3 modes you can switch between – beginner, intermediate, and advanced, which allow progressively more and more tilt angle to the sticks.
It's got headless mode, in which you don't have to worry about orientation – if you push the sticks left, the quad will always turn left no matter which direction its facing, as well as altitude hold, where it will maintain a set height from the ground, and one touch take off and landing.
The drone has a companion app which can stream live video from the on board camera to you and you can fly FPV – you can also draw a flight path on the screen and the drone will follow it.
It is very durable and sturdy and will take crashes like a boss. Plus you get two batteries, which is nice for longer flying sessions at a time.
Aerial photography drones
DJI Spark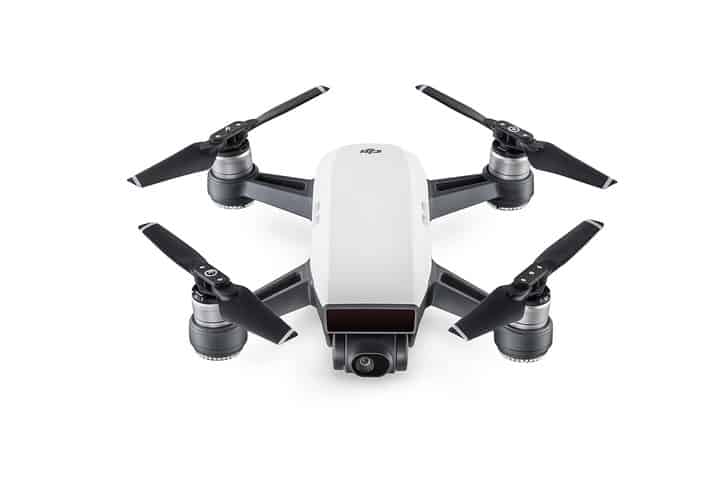 As far as taking awesome aerial selfies, controlling a drone with Jedi-like hand gestures, and taking great HD quality video go, the DJI Spark is unmatched in terms of price and portability.
The Spark is TINY – it can fit inside the palm of an adult hand, yet has all the features to take great pictures and fly very easily that DJI is known for.
It is equipped with GPS and collision sensors, and is designed to recognize you and your hand gestures so you can simply do a particular gesture with your hand whilst facing the drone and it will take a selfie, fly around you, or come back and land safely in the palm of your hand.
You can also control the Spark from your mobile phone to get about 100 meters of range, and if you get the DJI remote with the Spark, the range goes up to nearly 1 mile with a full HD downlink to your phone!
With the Spark, you don't need to worry about losing your drone – should the battery get low, or the drone fly outside your radio's range, it will automatically Return To Home(RTH).
It has a 2 axis stabilized camera which shoots 1080p HD video at 30 fps, as well as 12 megapixel still shots, and can fly for up to 16 minutes on a single charge.
As a beginner drone, the DJI Spark shines – for uploading cool videos to YouTube and Instagram, the Spark can capture what you need and in epic style.
DJI Mavic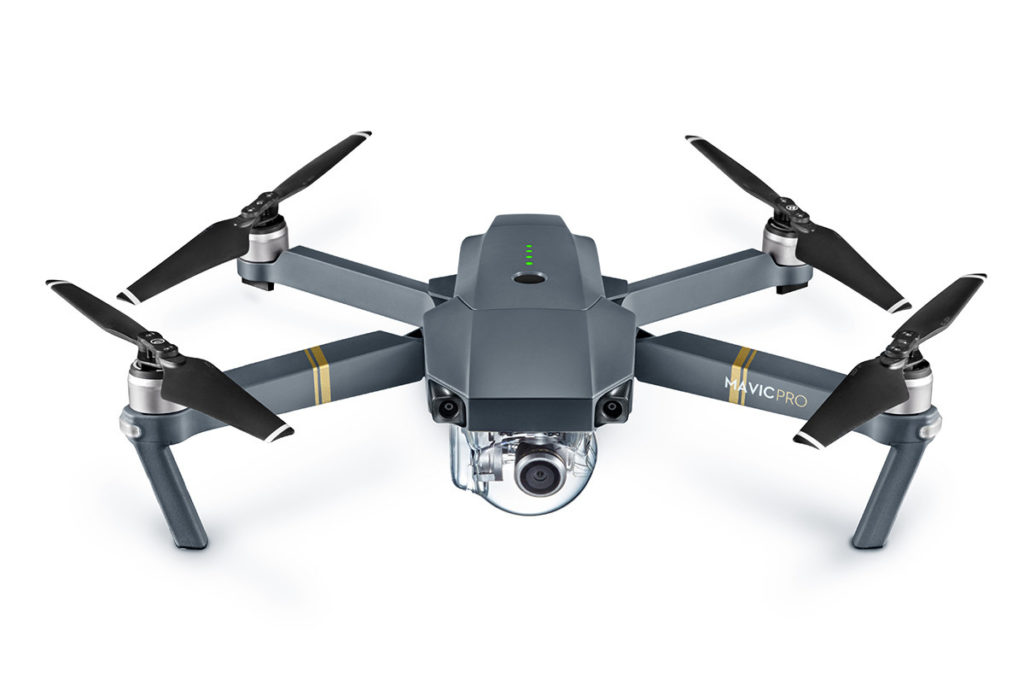 The Spark's bigger, more powerful brother is the DJI Mavic. The Mavic costs nearly twice as much as the Spark, but it is a robust, professional, and portable solution for aerial photography and imaging.
With 25 minutes of flight time on a single battery, the Mavic gives you plenty of time to frame the perfect shot. Shots are captured in stunning 4K or up to 16 megapixels using the 3-axis stabilized camera, giving you buttery smooth shots every time.
The Mavic is portable as the arms fold up to make a really tiny, self contained unit. When you want to fly, just fold out the arms and you are ready to go.
The GPS sensor is incredible in the Mavic, as it will be rock solid in the air and will maintain its position even in windy conditions(but you don't want to push this limit – after all, it is an expensive piece of equipment).
You can fly the Mavic with either the DJI app or the remote control – if you are using the remote, you can expect up to 4 miles of range – which is insane!
The Mavic also has DJI's standard features like collision sensors, Return To Home, and Sport Mode in which you can really push the drone's limits and fly it at speeds of up to 40 mph!
If you're looking to give a gift to someone who wants to do serious aerial photography or is a hiker/real estate agent/photographer/anyone who needs to take high quality, professional videos and photos, you can't make them any happier than by giving them a Mavic!
Racing drones
Finally, if you're in the market for a racing drone, there's two options for you. Either your intended recipient already flies racing drones, or they are completely new and want to get into it.
ImmersionRC Vortex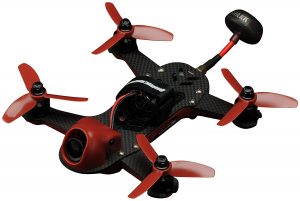 If they already fly, then they'll be thrilled to get an ImmersionRC Vortex. The Vortex is a ready to fly copter that will integrate with their radio out of the box – they'll just need their own receiver, which they may already have an extra one lying around.
The Vortex 150 is a tiny race drone that's very powerful and tons of fun to zip around a backyard or small park. The Vortex 150 is fully ready to fly out of the box(minus receiver) – all the parts are assembled and installed and it's ready to go. There's also minimal initial setup involved.
The frame is made of strong carbon fiber, which withstands even the hardest of crashes like a boss.
Because it's so small, it can literally be flown nearly anywhere(outdoors of course), which is an awesome way for an FPV addict like me to get my flying fix no matter where I am!
Plus it's reasonably priced.