Charging lipo batteries has always been a dicey venture, because lipos can occasionally become quite, erm, temperamental.
Don't get me wrong – on the whole, charging lipos is pretty safe, as long as you know what you are doing – hundreds of thousands of people, if not more, use and charge lipo batteries quite regularly and the occurrence of incidents is quite low.
The Bat-Safe lipo box aims to make charging as worry free as possible – but before diving into the bat-safe review, here's a quick recap on lipo battery safety.
When things do go wrong, they go fantastically wrong – lipos release a lot of heat and gas, and sometimes that gas ignites into flames, and it's very difficult to contain the fire, so anything flammable near the battery will also go up in flames.
So to mitigate the risk, people have been using a few DIY methods to be as safe as possible.
Of course, the most important charging precaution to take is to charge properly!
Basic lipo charging guidelines
Always charge lipos using a special charger that is capable of charging lipos! Don't use any other charger. Read up on our picks for best chargers here.
Always check your batteries before charging – physically inspect them for any damage, and check the cells with your charger's "meter" function or a lipo checker to make sure everything is okay.
Always select the correct battery chemistry and cell count, and to be safe, always balance charge! It takes just a few minutes longer and ensures that the cells don't become unbalanced.
Always charge at a C-rating safe for your battery. The manufacturer will usually specify how much charging current your battery can tolerate. The safest way to charge, of course, is at 1C, but you can sometimes push it up to 1.5 or 2C if your packs can handle it and you're strapped for time. 1C is the same as the capacity of your battery. If you have a 1300 mAh pack, then 1C is 1.3A, 2C is 2.6A, and so on.
Always monitor your batteries as they're charging – DON'T CHARGE UNATTENDED!
Always charge on a fireproof surface and as far as possible from flammable objects
If you parallel charge, always charge packs with the same cell count in parallel – don't mix cell counts!
Make sure that the cell voltage of the packs are all very close together when you parallel charge – most people prefer that the cells are all within 0.1 to 0.2 volts of one another. If the difference is too much, DON'T parallel charge.
Finally, DON'T mix battery types! IE don't charge lipos in parallel with NiMh or other packs.
Even more safety precautions
Charge in the garage or outside, on concrete, and away from the house
Some people charge and store their batteries in ammo boxes. Ammo boxes are great because they're designed to contain some of the heat and energy that would be released in case some ammunition was accidentally set off. However, you don't want to seal the ammo box because gas from a burning battery will start to build up and create a lot of pressure inside the box. Amazon has a pretty good selection of ammo boxes you can check out here.
Another neat method is to charge in a bucket or ammo box with a bag of sand on the top. In case a battery lights on fire, the fire will burn a hole in the bag, and sand will fall on the battery, extinguishing the flames.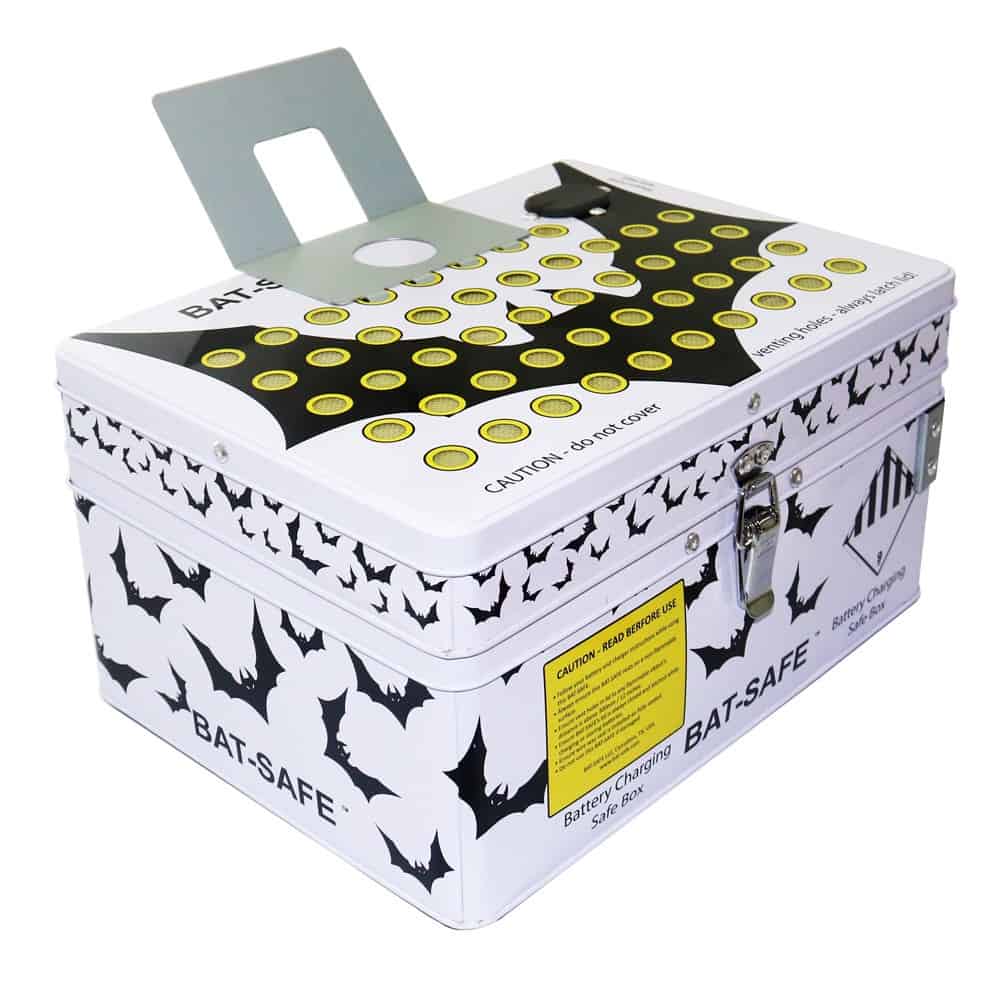 An easy, straightforward method: Bat-Safe
The Bat-Safe is a straightforward and easy solution for charging batteries that takes the best of all the DIY methods and combines them into one.
I ordered my Bat-Safe from HobbyKing, as it was "comparatively" cheaper shipping to India than from the manufacturer in the USA. It still wasn't cheap, but I saved $20 from HobbyKing shipping.
I spent about $85 in total, $50 for the box and $35 for shipping, which may seem like a lot, but for a safety precaution, I felt it was well worth it.
The box came well packaged.
It's a fairly large metal box, and can fit two 6S 5000 mAh lipos inside it. There is a neat little charger stand included that attaches to the box with Velcro.
The build quality is pretty solid, and the box itself is quite lightweight for a metal box. What I really like about it is that it doubles as a charging box and a storage box, too.
On the top, there are venting holes that are designed to vent and dissipate the smoke and fumes from a lipo fire. The fumes are also quite filtered, so many of the harmful substances are trapped in the filters before coming out – still, it's not 100% safe to breathe a lungful, so keep the box in a well ventilated area.
On one side, there is a strap that you can use to carry the box around.
Inside the box, there are fairly detailed instructions on how to use the box.
To set it up correctly, you have to first pull open the rubber seal, and pass your charger lead and balance lead through the seal. The seal is very important, because the gas can leak through that space if you don't tighten it correctly!
I just installed a parallel charging board inside the box to make life easier.
How to correctly use the Bat-Safe box
The Bat-Safe box is double walled metal – designed to contain as much of the heat as possible, but the outside of the box can still get quite hot in case of a fire.
To be safe, you must put the Bat-Safe on a fireproof surface and ensure that there is at least 1 foot of clearance on top of the box, since gas will be vented through the holes and it'll still be hot.
In the unlikely event of a fire, open windows/doors/fans/exhausts to make sure all the smoke is dispersed.
Also, you should wait at least 20 minutes after the smoke has stopped before taking the box outside to dispose of the batteries. Sometimes, smoke can stop, but suddenly start again in a short time as the reaction continues.
Conclusion
Like I said at the beginning of the post, lipo charging is generally safe, but the Bat-Safe is a precaution that's worth taking. The peace of mind you get and the potential damage the box helps to prevent will more than pay for itself over time, and this is especially true if you have other people living under your roof!
Please note that the Bat-Safe box does not guarantee complete containment of a lipo fire, but it does greatly mitigate the risk.
The box is available from HobbyKing or direct from the manufacturer.