FPV – or first person view – flying uses an analog video signal sent from a video transmitter which goes to a receiver at the other end, connected to a screen or a pair of goggles. There are quite a few frequency ranges on which you can transmit video, but each frequency range has its benefits, limitations, and costs.
One rule to remember when flying FPV is that your transmitter antenna and receiver antenna must be able to see each other! If this "visual" connection is broken beyond a certain point(a little here and there is ok), you will lose your video signal.
5.8 gHz
The most common FPV frequency, used by most multirotor and drone pilots is 5.8 gHz. 5.8 gHz is actually one of the best frequencies for multirotors because it does not require too much power, can transmit a fairly decent distance(1-2 km in an open area if you've got the right antennas), the equipment is inexpensive, and has very good video and audio quality.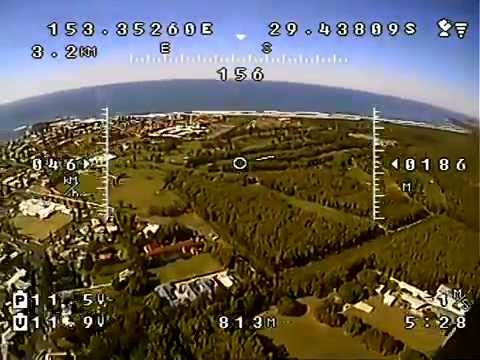 Because the distance is comparatively little, your video transmission will not interrupt the transmission of someone else flying a few kilometers nearby – although if you are flying in the same area, you will have to be on separate channels or bands.
5.8 gHz also will not interrupt any other signals, like your transmitter, your cellphone, or your wi-fi connection!
5.8 gHz components are small and comparatively inexpensive. There are transmitters available that are about the size of a US quarter, which are great for micro builds, and then there are transmitters that are slightly larger – but nearly all of them fit comfortably even on a small race quad which has limited real estate anyway!
As of now, there are 40 channels on 5.8 gHz spread out across 5 bands – 8 channels per band. Most of the brands have their own proprietary band, which is denoted by a letter, so Fat Shark(ImmersionRC) has band F, for example. In the bands, the channels go from channel 1 to channel 8.
The channels are actually different frequencies in the larger 5.8 gHz spectrum. The table below will explain it much better:

If you are using a 5.8 gHz setup, you need to have really good antennas. Antennas can make or break your image, so make sure you've got good ones! There are a lot of different antennas available[link], but the two most common ones are linear polarized(rubber ducky) antennas and circular polarized antennas.
Rubber ducky antennas come in the box with most transmitters and receivers, and they are terrible. They can only transmit it one direction, so if you flip your quad upside down, you will lose signal. Rubber ducky antennas will also get disturbance from any hard surfaces nearby, so if you are flying near a wall or a building, your image will break up.
Circular polarized antennas(also called omni-directional antennas) solve both of the issues that rubber ducky antennas have. They are much less susceptible to signals bouncing off of surfaces, so the image will be much clearer, and they are omni-directional, which means they can receive and transmit signals from any orientation.
When you are looking to buy an FPV setup, make sure your receiver is capable of receiving the channels that your transmitter sends! To be safe, I would recommend to stick to 32 channel transmitters and 32 channel receivers. This way I know that they have to be compatible. If you have a built-in receiver in your goggles, then go for a 32 channel transmitter. They only cost a few dollars more but the convenience of switching through so many channels makes it worth it.
The only disadvantage of 5.8 gHz is poor penetration. If you fly behind a wall or a tree, you may lose your video signal. Most of the goggles I've reviewed here that have built in receivers have 5.8 gHz receivers built in, so this is a very portable system. And since the wavelength is smaller(because the frequency is higher), the antennas are quite compact.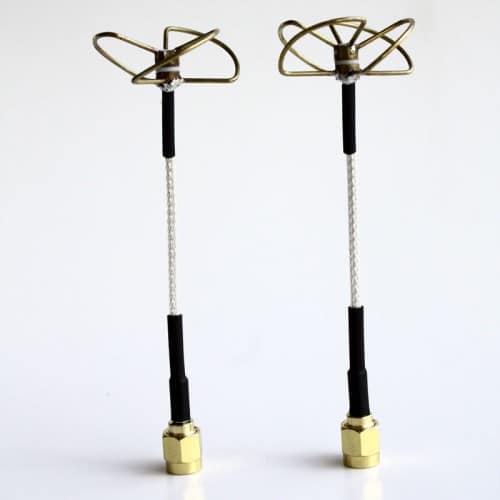 2.4 gHz
2.4 gHz is another frequency used by FPV fliers. 2.4 gHz has greater range and penetration than 5.8 gHz, and still has pretty good video quality. However, most radio transmitters that we usually start out with also use 2.4 gHz, so there will be interference – lots of it. So much that you can't use a 2.4 gHz radio with a 2.4 gHz FPV system. As far as miniquads go, you'll want to stick to 5.8 gHz, because most of the flying you'll do will be in the range of 5.8 gHz. A 2.4 gHz antenna will be bigger, too.
1.2 gHz/900 mHz
The lower you get in frequency, the greater penetration and range you'll get. These frequencies are used by many FPV fliers, but the only legal channel to fly on in the United States is 1280 mHz for 1.2 and 910 mHz.. At these frequencies, the equipment starts to get much bigger, so to fly on this frequency, you'll need to have a ground station big enough to hold your antenna!
What kind of flying do you want to do?
At the end of the day, your choice of antenna really depends on what kind of flying you are going to do. For close-quarters flying where you won't be going further than a few hundred meters, or a kilometer at the most, 5.8gHz will be the best option. The more range you wish to get, the lower the frequency you'll want to fly on.
Miniquads are not that suited to long-range flying. They just don't have the battery life to get you too far. While you could fly very far with a larger multirotor(a hexacopter or octocopter with large propellers), those rigs become very heavy and very large. You could achieve the same range very easily with a much lighter plane.