A micro drone is a tiny UAV that can support 3-inch propellers or less and is lighter than 250g (battery included). This type of drone is a lot of fun to fly as it's fast, agile and can easily sneak in tight spaces.
The standard frame size (diagonal distance between two motors) of a micro drone is in between 110mm and 150mm, but you can find smaller devices on the market, called micro whoops (popularized by the Tiny Whoop project a few years back). Still, the distinction is not that clear, since micro whoops with FPV features are included in the 'best micro FPV drones' category.
Keep in mind: since micro drones are lighter than 250g (0.55 lbs.), you don't need to register them, according to the FAA regulations.
How to Choose an FPV Micro Drone
Before we start talking about the best micro FPV drones on the market, let's have a look at the main features that matter when you decide which one to buy.
Choosing the Right Motors
Micro drones use the two standard types of motors: brushed and/or brushless. A brushed micro motor is equipped with two brushes that make it spin and supply the current while brushless designs use copper coils instead of brushes.
The difference between the two motor types stands in size, weight, and power as brushless designs are a bit heavier and larger, but they're also faster. On the other hand, brushed motors are smaller, but they are also more prone to wear and tear.
Basically, if you want a fast micro drone, you should select one with brushless motors, while if you want a tiny whoop, you may need to work with a brushed design.
Power
Most micro drones are marked 1S or 2S, thus indicating the maximum voltage they can handle (3.7v for 1S and 7.4v for 2S).
1S designs use brushed or brushless motors but they are not powerful enough to handle outside flying sessions. However, they are great for inside flying, where you can build your own obstacle course or spy on your colleagues in an office building.
2S drones are a bit more powerful and can be flown both indoors (in large rooms) and outdoors (in mild wind conditions).
So, if you don't plan on flying your micro drone outside, a 1S design should suffice. But, if you want to try some backyard flying and some aerial stunts, I recommend a 2S design with brushless motors.
1. Emax TinyHawk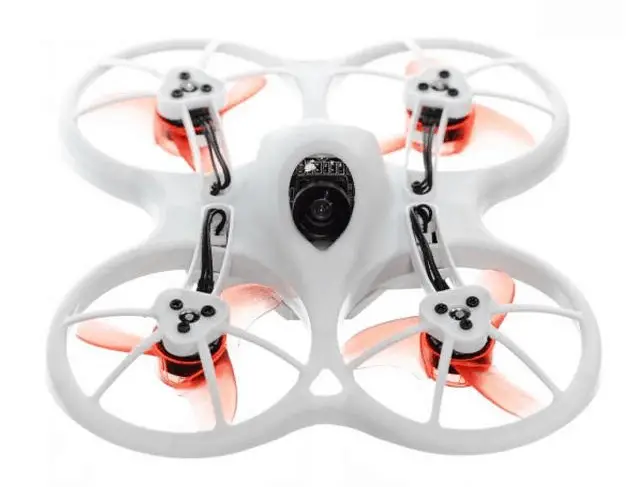 With a 76mm wheelbase, the TinyHawk from Emax is a 1S micro whoop design that comes with 08025 brushless motors with 15,000KV. Still, the motors are quite powerful, so with the right battery, you can easily take this drone outside, on a windless day.
With the stock battery (1S HV 450mAh) you'll get about 3 to 4 minutes of flight time. In terms of performance, the quad is fast and agile, and you can even do some acrobatics with it.
The great flight performance and fast response are due to the F4 flight controller, which also lets you run Betaflight and above.
The frame is a bit unique as it looks like it was built upside down. This is what's called a stretch X frame and it's designed this way to increase durability without hindering performance (since the airflow from the props is not obstructed by anything). Due to this special frame, props will last longer (since they don't actually touch anything, even during a crash). Not to mention, motors are easy to replace since they are plugged into the board (no solder needed).
In terms of FPV features, the drone features a 25mW VTX unit and a 600TVL camera with CMOS sensor. As you probably noticed, the drone doesn't have an antenna, but the video signal is acceptable as long as you don't let it go far away. Still, you have the possibility to install a compatible antenna and improve the video signal, if you feel the need (check our guide to how to install an antenna)
Finally, in the RTF version (the drone is also available as BNF), you get a pair of Emax Transporter Goggles and one Emax transmitter.
---
2. Eachine Aurora 90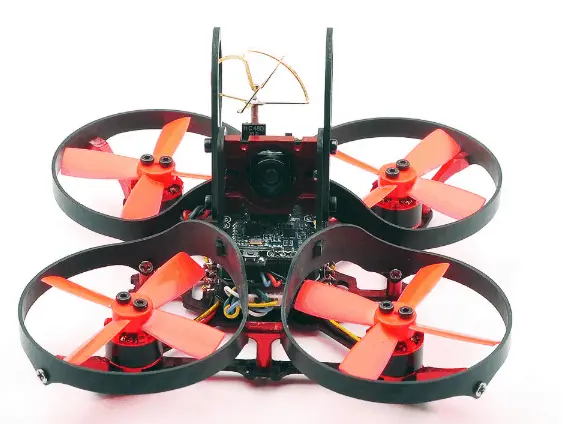 The Aurora from Eachine features a 90mm wheelbase (118mm frame size) and weighs 73g without the battery (a 7.4V 450mAh 80C LiPo). The drone is available in BNF version and comes equipped with 1104 7500KV brushless motors and 3-blade propellers. This means you'll have to add the goggles (check this guide for some ideas) and the transmitter, but it's worth it!
The Aurora 90 features blade guards and a pretty solid carbon fiber frame with protections at the bottom, which makes the overall quad a bit heavy for the stock motors. However, it behaves nicely on the inside, especially in a larger space and it can be flown outside.
The camera is a 600RVL HD with CMOS ¼ sensor that comes installed on a camera pod so you can easily adjust the tilt. The VTX unit is a 25mW 48CH that transmits in both NTSC and PAL formats, and due to the Minicube F3 63DOF flight controller, the drone supports Betaflight OSD.
Overall, the Eachine Aurora 90 should give you about 3 or 4 minutes of flight time, and you can use it for regular flying or for aerial acrobatics.
---
3. Emax BabyHawk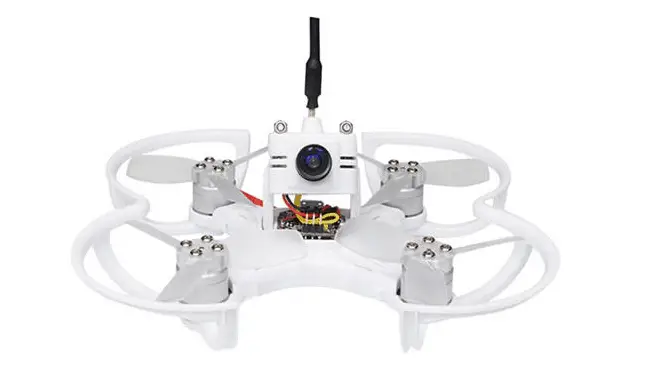 BabyHawk is another micro drone design from Emax (85mm wheelbase) that features 2.3-inch propellers, brushless 1104 5000kV motors, and a Femto F3 flight controller. At only 60.3g (without battery) the drone produces about 500g of thrust when paired with a 2S LiPo battery, which means that it flies well inside and outside.
The quad features a plastic frame and plastic prop guards, but the guards are not very rigid. So, if you crush the drone, the props may get in contact with the guards. Still, the props compensate for this with a durable and shock-resistant material, which is nice.
BabyHawk comes with one AIO 520TVL camera with CMOS sensor and a 5.8GH 40CH 25mW VTX unit with an LED display that transmits in real-time, without any latency. On top of the camera pod, you'll also find the antenna, which helps improve the video signal and is quite durable.
---
4. URUAV UR65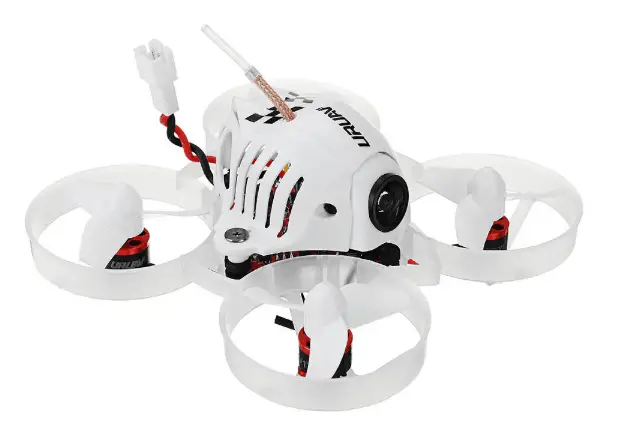 Equipped with CrazyBee F3 controller and smaller brushless motors, this 1S 65mm wheelbase micro quad is perfect for inside flying! The UR65 weighs about 27g with the stock battery, which is a 250mAh LiPo model, and features a FrySky receiver (not available in all versions).
UR65 can fly for about 4 minutes and has an AIO 700TVL camera with 120° field of view and an adjustable angle. The camera is supported by a 25mW 5.8GH 48CH VTX unit that transmits in NTSC. Finally, the drone also features an RG178 antenna, that strengthens the video signal.
The F3 controller allows the micro quad to run Betaflight with multi flight mode (acrobatics, air, and angle). Also, there is Betaflight OSD support that communicates information such as voltage and others to your goggles.
---
5. Happymodel Mobula7 Crazybee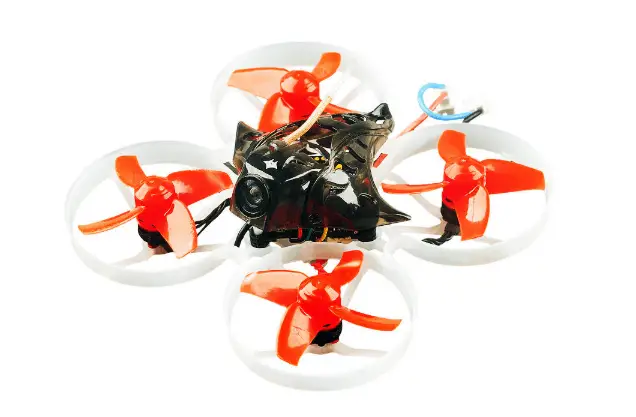 Mobula 7 is a micro quad that can be used for smooth and fun indoor flying with 1S batteries, and impressive outdoor acrobatics with 2S batteries. However, it only comes with one 250 mAh battery, so you will have to buy more powerful ones if you want to try outdoors flying. Still, the stock battery gives you about 4 minutes of flight time, which is a lot of fun!
The quad has a 75mm wheelbase and is fitted with prop guards to protect the 4-blade props in case of a crush. Finally, the 700TVL FOV120 camera is adjustable and pairs nicely with the 5.8G 40CH 25mW VTX unit and the RG178 antenna. Not to mention, the F3 flight controller supports multi flight mode so you can choose between acrobatics and just flying around.
---
Wrap Up
As you can see, size isn't that important in the world of quadcopters! In fact, the tiniest the drone, the more fun you can have with it (in the right conditions). The cool thing is that there are other amazing tiny drones on the market (check out pocket drones), so the niche is pretty well-stocked.
So, if you're looking for your next flying toy or maybe you want to offer a memorable gift, have a look at the list above!