While a racing drone doesn't need a gimbal (the camera is directly attached to the body), if you want to take jaw-dropping pictures or mind-blowing videos, the best drone gimbal becomes a necessity! Not to mention that, if you want to use a GoPro camera, you can't get the best quality without this piece of equipment.
As you probably know, the gimbal is the element that holds the camera attached to the drone while providing stability and freedom of movement. Its main purpose is to keep the camera in the same position, regardless of how the drone moves.
Find the Best Drone Gimbal for You
Put in short, the gimbal is a complex element that uses electric motors and other technologies to keep the camera in the position you want. Luckily, in order to choose the best one for your drone, there's no need to dig deep into how they work.
You just need to know a few things, and I listed the most important ones below.
Quick tip: Before you start searching for a gimbal, first make sure your drone supports one. Big names (DJI or Parrot) will even give you the option to choose one of their products, but cheaper drones may need some tweaking.
Number of Axes
Most gimbals are designed for two or three axes (although there are more advanced models on the market). 2-axis designs don't compensate for yaw, and this may show up in your videos, but 3-axis designs are noticeably heavier, which means shorter flight times.
Moreover, 3-axis gimbals are a tad more expensive than 2-axis ones. Still, my recommendation is to go for a 3-axis one because it's perfect for causal aerial photography and it looks amazing when you use FPV goggles!
Cameras it Supports
There is no gimbal for every camera so you need to make sure you choose one that will work for yours. Now, if you have a GoPro, your pool is quite wide since most gimbals for drones were designed with this type of camera in mind.
Still, most devices will support other compact cameras as well, so you need to check the specifications.
Remote Control
I mentioned that, besides stability, the gimbal can also provide freedom of movement. This is true for the ones that can be controlled remotely.
For this, you'll need a model that can be integrated with the flight controller, so you can adjust the tilt and angle of the camera while in flight.
Plug and Play
If you're buying the very first gimbal, I recommend getting a pre-calibrated one (usually, the ones made by the same producer as your drone). It's the easiest and fastest way to enjoy your cool new toy.
Still, if plug and play gimbals aren't an option, you shouldn't be disappointed. Calibration isn't difficult; it's just a bit tedious and it's an extra step to take before flying.
Servo vs. Brushless
This feature makes reference to the mechanics used to keep the camera steady.
Servo gimbals are cheaper, easier to use, but don't provide perfect stabilization (there may some jitters). This happens because the reaction time is slower, but if you're more interested in flying the drone in FPV mode, a servo design is the best drone gimbal to choose!
Brushless designs are used for smooth videos and perfectly-clear aerial stills. These gimbals react fast and smooth, but you'll also find them to be a bit high on the price point. Furthermore, they consume more power and they are heavier than servo gimbals.
Still, if you want to get the best aerial shots, a brushless design is the best choice.
1. DJI Zenmuse H4-3D 3 Axis Camera Gimbal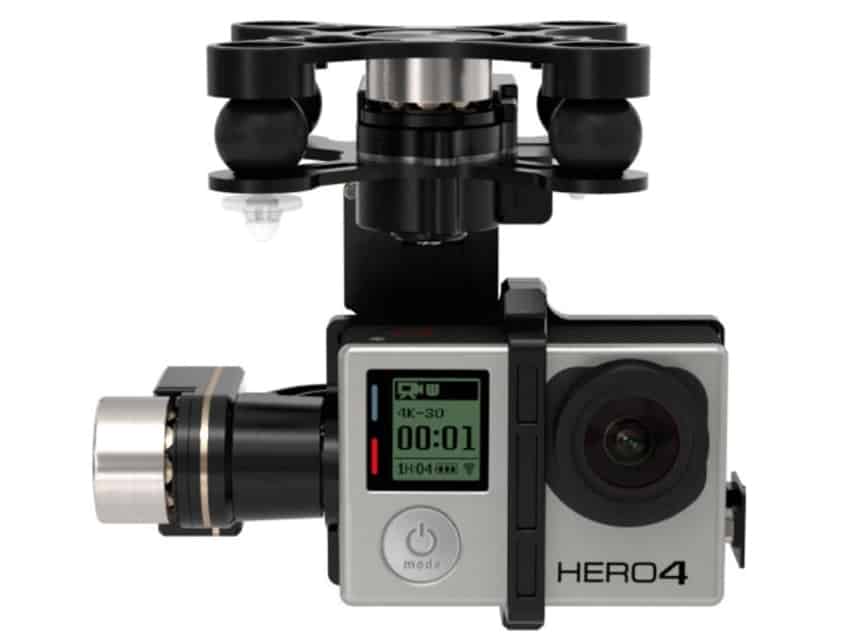 If you're looking for a device that will help produce smooth aerial videos of the best quality, the Zenmuse H4-3D is the best drone gimbal! With a 3-axis brushless design, H4-3D works with GoPro Hero4 Black and delivers non-jittery, perfectly stable video results.
The gimbal (without the camera) weighs 168g, which is why it's best to have it installed on drones from the Phantom series. Still, it works with other flight controllers (A2, Naza‐M, Naza‐M V2 or WooKong-M), but you may have to get a different GCU or other accessories for adjustments. The GCU is necessary because the gimbal uses the drone's integrated GCU (when installed on a Phantom 2).
Also, it's important to know that it only works with GoPro Hero4 Black, so lower GoPro versions won't be compatible (HERO3, HERO3+, or HERO4 Silver).
The H4-3D is pre-calibrated and pre-programmed to work right out of the box. Moreover, DJI offers online firmware updates for free, so you have access to any improvement right away.
---
2. Walkera G-2D Brushless Gimbal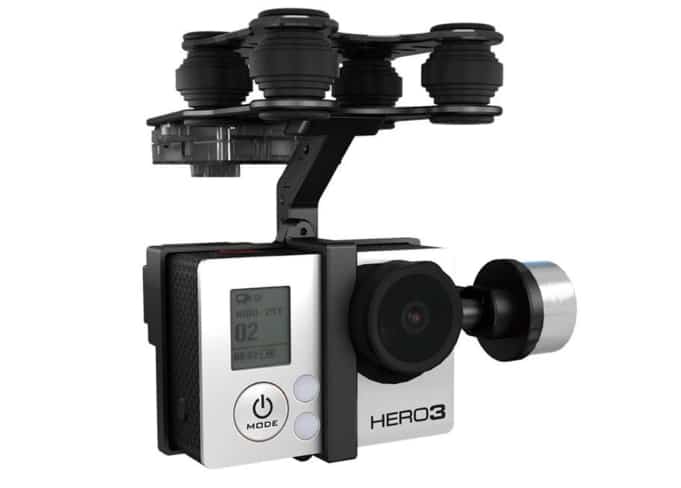 This is a 2-axis gimbal, designed by Walkera for their QR X350 Pro quad, but it can be installed on DJI and other drones as well (as long as the size fits). The model is lightweight (200g without camera) due to the aluminum alloy CNC frame, and can be powered up using 3S LiPo batteries (12V).
It works with GoPro Hero3, GoPro Hero 3+, iLook, iLook+ and Sony Camera, and due to the brushless design and highly accurate electronic system, the resulted images and videos will be astonishing (even at high speeds).
Finally, the G-2D gimbal is a plug and play device, so you can use it right out of the box (no calibration necessary). Moreover, the producer offers continuous updates that can be downloaded from their site.
---
3. Tarot T4-3D 3 Axis Brushless Gimbal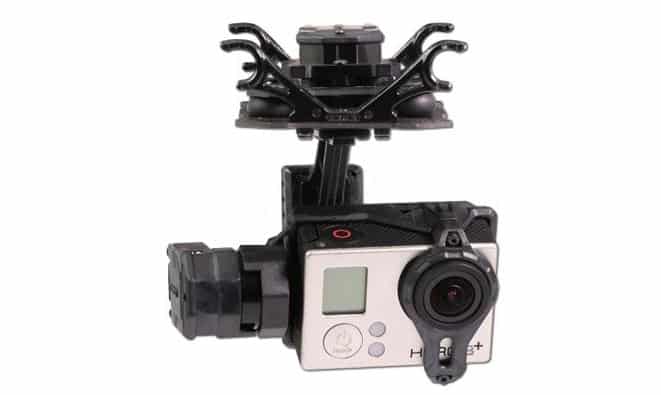 For those of you who want something that will fit a mid-sized budget without giving up on quality, the T4-3D gimbal can be a fantastic choice.
It is a 3-axis gimbal that weighs 201g and works with GoPro Hero3 and 4 or other compatible cameras similar in size. Due to the extra level of stability, the gimbal will help produce high-quality images and videos, but it's just as great for FPV mode Direction Following mode.
The Tarot T4-3D gimbal supports several receivers, such as SBUS, DSM or conventional. Also, it works with a wide range of LiPo batteries, starting from 2S and going as high as 6S.
---
4. FPV 2 Axis Brushless Gimbal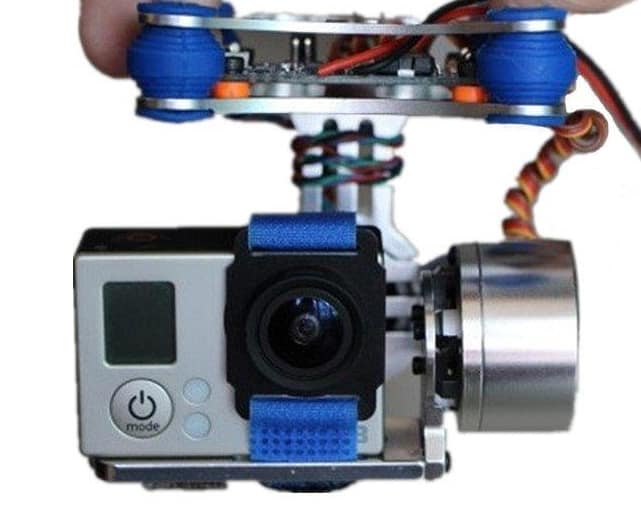 Short to getting in a wingsuit and jumping off a cliff into the abyss, this gimbal gives you the perfect FPV experience! All you need is a GoPro3 (the standard camera for it), a DJI Phantom drone, and a pair of compatible goggles. However, it can be installed on other drones (such as the MJX Bugs 3 or an F450 frame) that can support its weight.
Equipped with brushless motors, this 2-axis gimbal weighs 230g (without the camera) and has a CNC aluminum alloy structure for increased durability. Even more, it is fitted with anti-vibration rubber balls to keep the image as clear and jitter-free as possible.
Just like the other models on my list, this one is also easy to install and doesn't need any special calibration.
---
5. Feiyu Tech Mini 2D Gimbal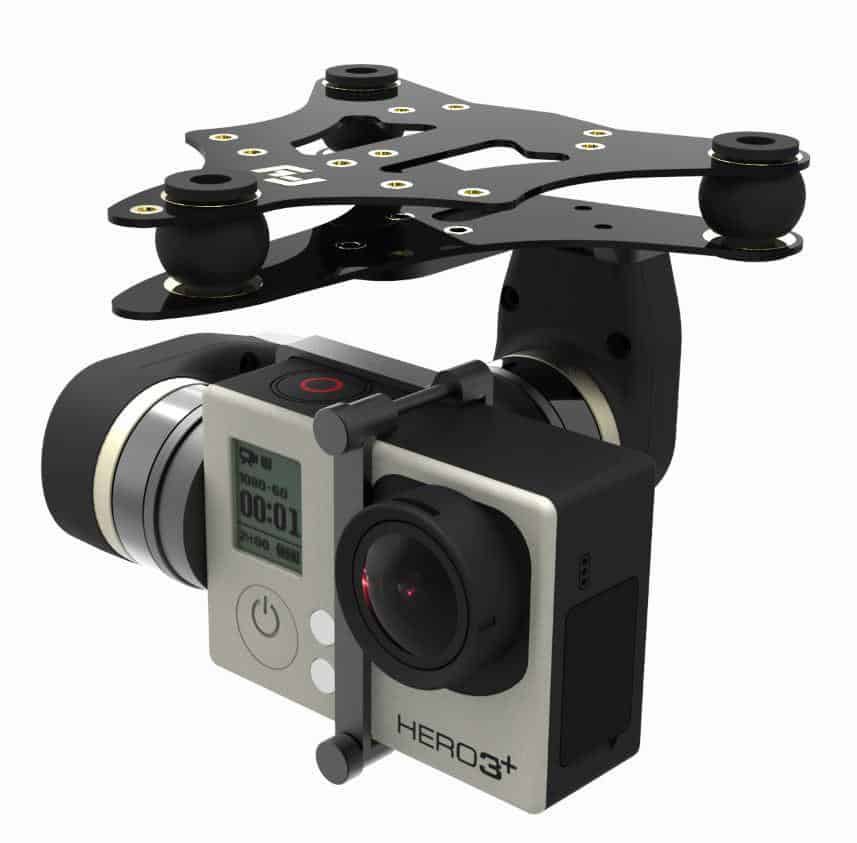 The Feyu gimbal works with GoPro4, GoPro3+, GoPro3, and any other cameras that are similar in size. The cool thing is that, as long as you get it powered (it needs an external battery), it will work on a wide range of devices.
I saw it used on a DJI Phantom 2, but its lightweight design, metallic structure, and anti-vibration rubber system make it perfect for many situations.  Since it's a 2-axis brushless model, image and video quality won't be at the highest standards, but it is a well-priced gimbal for a jaw-dropping FPV experience.
I would also recommend it for beginner videographers who want to see if this line of work is something they may want to pursue.
---
Wrap Up
I honestly love playing with drone gimbals for the image quality you can get in FPV mode. This is the closest I've ever come to feel like I'm flying, without being strapped on a parachute or in a plane, and it's awesome!
However, there isn't one best drone gimbal I can recommend to everyone because we all have different needs. So, before you go shopping, make sure you know why you want this piece of equipment.