So just as I was about to start writing my review for the Runcam 3, Runcam goes ahead and releases details for their Runcam Split.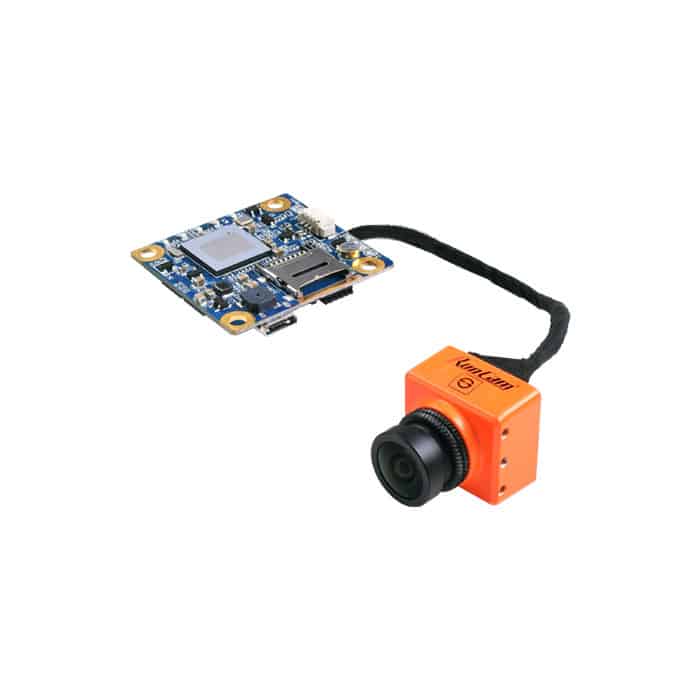 Go figure, right?
Anyway, the Split looks really exciting as a concept – it's literally a camera split into two parts – the camera/lens unit, and the recording module unit.
The lens unit is 22 mm by 20 mm, which is about the size of the Runcam Swift mini – and the recording module, which the lens connects to using a ribbon cable, fits standard 30.5 x 30.5 mm mounting holes and is only a little bigger than most flight controller boards, coming in at 36 x 38mm.
What's so special about the Split?
GoPro may have shot themselves in the foot by filing a patent infringement against Runcam, at least as far as FPV is concerned.
The main advantage of the Runcam Split is that it doubles as an FPV camera and a full HD recording camera. This is huge! Especially considering that everything fits inside the body of your frame.
You'll save nearly 60-70 grams of weight in the process, since you will no longer need an externally mounted HD camera, since the Split weighs just 22 grams
You'll save significant amounts of money in the future, as you won't have to replace broken HD cameras!
If you do break the lens or the lens unit, that's just half the camera and completely replaceable
If Runcam gets the latency right, this may completely do away with HD cameras and FPV cameras altogether!
Now you can record HD footage from a smaller/lightweight build – more HD race footage!
Wiring it up
RunCam has provided this wiring diagram on their website:

Since the PCB is a 30.5 by 30.5 mm stack, it'll fit seamlessly inside most frames – you won't even notice that it is there! Plus, the sensitive electronics of the recording unit are all protected by the tough carbon fiber of your frame.
The wiring from the PCB to the VTX is also pretty clean, so you just have to hook up 3 wires(5V, ground, and video) to get your camera transmitting.
One disadvantage that I do see is that the Split only takes in 5V, so you will NEED a regulator on your copter that can provide enough mAh and exactly 5 volts to get everything running correctly. It may also drain the battery a tiny bit faster, but probably the same as adding 60 grams of weight with an HD camera 😉
There's also an optional WiFi module(remains to be seen if the module is separate or included with the kit), which would allow you to connect it to an app to change settings and download videos.
Test footage
I'm hoping to get my hands on a Split as soon as I can, and I'll update this section when I have more information.