When you are building a quadcopter, the flight controller you select is important because it will be the "brains" of your machine.
In this quadcopter flight controller shootout, I'll take you through some of the things you need to consider when selecting a flight controller, and then some of the popular flight controllers available on the market today.
Note: My focus will be on flight controllers suitable for racing/acrobatic mini and micro quadcopters. If you want to build a large aerial photography quadcopter or hexacopter, there are other flight controllers for that which are out of the scope of this post. You could technically use these controllers, but there are better options too.
A quick primer on what the flight controller does
Quadcopters by nature are not that stable. You have four blades, two spinning in one direction, and two spinning in the opposite direction. All four blades will provide lift, but each will exert torque on the other – so 4 blades end up canceling the torque out, and you have a machine that goes up straight and maintains it's orientation.
Of course, it's not that simple(it never is, is it!)
In the air, your quadcopter is subjected to so many different forces. There will be the force of the air that your quadcopter itself is pushing through its propellers, and the wind, air pressure, and weather conditions will all make a difference.
On top of that, you are giving your own inputs through the sticks.
This is a lot of information, and the gyroscope and accelerometer on your flight controller are constantly sending data they receive from these disturbances(and changes in the quadcopter's position) to the main processing chip, which in turns sends commands to the motors through your ESCs to either increase or decrease speed.
Through this entire loop, the flight controller manages to keep your quadcopter stable.
In the early days of the hobby, flight controller hardware was still good, but the software was not taking full advantage of the capabilities. As a result, every quadcopter had to go through quite a lot of tuning to make sure the flight controller was sending the correct commands to the motors.
Right now, Betaflight is so awesome that your quadcopter will fly pretty darn well without much tuning at all – it will be very 'flyable', and you can then adjust the PID values to give yourself that extra degree of control.
Flight controller hardware and software
For miniquads, I'd say stick to Cleanflight/Betaflight. There's been a recent development called Raceflight which has received great praise, but I personally have not tried it. Cleanflight and Betaflight will work on all boards regardless of their main processing chip – but Raceflight will only work on F4 chips.
Note: There are other firmware such as dRonin and LibrePilot, but at this point, the majority of the community is using Cleanflight/Betaflight and there are just a lot more resources on the internet and YouTube specifically that will help you get through any issues you run into.
Flight controllers(as of this writing) are available with F1, F3, and F4 processors. F1 and F3 have the same processing speed, but F3 chips are able to do floating-point(numbers with decimals) calculations faster.
F3 chips can also accept more peripherals connected to the board – F1 boards can only handle up to two extra peripherals, F3 boards can handle up to three.
F4 chips have a faster processing speed than F1 and F3
Examples of peripherals are a blackbox for recording flight data, LED strips, and so on.
For most setups, though, you may not really feel a difference when you upgrade from F1 to F3. If you are a beginner pilot, you really won't notice.
I think that only when you really start pushing the limits of your machine(which will take hours and hours of practice), you may notice some difference.
Other sensors built into your flight controller
At minimum, a flight controller requires a gyro. Just the gyro alone can fly your machine well, but a gyro alone can't self-level your quadcopter.
For self-leveling to be possible, the flight controller needs an accelerometer too. Most common F1 flight controllers have a gyro and accelerometer built in.
Some flight controllers such as the Naze32 rev6 Acro have a barometer built in too. The barometer enables you to do altitude hold – which means you can flick a switch and the quadcopter will maintain whatever altitude it's at. This is not particularly useful for acro or racing, but it's a nice safety net for new pilots, especially since throttle management is one of the hardest things to get used to.
Another sensor that is sometimes built in(in the Naze32 Full, for example) is a magnetometer. A magnetometer is a fancy name for a compass. Using this, the quadcopter can also maintain orientation.
Size
Most quadcopter flight controllers are 36 mm x 36 mm with mounting holes at 30.5mm. This is the industry standard right now, and frames are usually designed with this in mind.
Still, before you buy, double check that the mounting holes in your frame match the holes on your board!
So which flight controller should I choose?
Note: All the boards listed below are compatible with Cleanflight and Betaflight.
Naze32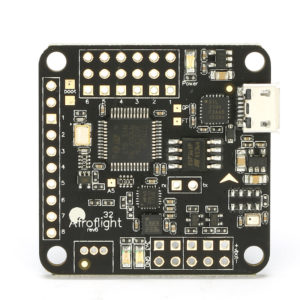 For your first build, stick to an F1 flight controller like the Naze32 or the many clones of the Naze32 available.
The Naze32 is old-but-gold. Whether you get the Naze32 acro version(only barometer) or full version(high quality barometer + magnetometer), it'll perform like a workhorse and you'll have nothing to complain about.
The Naze32 rev 6 also has 2 MB of flash memory built in to log black box recordings(2 MB will probably store a minute or two of flying). It's the board I used on my now dead ZMR180, and it's the board I have on my Shrieker.
There are also a lot of Naze32 clones available which have pretty much the same hardware, just made by different companies. Such clones are the Flip32 and the Dragonfly32, for example.
It doesn't really matter which one you get. Nearly every Asian manufacturer has their own version of the Naze32.
Seriously Pro SP3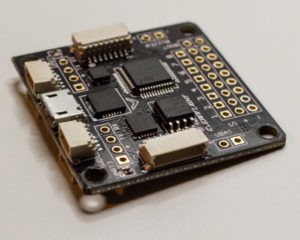 The SP3 is an F3 version of the Naze32. It's not cheap, at around $55, and you end up with an F3 board at just a little more cost than a regular Naze32.
Check it out here
X-Racer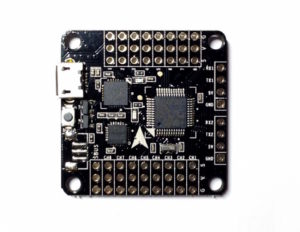 The X-Racer is made by FPVModel, and this is the board I've chosen for my ZMRX210 build. It's an F3 board for less than $30, compatible with SBUS out of the box, and has a whopping 16mb of flash memory built in for Blackbox recording.
RMRC Dodo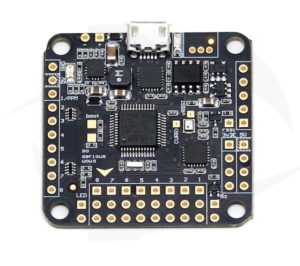 The Dodo is an excellent board made by ReadyMadeRC. It's an F3 board, and the awesome part about it is that there is a voltage filter built into the board. So you can supply up to 6S power into the board and it'll work fine, and the board will filter the 6S power down to 5 volts to power your receiver.
Conclusion
These are just some of the many boards available – but these are in my opinion the best of the best. There are plenty of clones and plenty of other boards that I've not mentioned, but if you stick to any of these, you'll have a well-performing quadcopter.