Using a proper FPV antenna is the deciding factor in whether or not you will have good reception and ultimately a good flying experience!
FPV antennas come in a few different types:
Dipole
Circular polarized
Helical(only practical for receivers)
Patch(only practical for receivers)
It's also important to know what kind of connector your fpv equipment has, and to match it to the connector on the antenna! There are two types of connectors: SMA and RP-SMA. One isn't necessarily better than the other, but it's just a matter of design. In SMA antennas, the female plug(the one that the other plug screws on to) has a hole, where the extruding wire from the SMA male plug goes in.
In RPSMA antennas, it's the other way around. When you buy your equipment, make sure to read what kind of connector your FPV transmitter and receiver has – it'll always be in the product description, and buy antennas that have the proper plugs.
A word of caution, though, and repeat after me:
I WILL NEVER POWER MY FPV TRANSMITTER WITHOUT AN ANTENNA PLUGGED IN!
If you power it up without an antenna, heat will build up in the transmitter and it'll burn up!
Best way to mount an antenna
In my earlier builds, I would mount the antenna and video transmitter by pushing the connector of the transmitter through a hole in the top plate of the frame, and then screwing the antenna down on to the connector, so it would be upright.
This is fine, except that if you land/crash upside down at a weird angle, there is a lot of force and tension at the connector itself and I've broken a few antennas/connectors this way.
I like to mount my antennas horizontally – the transmitter goes under the top plate(the connector on the transmitter will also be inside the top plate, not sticking out), and only half or 3/4 of the antenna sticks out from behind the copter. You can either leave it straight or bend it up a little.
This offers the most protection to the somewhat delicate connector, and doesn't really affect range in any way.
Back to antennas, though.
Dipole antennas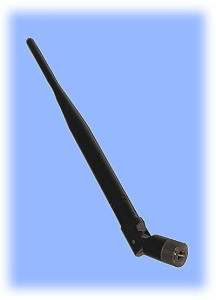 Note: The image is actually a 2.4 gHz antenna – a 5.8 gHz antenna will be smaller.
Dipole antennas, also known as rubber ducky antennas, are very simple – just some coax cable with a bit of metal casing on the end to transmit or receive the signal.
Rubber ducky antennas have very poor range, especially for multirotors, because they can only transmit if they are upright. So if you bank hard to the left or right, or try to do a flip, you'll lose signal.
These antennas are also very sensitive to multi-pathing, which is when the video signal bounces off of hard objects, so if you fly near a wall(or walls), you'll lose signal very quick.
Most FPV equipment comes with a rubber ducky antenna out of the box – but you won't be needing it.
Circular polarized antennas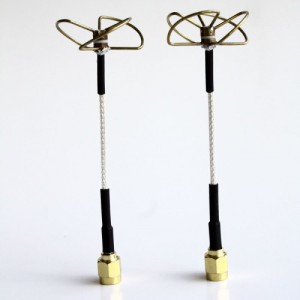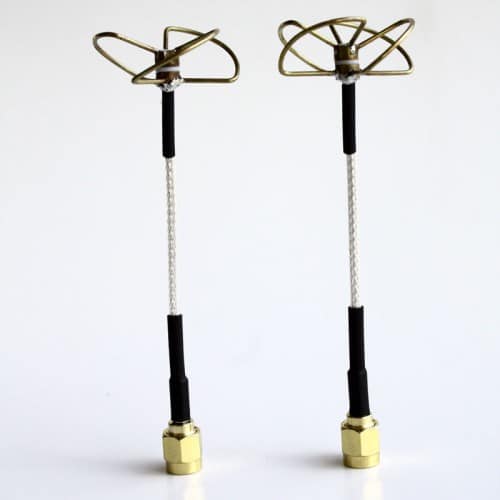 Circular polarized antennas are three-or-four lobed antennas that give much better reception than dipole antennas. They are also known as skew-planar or omni-directional antennas, which means they can transmit and receive equally well in all directions, so no matter what the orientation of your multi-rotor is(up/down/left/right), you'll still get a good signal.
These antennas are also less susceptible to multi-pathing, so you can fly around walls and trees with better video quality.
There are two types of circular polarized antennas – right-hand and left-hand. Right-hand will only receive signal from a transmitter that's sending out a signal with a right-hand antenna and no other. The same goes for left-hand antennas.
Circular polarized antennas are the most common(for a good reason) antennas in multi-rotor FPV, and as such they come in many different designs.
There are cheap eBay/Chinese antennas, in which there's just a connector, coax cable, and the three lobed or four lobed head. There is no protection for the cable or the head. These antennas are very cheap and functional – though their performance may vary every now and then, and the lobes will easily bend out of shape in a collision.
Note: I have since ditched the AOMWAY antennas for TBS and Foxeer antennas, in which the lobes are encased in nearly indestructible plastic.

My new favorite antenna is the Foxeer circular polarized. It gives performance which rivals or is even better than the AOMWAY or Fat Shark antennas, and the antenna is cased in nearly indestructible plastic. I've had some pretty rough crashes with these antennas and they are still holding up well.
To compare, I must have gone through at least 3 Fat Shark antennas and 3 AOMWAY antennas. At less than $10 per antenna, the value here is just amazing.
Buy two or three of these and they'll last a VERY long time.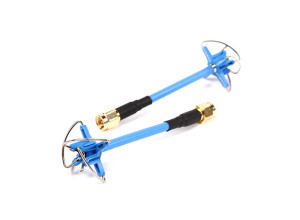 Aomway antennas
A very good brand of circular polarized antennas is Aomway. This is a Chinese brand, but the design is solid, with a protective coating on the wire and plastic reinforcement for the lobes. I personally use used to use the Aomway antennas, and was very happy with their performance. The coating lets me bend the antenna cable into whatever shape I need, and the plastic reinforcement protects the lobes when I crash.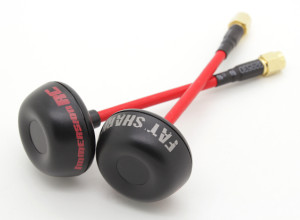 IRC Fatshark antennas. The metal is encased in a plastic covering for protection
Another popular antenna is the ImmersionRC/Fat Shark circular polarized antenna. These antennas are good, but expensive – twice as much as the Aomway, actually! Still, some people swear by them. These antennas have a protective coating on the wire that will let you bend it into any shape you need, and the entire lobe is covered with a plastic cover, so it resembles a mushroom. This plastic cover doesn't affect the range in any way.
Helical and patch antennas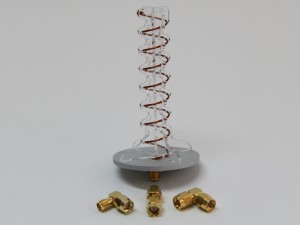 Helical antennas are spring-shaped and have better reception than circular polarized antennas, but with a catch – they have a narrower beam, so they work best if the antenna is facing the transmitting antenna. Helical antennas do receive from the side and behind, but not as good as from the main beam.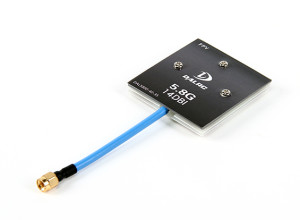 Patch antennas are also directional – they work best when facing the transmitting antenna. If you had a longer range setup(lower than 5.8 ghz) and were flying a plane or multirotor straight away from you, patch and helical antennas are awesome.
But if you are flying a miniquad, in which you'll be whizzing around in all directions around your receiving antenna, helical and patch antennas alone are not a good idea.
However…
Diversity setups
Helical and patch antennas are excellent to use on diversity receivers. Diversity receivers do what the name suggests – instead of just one signal, they receive two signals(from two antennas), and then show you whichever the better signal is. They will also keep switching between whichever is the better frequency, and it'll be seamless, so you won't even realize it.
So if you have a diversity setup with one helical antenna and one circular polarized antenna, you'll see the helical image when flying in front and the circular polarized image when flying around and behind.
Hopefully this gave you a good idea as to what antenna to choose for your 5.8 gHz setup. I personally use the Aomway antennas because they are cheap and have great quality.